DP World Tour
British Masters host Danny Willett is making a bid to hand himself the trophy come Sunday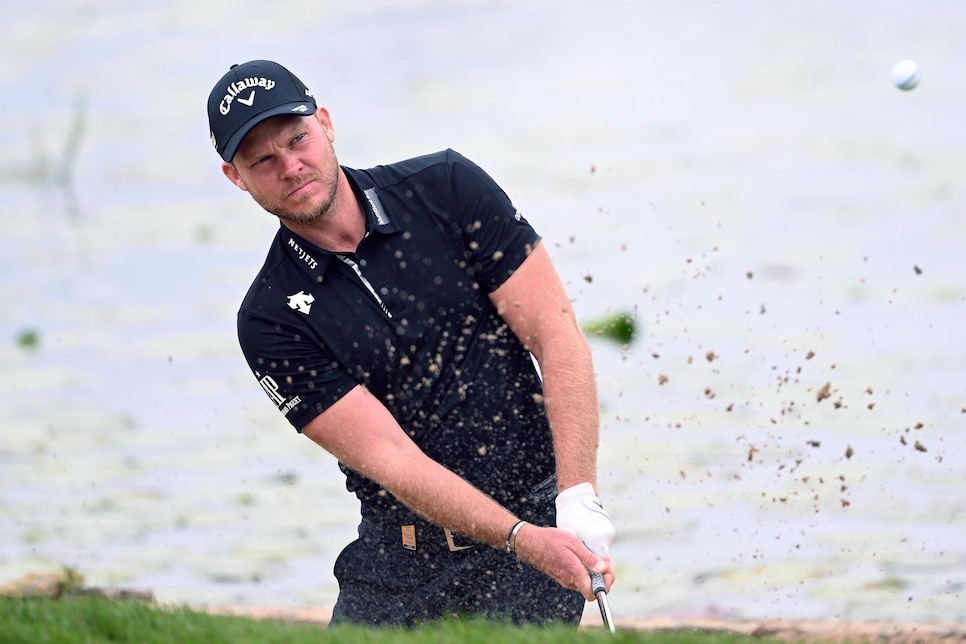 Danny Willett plays out of the ninth greenside bunker during the second round of the Betfred British Masters.
Ross Kinnaird
SUTTON COLDFIELD, England — He's not leading. He's not even on the medal podium at the halfway stage of the Betfred British Masters at The Belfry. But no one was happier on day two than two-time tournament host Danny Willett. After a mildly disappointing opening round of 73, the former Masters champion nipped round the four-time Ryder Cup venue in a nifty 65 shots to record the lowest round of the week so far. On six under par for the 36-holes he has safely negotiated, Willett is comfortably inside the top 10, three shots off the pace set by Germany's Hurly Long.
Also putting a smile on Willett's always expressive face was the knowledge that eight birdies he made en route to his seven-under par effort mean an £8,000 ($9,882) donation to his favored charity, Prostate Cancer UK, will be made by the tournament sponsors. He is also in good position to supersede the highest finish by any of the seven previous tournament hosts—Justin Rose's solo eighth place in 2018. Willett himself was T-11 a year ago.
"I felt a little bit more like myself today," said Willett. "And I played better. I got a real good feel for the greens and holed a few nice ones. I wasn't quite expecting that. I actually had a little giggle today on the 16th green. I was in 99th place when I got there last night. And today at the same stage I was fifth. That's a pretty decent effort in 18 holes of golf."
Willett's pleasure was understandable. His form this year has been patchy at best, a T-12 finish at the Masters the standout performance on either the PGA Tour or the DP World Tour. That has long been the way of things for the 34-year-old, though. Amidst long dry spells during his 14-year professional career, the 2016 Ryder Cup player has won seven times, invariably at well-above average events. Apart from the Masters, the BMW PGA Championship, the Dunhill Links Championship, the DP World Tour Championship and the Dubai Desert Classic all feature on his curriculum vitae. Classically, he is a home-run hitter who always has a puncher's chance.
"That's always been my golf," he admitted. "But it isn't far off at the moment. Yesterday was a little bit of a kick in the nuts. All of a sudden I was a couple over par when I didn't really deserve to be. But today was nice. I haven't shot a really low one for a while. The ninth (his 18th hole) was the only green I missed. So I had a lot of chances and really good control over the ball. I did hit an iffy tee shot on the eighth but ended up making birdie. Then the tee shot on 9 was again a bit iffy. And that time I didn't get away with it. But that's golf."
Quick to emphasize how far there is to go until he could be handing the trophy to himself, Willett couldn't resist a wee glance forward to what might be. "Amazing" was one description. "A dream," was mentioned. "The great winners over the years" came up. All before tournament hosting duties called.
"I have a few things to do this afternoon," he revealed. "But I'll do them with a nice feeling inside. It's good to know I'll be here for the weekend. I have a lot friends and family coming, and I hear we are due to get maybe 27,000 people through the gates over the weekend. That will create a fantastic atmosphere.
"Whenever you get crowds like that, the whole event just feels so much better," he continued. "This is a great turn out and the British crowds are always so knowledgeable. They know good shots and they know bad ones. They appreciate what we are out there trying to do. And being the tournament host makes it even more special for me."