PGA Tour
Max Homa's 180-degree transformation on full display in gritty Wells Fargo win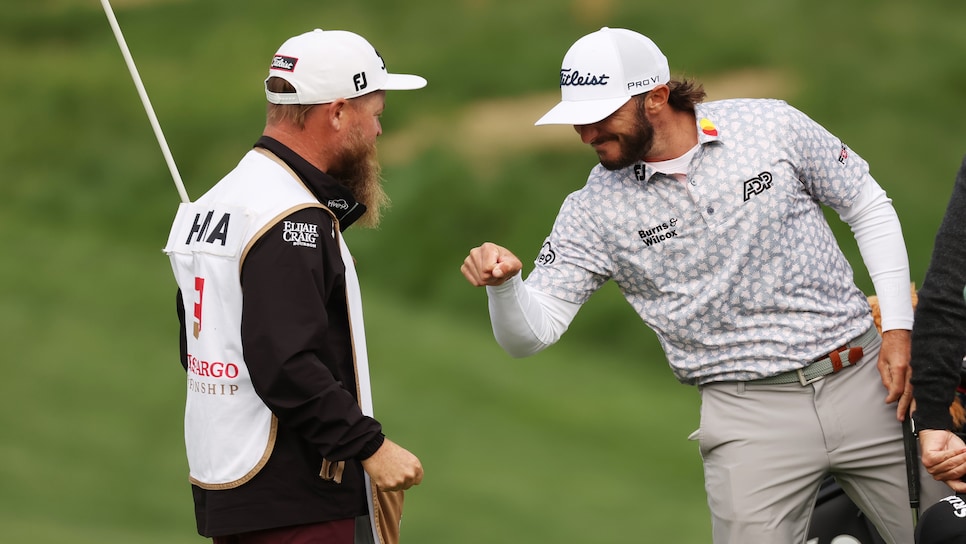 Max Homa celebrates with his caddie Joe Greiner after winning on the 18th green during the final round of the Wells Fargo Championship.
Gregory Shamus
These are the days Max Homa used to dread. The combination of a saturated golf course, juicy rough, swirling winds and layer-up temperatures expose any player not in full command of his swing and his emotions. And while it might feel like another lifetime, it wasn't so long ago that Homa had little control of either.
His rebirth as a golfer started well before Sunday's final round of the Wells Fargo Championship—he'd already won three times—but never has it been more evident than during every single second of his two-under 68 on Mother's Day, good for a two-shot victory and his second title of the season.
The player he is today, one challenging for a spot on U.S. national teams, is hardly recognizable from the man who missed 15 of 17 cuts in 2016-17 and lost his card. He is, however, wholly unchanged as a person, never taking himself too seriously. Exhibit 1A: In his interview with CBS' Amanda Renner on the 18th green, he was asked the significance on his victory, given the recent announcement that his wife, Lacey, will give birth to the couple's first child in November.
He responded with a Golf Twitter joke: "Perspective was running rampant today."
So was chaos. Homa began the day two shots behind Keegan Bradley, and the two see-sawed all afternoon, matching scores on just five holes throughout the round. Homa made his intentions clear with a three-perfect-shots birdie at the difficult opening hole and held the solo advantage after Bradley double bogeyed the par-5 second and bogeyed the fourth.
"I was in Alabama last week with my coach, Mark Blackburn," Homa said. "We put in a lot of good work. Game's been good and we were just talking most about mental, just being confident. He said, 'When are you going to start to believe in yourself? I said, 'Well, I guess maybe today.' So I've just been trying to walk around and fake it a little bit. Honestly, it's funny how that 'fake it till you make it' thing, I started to believe it and I showed up on that first tee very confident today."
But Bradley battled gamely, birdieing three of his next four to keep pace with his playing partner. A two-shot swing on 15—those were a theme all day—gave Homa a three-shot lead with three to play.
"That might be one of the best birdies I've ever made in my life," Homa said. "Hit a great drive. … I was saying before, when you're trailing, it's a little easier, you feel free. When you're ahead, you start to get a little defensive just with your lines. I felt like I kept squeezing my lines too far right or left instead of just hitting a shot. I had a club that I love, a little two-yard draw 9-iron and I'm, like, 'let's just take this one on and hit the shot and be me,' and I did and I poured in the putt."
But another two-shot swing at 16 closed the deficit to one, which was Homa's advantage as he stepped to the 18th tee and hit what might've been his best drive of the week. Bradley's tee ball found a bunker, and he topped his second to remove any mystery from who'd be holding the trophy.
Keegan Bradley reacts during the final round of the Wells Fargo Championship.
Tim Nwachukwu
A bogey at the last saw Bradley drop into a three-way tie for second with Cameron Young, in pole position to win rookie of the year, and Matt Fitzpatrick, who is agonizingly close to a first PGA Tour win to go with his seven in Europe.
A small consolation for Bradley, who has not won in nearly four years: His T-2 finish will bring him from No. 64 in the World Ranking to No. 44, well within the top 60 that will get an exemption into the U.S. Open on May 23. Bradley, who did not qualify for the Masters but is in the PGA Championship as a past winner, wants desperately to get a tee time at The Country Club outside Boston, a short drive from his native Vermont.
"I didn't play my best golf today," Bradley said. "It was choppy and then I had a couple good stretches, but I had a chance there at the end, so I'm proud of that aspect of it. But I'm pretty bummed, I felt pretty good about this one.
Homa joins Rory McIlroy as the only players to win the Wells Fargo Championship twice; Homa's first PGA Tour victory came at this event three years ago, albeit at its normal spot, Quail Hollow, which ceded duties to TPC Potomac this year as it prepares to host the Presidents Cup in September. Which Homa fully intends to be a part of.
"I care about nothing more than making that Presidents Cup team," he said. "So I'm really hoping Captain Davis Love III was watching today or at least somebody messaged him about it, but that's all I've really cared about. I'm not a big goal setter, but Tour Championship and Presidents Cup, that's about all my focus has been ever since I missed that Ryder Cup last year and the Tour Championship."
As is often the case, a spring week in the D.C. metro area was dominated by rain. A steady downpour on Friday and Saturday—the grounds crew deserve a Nobel for avoiding even a single rain delay—added heft to an already-beefy golf course, and Homa's gritty round on Sunday had major championship undertones. He poured in a nine-footer for par at 11, a seven-footer for par at 12 and a 13-footer for a final birdie at 15, and each never looked destined for anywhere but the dead-center of the hole. Recent work on his stroke with putting guru Phil Kenyon paid off massively down the stretch, and Homa picked up over 2.5 shots on the field putting on Sunday alone and over 7.5 shots (fifth in the field) for the week.
McIlroy, who needed to make a nervy seven-footer for par on Friday just to make the cut, flirted with contention in his first start since that electrifying final-round 64 and solo-second finish at the Masters. His charge was harpooned by a missed birdie effort at 15 and a sloppy bogey at the last saw him shoot a closing 68 and take solo fifth. He said after the round that he has no complaints with the state of his game. Then, as is his habit, he spoke candidly about one of his peers.
"He's way too good a player to lose his card," McIlroy said of the champ. "He's a really good player. Yeah, honestly, when you look at him play, you think he should have done better than he has. I think that's sort of how he looks, how he swings it, his whole demeanor. Sometimes it just takes guys a little bit longer to sort of figure their games out and I guess live up to their potential, but he definitely seems to have come into his own over the last couple years."
It hasn't happened by accident. Homa saw the deepest of depths in this game, had weeks when he turned up to the golf course knowing he didn't have a chance. That bled into his off-course life, and he has since made a concerted effort to put up a thick wall between Max the Golfer and Max the Player. Both have flourished after their separation, but Homa wears the scars of those thin times with pride.
"It would be cool if I was Rory McIlroy and didn't do that, but yeah, for me it's something I carry with me that I think is such a—it's powerful. I feel like other guys don't have that and that's good for them, I'm glad they don't. But I saw $18,000 in a year out here. I saw feeling very, very small, having literally no hope as to getting a top-10 let alone making a cut that season. I carry that because I've seen it and I don't—you come out in the lead and I'm three strokes up and I'm one stroke up, I mean, it just doesn't phase me as much as I feel like it could because I know what bad is, and my bad today was going to be making a boatload of money and moving along to the PGA Championship in two weeks with a good chance to win if I keep playing like this."
On Sunday, Homa swaggered around TPC Potomac like a man who knows his best will hold up against anyone, anywhere. That belief is a pre-requisite if you hope to compete at the level that Homa has reached in this game. Every player's path toward that headspace, however, is different. Some begin dominating as juniors and never stop. Others, wounded by past cronfidence crises, build that belief slowly, aided by constant reminders from those close to them that they already are who they dream of being.
"As I started to establish myself on this tour when I won this event in 2019, I definitely knew I was capable of being a regular PGA Tour player, but all of a sudden last year I get in the top-50 in the world and you start looking around and it's a new crop of people and you start thinking to myself, Am I as good as these guys? And then I want to be top-10 in the world, play Presidents Cup, play Ryder Cups. Am I good enough to do that? So I've always struggled with it, but I have great people around me who bash me over the head telling me that I am that guy."
He's only now starting to believe them.