Winner's Bag
The clubs Max Homa used to win the 2022 Wells Fargo Championship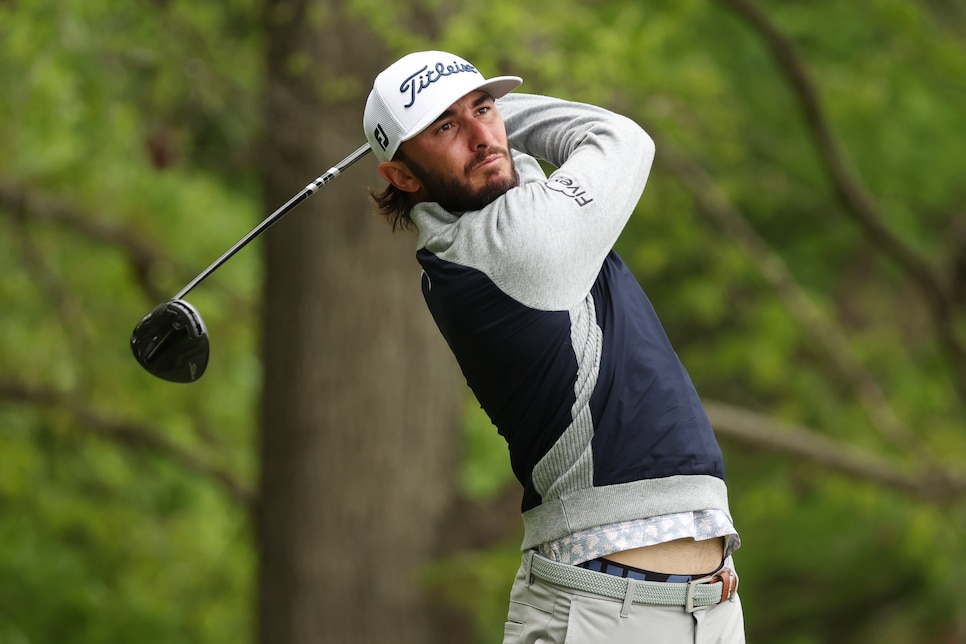 Max Homa and Keegan Bradley took turns trying to give away the Wells Fargo Championship. Eventually, however, it was Homa who avoided the big mistake (although he was on the verge a couple of times) to win the tournament for his second Wells Fargo title.
Starting the day two shots behind Bradley, Homa made that up and then some by knocking an approach to eight feet at the opening hole to make birdie, and then he grabbed another at the fifth with a sand wedge to eight feet. Bradley, meanwhile, played the same stretch two over, including a double bogey at the par-5 second hole. Homa then hit a 7-iron to 10 feet at the par-3 ninth for another birdie and followed it with another at the par-5 10th, courtesy of a nice pitch with his Titleist Vokey SM9 lob wedge—a club he changed the bounce and grind on three years earlier at the Wells Fargo.
Homa went to a 60-degree L-grind with 4 degrees bounce from an M-grind with 8 degrees bounce.
"I went in with [Titleist Vokey tour rep] Aaron Dill and told him I was digging a little bit," Homa told Golf Digest in 2019. "I really couldn't find the bottom of the arc very easily and was struggling with good contact. He felt that if we went with a little less bounce that would shallow me out, and it obviously did a pretty good job of that."
The clinching shot was an 8-iron from 178 yards to 13 feet, then he converted the birdie putt at the 15th to stretch the lead to three shots. Homa uses a split set of irons encompassing four models—a player's distance Titleist T100S 4-iron, the company's T100 players irons for the 5-iron, the muscleback-blade Titleist 620 MB for the 6- through 9-irons and a Titleist Vokey SM9 46-degree pitching wedge—all with KBS Tour $-Taper 130X black steel shafts and Golf Pride Tour Velvet cord grips.
For the week Homa ranked 10th in strokes gained/approach-the-green, picking up nearly five shots on the field. His putter is a Scotty Cameron by Titleist Phantom X 5.5 tour prototype mallet that he used to rank fourth in strokes gained/putting, besting the field average by more than seven strokes on the greens.
As for being in contention, it is something Homa has become accustomed to.
"I think obviously winning helps confidence, it doesn't feel super foreign," he said after the third round. "In general, I've just been kind of leaning on how well I've been playing the last six, seven months. [The] game feels really good, so I've just been trying to approach each round and just go out there and play like I've been playing and over the course of four days or a season, I would hope that would add up to something pretty decent."
Three wins in the last 15 months? We'd say that's something pretty decent.
Here are the clubs Max Homa used to win the 2022 Wells Fargo Championship: