Masters
Masters 2023: Rory McIlroy had the most predictable answer when asked if Tiger would do a walk-and-talk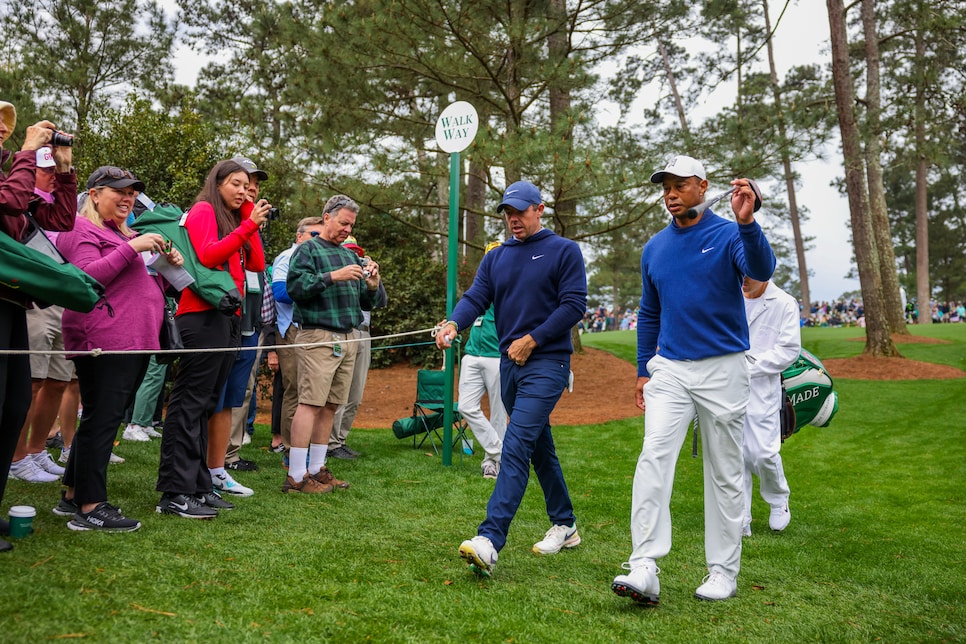 AUGUSTA, Ga. — We've already pointed out the (many) signs this ain't your grandaddy's Masters anymore, which we're cool with! Embracing technological advances, easing up on certain antiquated rules, slinging some seriously good content—these were all necessary evils, as Augusta National likely sees them, in order to continue to make the Masters as big as it has become.
Even still, that didn't make it any less shocking that Rory McIlroy and Max Homa each conducted "walk-and-talk" interviews, ear pods and all, during their first rounds on Thursday. The feeling of "man, is nothing sacred anymore?" has permeated the Masters media center as well as social media.
It was particularly peculiar when you remember that back at the Waste Management Phoenix Open, McIlroy stated that while he would be open to the idea if approached, it would still "take a little convincing." Apparently, enough changed between now and then that he agreed to do it in the opening round of the one tournament that has eluded him his entire career.
"So the club reached out to us last week and just inquired if I would be interested in doing it," said McIlroy, who also conducted a walk-and-talk at the Match Play. "It definitely feels a little less intrusive with the ear piece rather than someone right up next to you with the microphone like they've been doing it in Europe for a couple of years.
"I thought it would be a cool thing to do. I did it in Austin and didn't feel like it took me out of my rhythm in any way or made me think about things too much. So it's nice to provide the audience at home a little bit more insight into what's going on out here."
Following his even-par 72, McIlroy was asked if he was surprised that the famously, and infamously, traditional club approached him about this.
"No. I mean, I think with the previous chairman, he definitely brought things forward," McIlroy said, referring to Billy Payne, who served as chairman between 2006 and 2017 before Fred Ridley took over. "Then I think since Chairman Ridley has come along, he's really tried to push the envelope as well. So I think Augusta have a great balance of blending that history and that tradition but also making sure we're keeping up with the times, I guess."
Homa, who was not asked about potentially being mic'd up until Wednesday, said when Augusta National asks you to do something for the Masters, you sort of have to.
"If they just say that's okay to do, I feel like you should do it and just help kind of push -- I think that term grow the game gets thrown around a lot," Homa said. "At times we don't know what it means, but it does feel like that's a good way to maybe gain some perspective for the fans to enjoy golf a little bit easier.
"It's like being on a phone call for ten minutes," Homa added. "It's not the end of the world. It might be a shade distracting, but I think if it's 5 percent distracting and it's 95 percent something positive for golf, I can get past that."
It's hard to pick two better guys for these mic'd up segments, though McIlroy spoke for all of us Thursday evening when he said he'd love to see Tiger Woods do one. He was then asked what the chances are of that happening.