Masters 2023
Dude Perfect, AI announcers, and 7 other signs this ain't your granddaddy's Masters anymore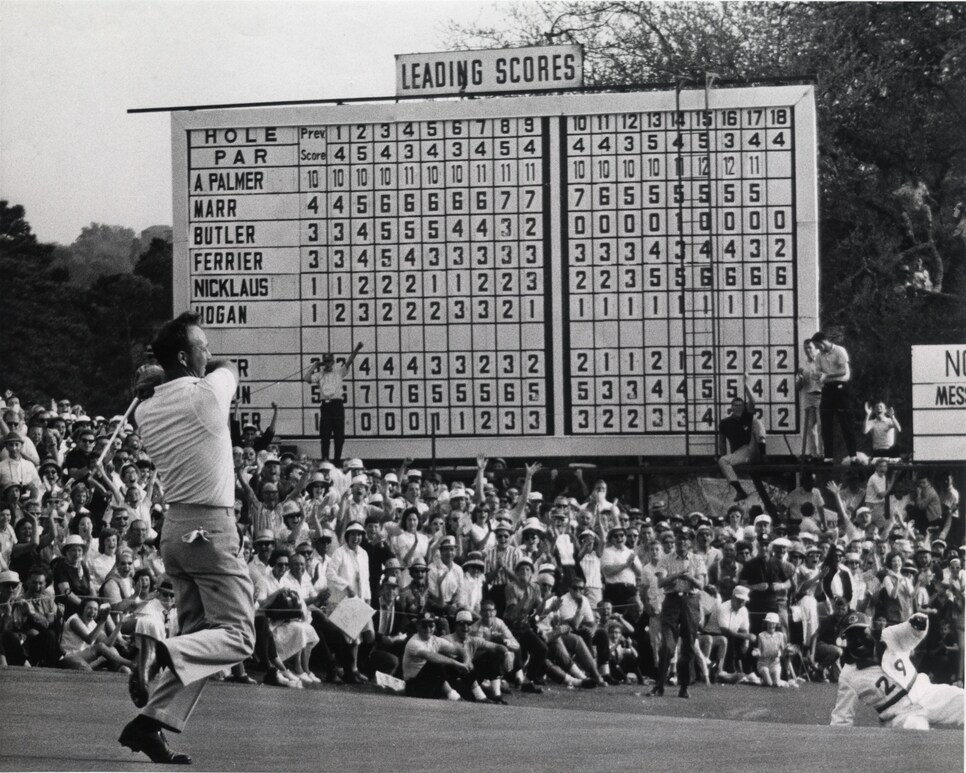 As golf fans are reminded ad nauseam, the Masters is A TRADITION UNLIKE ANY OTHER. But that doesn't mean things can't change. For example, Augusta National remains one of the most exclusive clubs on the planet, but the past few decades have seen it become slightly more inclusive. At least, among the rich and powerful.
We're not going to get into Augusta National's somewhat, um, checkered past when it comes to race and sex, because, well, there's been plenty written about that. The point of this post, rather, is to actually note the club's increasing willingness to act progressively. Take the fact that less than six years after accepting its first female members, current chairman Fred Ridley announced the creation of the Augusta National Women's Amateur. How's that for progress?!
Sure, there are still strict rules for fans patrons attending the tournament, and the grounds might be the site of the last existing bank of landline phones. But in many other ways, the club and tournament have modernized. So as you watch the 2023 edition of golf's most popular event, here are nine (other) ways Augusta National has veered from its once rigid ways. In other words, this ain't your grandaddy's Masters anymore. And that's a good thing.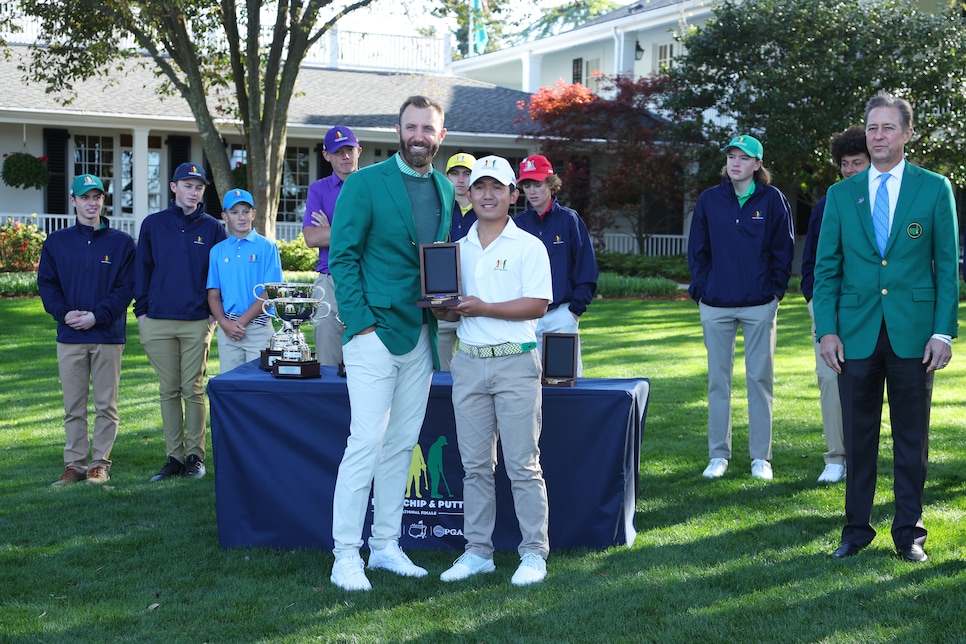 In the same vein as the ANWA, the DCP, which turns 10 this year, was a surprising—and refreshing—creation. And with former Masters champs handing out awards on Sunday, it has become a fun prelude to the main event. Fans have gotten used to seeing kids caddieing at the Par 3 Contest, but it wasn't always like that. In fact, Augusta National once left a scolding letter in Ken Green's locker after he let his children accompany him at that event. So to go from that to allowing 80 boys and girls to putt on the 18th hole?! That's quite a leap!
Speaking of big changes, the Masters long has had a reputation for being stingy about showing its golf course. For many years, only six cameras were used to broadcast the final four holes on TV, and it wasn't until 2002—46 years after the first CBS broadcast—that all 18 holes were aired. But since 2019, the Masters has not only showed the entire course, but also every single shot by every single competitior across its website and app. So please stop complaining about the tournament's "small TV windows." If you just get on your computer or phone you can watch literally EVERY shot! What more could you want?!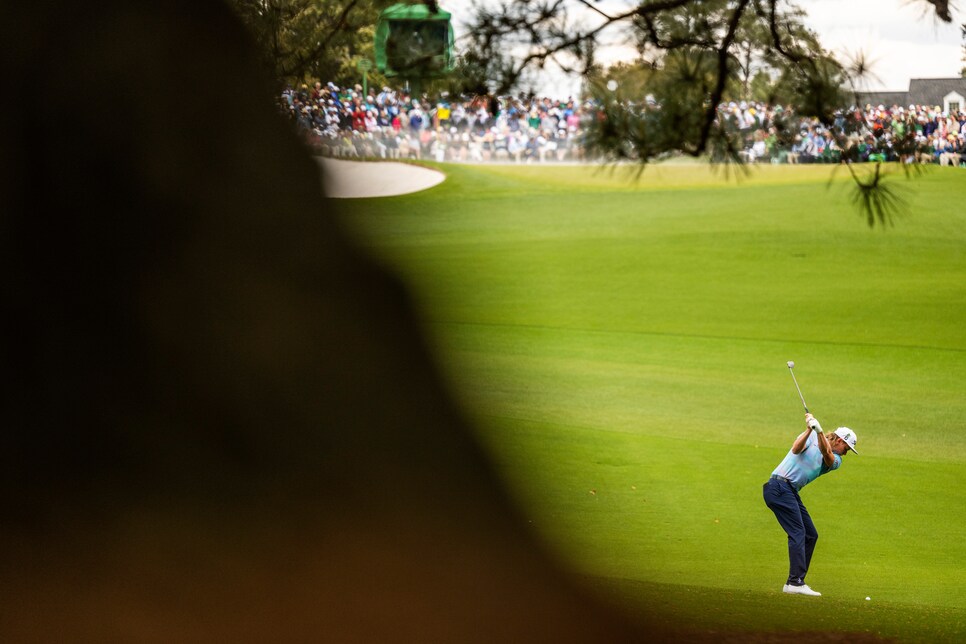 It also should be noted, that not only does the Masters have an app, but it has golf's most universally beloved and admired app. The only bad thing is that it's only relevant one week a year. But what a glorious week it is. And what an app. It's a shame all sports leagues/events can't get on that level.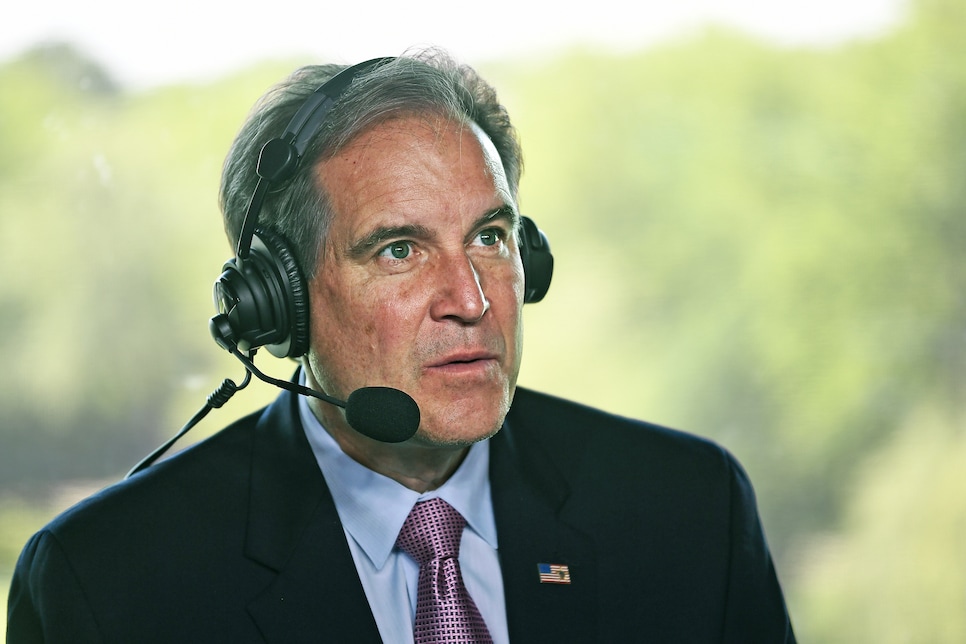 Chris Condon/Getty Images
Another example of the Masters being a media trailblazer, this year's tournament will feature "generative AI commentary" thanks to the tournament's longstanding partnership with IBM. That's AI as in artificial intelligence. As in the computers not only talk now, they can speak in golf. So all those shots you can see from every player will now have commentary as well. This is pretty neat. Although, Jim Nantz better watch his back. Heck, we all better watch our backs.
Even more shocking than the AI news was the announcement that the club would host a livestream video-game tournament on the eve of Masters week this year. You read that right. A livestream video-game tournament.
Of course, that video game is EA Sports PGA Tour: Road to the Masters. Even so, something tells us that Bobby Jones and Clifford Roberts might actually roll over in their graves upon hearing that. Again, though, the times they are a-changin'. Even at Augusta National.
Dude Perfect at Amen Corner
A video-game tournament being hosted in the media center is one thing, but allowing a bunch of YouTubers to mess around on the club's most hallowed grounds? Such was the case when the popular group Dude Perfect—with a little help from Bryson DeChambeau—"played" Amen Corner in 2022 with a wide array of sports equipment.
To be fair, Sam Snead used to putt croquet style, but not with an actual croquet mallet. In any event, this unexpected collaboration opened up the door to endless possibilities. Maybe even cell phones on the course! Kidding.
"Bring Your Best" commercial
We've seen countless Masters ads through the years, but none quite like the "Bring Your Best" commercial that came out ahead of the 2023 tournament. Have a look for yourself:
There's no classic Masters piano theme music. There are very few nods to the past. And it even features the word, "meh." Again, this ain't your granddaddy's Masters. And whether you like it or not, you've got to at least applaud the club for trying to be hip. Wait, is saying hip still hip? If not, please ignore that.
As featured above in the "Bring Your Best" ad, those Masters garden gnomes have actually been sold in the merchandise shop since 2016—and they're quite popular!
The tournament has made plenty of new merch through the years—heck, they created a new mega-merch building a few years back that has lines as long as the ones at Disney World to get in—but the gnomes stand out for being the kind of cheesy, and, dare we say, tacky things that Augusta National would have held its nost to in the past. Anyway, if you're going this year and you want one, you better get there early.
If you're not fortunate enough to attend the tournament, you can still get a literal taste of the Masters shipped to you. What started as a nice gesture to patrons who weren't able to use their tickets in 2020 due to COVID has stuck around. And now anyone in the U.S. can have this feast delivered to their Masters viewing party: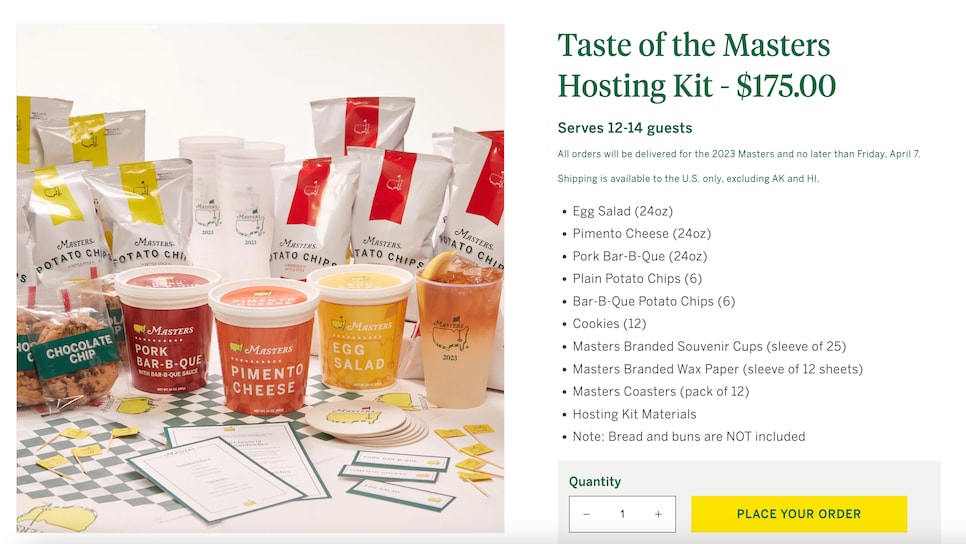 Or, just, to themselves if they're not hosting. Hey, we're not judging. And we're glad this is available. But it's just a surprising offer for an event that has traditionally only allowed people on the grounds to purchase merch and other keepsakes.
You would think Augusta National would have a "No gambling at Bushwood" policy, but the club embraced fantasy sports starting with the 2021 tournament. To be clear, the Masters website reads, "THIS IS A SKILL AND KNOWLEDGE-BASED, NON-GAMBLING GAME." And yes, it's written in all caps like that. Also, it doesn't cost anything to enter and all the prizes are merch-related. Still, it's pretty forward-thinking. Which is not what you'd expect from the Masters. Although, judging by these past few years, maybe we're the ones stuck in the past when it comes to evaluating this tournament.

In any event, this year make sure to sign up for the Masters fantasy game, play the Masters video game, enjoy every shot of the tournament digitally with AI commentary, and to always BRING YOUR BEST. Also, if you want that "Taste of the Masters" feast, get that order in pronto.