News
Masters 2020: 5 things we know about a November Masters and how they'll impact Sunday's final round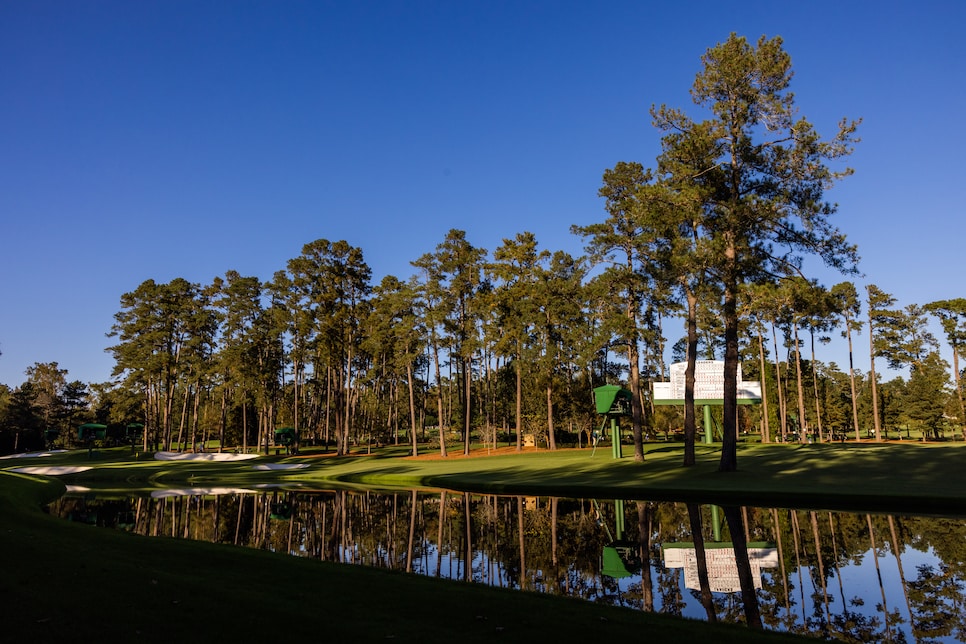 AUGUSTA, Ga. — Dustin Johnson has been here before. Four times, to be exact, and as recently as August.
It was only 97 days ago that DJ held a two-shot lead heading into Sunday at the PGA Championship. He didn't blow it. Far from it, actually, as he shot a final-round 68 at Harding Park. But he did not win, and he has yet to convert any of his four career 54-hole leads at major championship into wins (Oakmont in 2016 was a final-round rally).
So yes, he's been in this position before. But never at the Masters, let alone a Masters in November. Indeed, Sunday will be different from a usual Augusta final round in a number of ways—unlike any other!—and odds are, the changes will have at least some impact on how the final round plays out. Here's what we know will be different, and how it might impact Dustin Johnson's march to glory.
Threesomes, using split tees, playing really early
We knew this was coming, because a fall Masters means competing with an NFL Sunday. It's never in golf's interest to compete with football for eyeballs. That, plus CBS holding both the rights to the Masters and an afternoon NFL game, meant this Masters was always going to end around 3 p.m.—leaving enough time for it to end before the 4 p.m. EST kickoff, even if there's a playoff.
This would seem to benefit DJ, who will tee off at 9:29 a.m. local time, more than five hours earlier than the final pairing would start in a normal April Masters. That means Johnson won't have to kill hours upon hours in the morning thinking about his four-shot lead. Then again, this is DJ. He wouldn't stress even if it was a one-shot lead, and the final round wasn't until 2026, and a loss would cost him his head.
Here's how Rory McIlroy described his demeanor: "I think he's got one of the best attitudes toward the game of golf in the history of the game." Strong
Johnson aside, going off in threes would seem to most benefit Abraham Ancer, who will be in the final group when in normal years he would not. Tiger Woods often talks about how important it is for him to get into the final pairing, to be able to see the guy he's chasing. And Ancer, he's a feisty one. He'd do well to turn this into a match-play situation in his head.
It's been weird all week—seeing green complexes without the grandstands, hearing the hum of the SubAir system, feeling Augusta without the roars. It will be 10 times stranger on Sunday. Back-nine roars are an enormous part of Masters Sunday. Because there are no cell phones allowed on the property, and because the leader board are hand-operated and a bit delayed, players are always left guessing as to what just happened, and who did it. That mystery adds a level of stress if you're holding the lead. And the person making the charge absolutely feeds off the energy of the crowd. Remember how wild it was when Jordan Spieth was making that push in 2018? Or when Tiger and Phil were trading birdies in 2009? Or just last year, when Tiger was making his second-nine charge en route to his dramatic victory.
No patrons should also benefit the chasers, specifically those who have never won a tournament of much consequence before. Guys like Ancer, Sungjae Im, Cameron Smith and Dylan Frittelli. Im admitted as much, telling ESPN through a translator that he feels more comfortable with no patrons here. It's one thing trying to win your first major; it's another doing so in front of 40,000 people. Maybe it's coincidence that the victors of the first two majors this year, both played without fans, were also first-time major winners. Simply put, it's just not the same level of pressure.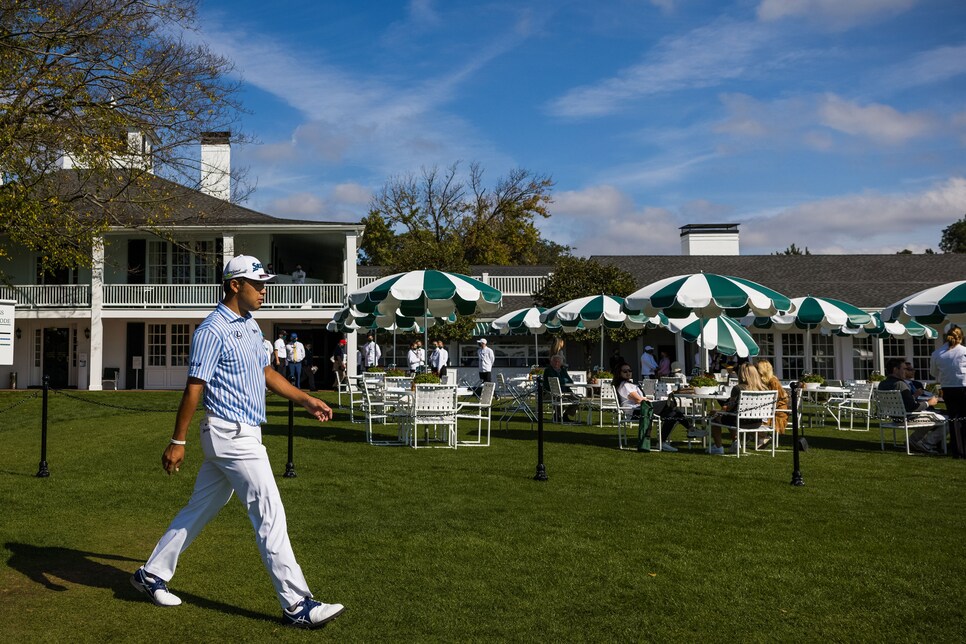 Hideki Matsuyama walks near the Augusta National clubhouse, which any other year would be packed with patrons.
Ben Walton
A more scoreable golf course
For three days, players have been able to shoot some surprisingly low numbers at Augusta National, DJ in particularly. At 16 under par through 54 holes, he's got a realistic chance at breaking the 72-hole Masters scoring mark. The magic number is 18-under 270. It's what Tiger shot in 1997 when he claimed his first green jacket in a 12-shot romp, and what Jordan Spieth equaled in 2015. DJ tied Spieth's low 54-hole score on Saturday, and he only needs to shoot 69 to break the 72-hole record—and spark debate as to whether it'd warrant an asterisk, being in November and all.
DJ won't care one bit about the record, but his being 16 under does make one thing clear: Someone's going to have to make a whole bunch of birdies to have any chance. There are five other players at 10 under or better, and this course has been soft and receptive all week. If you're a chaser, you have to think the winning score is going to be 17 under at minimum.
"With the conditions being soft," Johnson said, "you can be really aggressive no matter what club you have in your hand, as long as you feel comfortable with how far you're going to fly it. I feel like the golf course is in really good condition just with all the rain, it's just so soft. So you've got to be aggressive and you've got to attack the flags."
Translation: I'm not taking my foot off the gas. Catch me if you can.
A healthy second cut and mudballs
These are two fairly unprecedented things for Augusta National, but they've been a big part of play the entire week, robbing players in many instances of the ability to freely control their ball. Tiger had three mudballs in Saturday's third round alone. Justin Thomas caught a gnarly one on the ninth hole. Back on Thursday, Jason Kokrak had such a pronounced glob stuck to his ball that it carried the 15th green and kicked all the way into the water on 16.
Despite no rain since Thursday morning, the mudballs will continue to be an issue come Sunday. Why? It's been humid, and there hasn't been any wind to speak of. It's not sunshine that dries a course so much as wind. The good news is there's a pretty sturdy breeze in the forecast for the final round. But odds are someone still will get a mudball at an inopportune time. It could happen on 13 or 15, par 5s, where players are looking for pick up a shot or two, but might see an eagle opportunity turn into a bogey really quickly.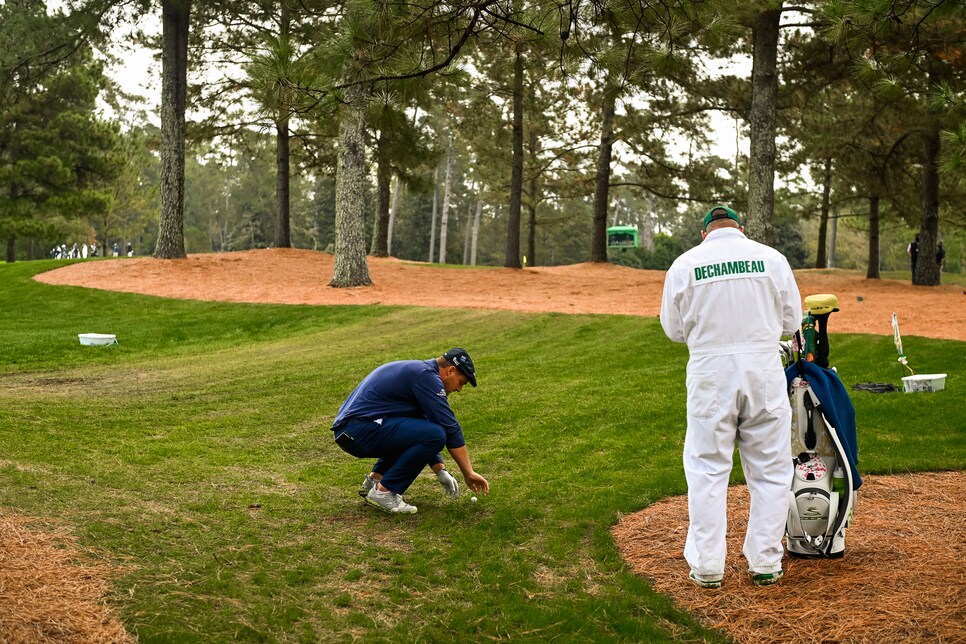 Bryson DeChambeau gets a look at his lie in the second cut, which has been grown out far more this year than in past Masters.
JD Cuban
And then there's the rough, known as the second cut around these parts. It's noticeably longer than it has been in recent years. Guys are catching fliers, and guys who find the rough just off the 13th fairway are having to lay up. That puts a premium on hitting fairways, and Dustin Johnson hit all 14 of them in his third round. He does that again, he wins going away.
But the course is firming up
From Tiger, after his second round wrapped up on Saturday morning: "They definitely have sped up the greens overnight. They were a lot faster this morning, and you could hear the SubAirs on out there today, so I think as the day progresses, they're only; going to get a little bit faster."
They did indeed get faster, and that process should only continue overnight. Augusta will do everything it can to replicate April playing conditions, insomuch as that's possible. While they can't do much about the soft fairways and the mudballs, they have more control over the greens thanks to the SubAir system. That thing will be humming all night, and don't be surprised if you see noticeably faster and firmer greens. That doesn't just impact putting, but approach shots, as well—so many shots that normally roll down slopes, release toward the hole, or tumble down into the water have simply plugged into the green and stopped dead. It should be a more exacting ball-striking and putting test. Which, we can all agree, is the appropriate way to identify a deserving champion.