News
PGA Championship 2020: Tour pros knew early that Collin Morikawa had game. Now everybody does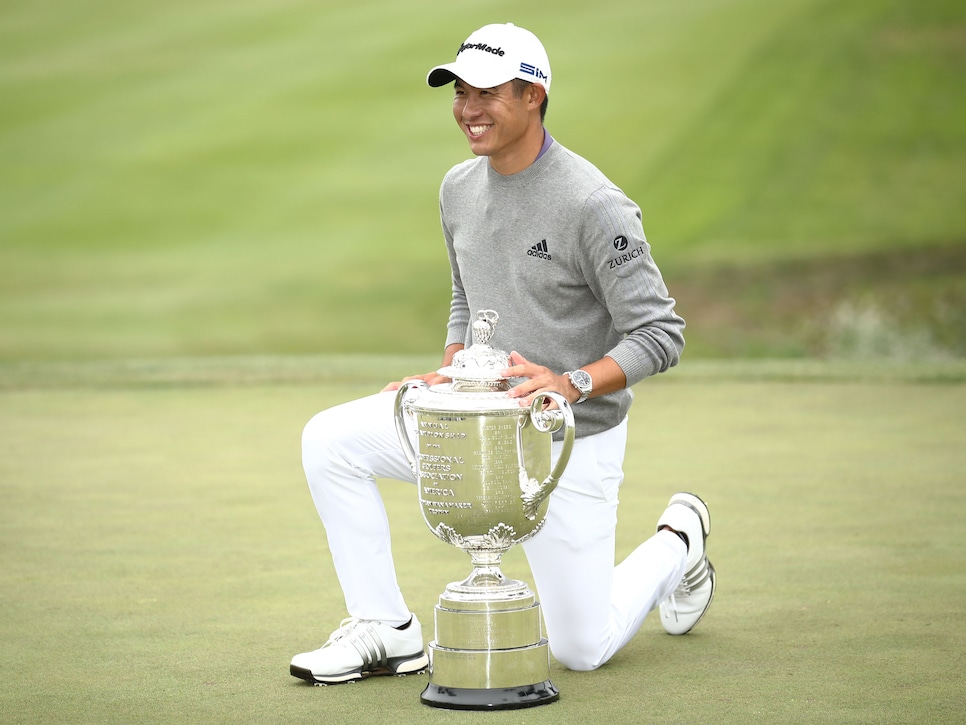 SAN FRANCISCO — Deep down the stretch of this most peculiar major championship, seven guys elbowed each other for an unobstructed look at glory. Dustin Johnson. Matthew Wolff. Scottie Scheffler. Tony Finau. Paul Casey. Jason Day. Collin Morikawa.
The chaos juxtaposed the silence of golf amidst a pandemic. The heat of leaderboard movement contrasted the biting chill of August by the Bay. And the day begged for someone to emerge, to raise his head above the crowd. But for a while, no one seemed particularly keen on seizing control at TPC Harding Park. Putt after putt after putt for somebody, anybody, to reach 11 under slid by the wayside.
So Morikawa decided that putters are overrated, and that he was going to win this PGA Championship with some other sticks.
The 23-year-old, playing in just his second major championship, followed up a fatted approach on the 14th with a chip that fell just over the front lip for a birdie. Two holes later, after abandoning his pre-tournament plan not to go for the green on the driveable par-4 16th, he delivered the shot of his life and the decisive blow: a power-cut driver on the par-4 16th that pitched on the front of the green, 278 yards from the tee, climbed up the slope and rested just seven feet from the cup. The putt was dead-center, the lead was two, and golf had its next superstar.
"I feel very comfortable in this spot," Morikawa said. "When I woke up today, I was like, this is meant to be. This is where I feel very comfortable. This is where I want to be, and I'm not scared from it. I think if I was scared from it, the last few holes would have been a little different, but you want to be in this position."
Morikawa's final-round 64—after a third-round 65 to get into the mix—were the stuff of dreams. Back on earth, it was good for a two-shot victory over Paul Casey and Dustin Johnson. The four other one-time co-leaders finished a shot further back. With the victory, Morikawa becomes the third-youngest PGA Championship winner since the tournament went to stroke play in 1958, trailing only Jack Nicklaus and Rory McIlroy. (Sorry, Tiger). And his closing 36-hole score of 129 is the lowest by a winner in major championship history.
"It's great company. You know, it's been crazy, because this entire start of my professional career, I see all the things comparing to Tiger and doing all this and then Tiger is on a completely different level. I think we all know that. But any time you're in the conversation of the greats, Jack, Rory, Tiger, no matter who it is, if you're in that conversation, you're doing something well."
The most surprising aspect of Morikawa's rapid success is how unsurprising it is. After growing up down the coast in Los Angeles, he played four years of college ball at Cal-Berkeley and reached No. 1 in the World Amateur Golf Ranking. He turned professional last June, played his first event at the RBC Canadian Open, finished T-14 and cashed a check for $125,400. If you thought that was hitting the ground running, consider he cashed checks at each of his next 21 starts, making a helluva run at Tiger Woods' record of 25 straight made cuts to start a career.
The run ended last month when he missed the weekend at the Travelers Championship. He won his very next start, in a playoff at the Workday Charity Open, where he survived a 50-foot dagger from Justin Thomas and punched back with a 25-footer of his own. After that victory, where he stared down the current World No. 1, he spoke about not being as comfortable as he wanted to be while in contention. His heartbreak from Colonial, where he missed a three-footer to lose a playoff just a month earlier, still loomed large.
"Comfortable is the best word for a lot of these guys out here, because they've been out here for many years," he said that day at Muirfield Village. "They've been out here, they know the courses, they know where to hit it, and for me it's getting as comfortable as I can as quickly as I can."
Comfort is a word he uses often. Eleven times in his winning press conference, to be exact. He seemed pretty damn comfortable all weekend at Harding Park, an adopted home course of sorts, where he played roughly a dozen practice rounds while at Cal. He played within himself all week despite giving up some 25 yards off the tee to some of his beefier competitors.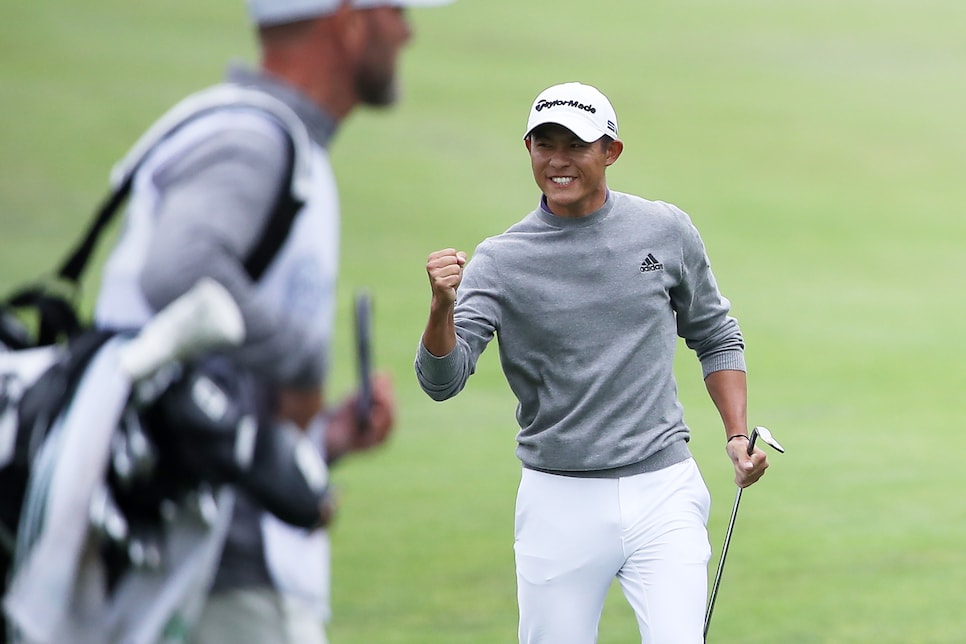 Collin Morikawa celebrates chipping in for birdie on the 14th hole during the Sunday's final round.
Sean M. Haffey
Morikawa is something of a throwback player—not short, by any means, but not the type to post pictures of launch monitor readings to Instagram. In the group ahead of his, DeChambeau hit an 8-iron over the green with his approach into the par-5 10th. Morikawa needed a fairway wood for his, and it finished just short of the front edge. He makes up for his distance disadvantage with a steadfast commitment to flushing golf shots. An uncanny predilection for finding the dead-center of the clubface immediately caught the attention of the game's established stars, who knew they had a yet another 20-something to contend with for the next decade-plus.
"There's always a bunch of guys that rock up on the scene, and he didn't necessarily get the most publicity out of the group he was in," said Paul Casey, ostensibly referring to Matthew Wolff and Viktor Hovland, the other two-thirds of the vaunted Class of 2019. "But, you know, I consider myself a veteran. I've been around the block, so I know talent when I see it. I don't like the term talent, but you know when somebody is good, and Collin was good.
"We could just tell. Those of us who knew, knew that was the cat. He's the one."
Brooks Koepka, never one to lavish praise on fellow golfers, put it succinctly: "He's really good,"
Bryson DeChambeau agreed: "An incredible ball-striker."
Cameron Champ, who played with Morikawa on Sunday and was his teammate at the 2017 Walker Cup: "He knows his game and what works for him. His iron play and off the tee is amazing."
Tony Finau offered an ominous warning: "He's not going anywhere anytime soon. He's a heck of a player. He doesn't have a weakness in his game. He doesn't have a weakness mentally."
Morikawa, it should be noted, would tell you that his short-game still needs work. He spent the majority of the COVID-19 hiatus drilling his chipping and putting, the last two pieces to his puzzle. He came into the week ranked 119th on tour in strokes gained/chipping and 164th in strokes gained/putting. The chipping, as we know from 14, came up huge on Sunday. But so did the putting, all week—he picked up more than 8 shots against the field on the greens this week, best in the field.
"Normally if I'm putting around zero, I'm very happy," Morikawa said, suggesting he's happy to putt an average-PGA Tour pro level. "But the last two days at Memphis, I thought I made huge strides. This week, I just kept that going, and yeah, a couple little adjustments in the setup and that paid huge dividends for me. Just feeling a little more comfortable over the ball, getting my head where it should be, and just being able to putt and really react to the target from there."
Still six months away from his 24th birthday, Morikawa now has three PGA Tour victories, a major championship and spot among golf's hyper elite. With the victory, he becomes the No. 5 player in the world. More importantly, he'll never have to answer those thorny questions about when he'll win his first major. With his tally already started, there's only one thing left to do: win a whole lot more. There's no particular rush, though. Remember what Finau said? He's not going anywhere anytime soon.