News
PGA Championship 2020: Collin Morikawa is already a star and three other takeaways from a wild PGA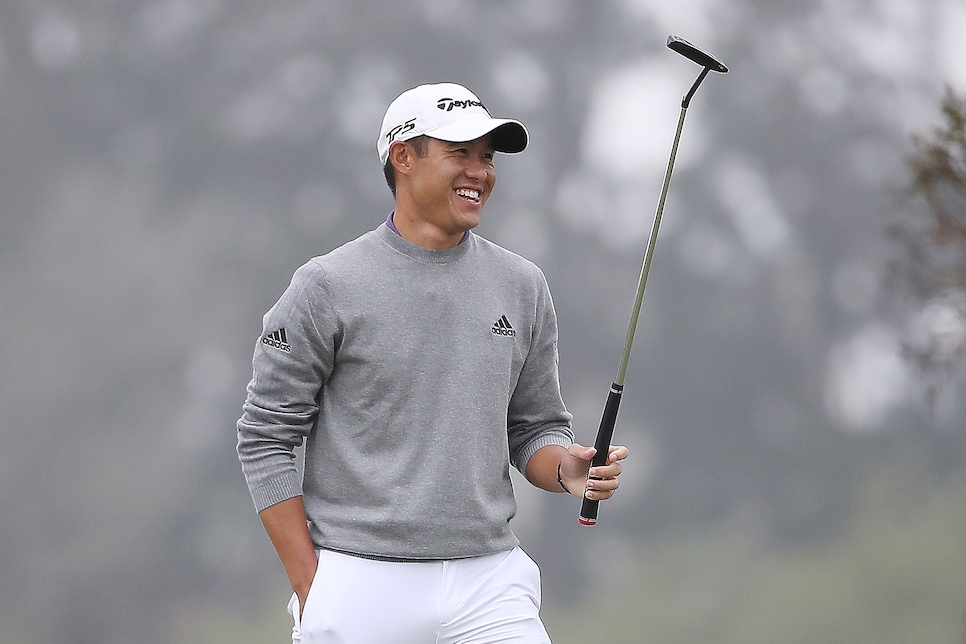 Collin Morikawa ofcelebrates after making his final putt on the 18th green during the final round of the 2020 PGA Championship.
Sean M. Haffey
At one point on Sunday afternoon, it looked like a seven-man playoff was not only possible, it was likely going to happen. The CBS crew even took the time to prepare viewers by breaking down the playoff format. Apparently, Collin Morikawa had zero interest in such a thing.
Instead of messing around, Morikawa slammed the door shut in a manner that would suggest he'd been on the PGA Tour for a decade-plus, already with multiple majors to his name. In reality, he's 23 years old, and this week's 2020 PGA Championship at TPC Harding Park was just his second appearance in a major championship. He showed nerves of steel, shooting a final-round six-under-par 64 that included two incredibly clutch shots when he needed them most.
Here are our five takeaways from an absolutely wild first major of 2020.
Collin Morikawa is a STAR
Honestly, he already was, but those final five holes put him into superstar territory. We always have to be careful of crowning everyone "THE" guy every other week, but this guy is definitely one of "THE" guys right now. He's already one of the three or four best iron players in the world, and he's already becoming a prolific winner on tour. He now has three wins since last July, including one at Muirfield Village and another in a major championship. If not for a bricked three-footer at Colonial, he might have three wins this season, which would make him a lock for PGA Tour Player of the Year. He might still be a lock. We know how much majors play a factor in winning that award [unless you're name is Brooks], and he just got the only one that counts toward this season. So, yeah, he's probably a lock.
But it's not just the wins. It's that unbelievably silky swing, an even silkier smile, and, perhaps the most silky thing of all, his demeanor. At 23, he carries himself a 15-year veteran with multiple majors and 20 tour wins to his name. A big question following that missed shorty at Colonial was how long it would take him to bounce back. After two out-of-character starts, including the only missed cut of his career, he won the Workday and then seized a major a month later. How's that for a response? We've played the "this kid is going to be good for a LONG time" card before with so many players, and it doesn't always work out that way. That's not going to be the case with Morikawa. Mark it down.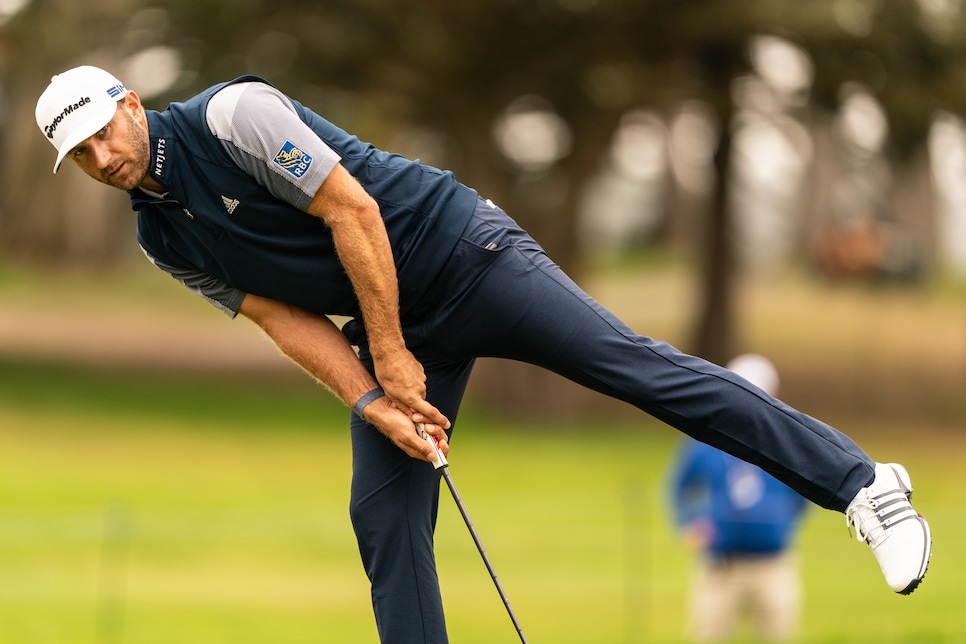 Darren Carroll/PGA of America
I wrote yesterday that it was time for DJ to get it done, almost suggesting he had to get it done. Did he? Will Dustin's life change in any way after this latest close call? Nope. He'll forget this all by tomorrow and be the exact same person next time he tees it up. He'll win many more tournaments, and for his sake, I hope a few more majors. His 21 PGA Tour victories [plus off-course earnings] have made him so rich that he's been afforded the choice to literally not give a crap.
But deep down, you have to wonder if he's thinking what we're all thinking: If not today, at the 2020 PGA Championship, where he held the 54-hole lead and was one under on his round through 13 holes with a huge birdie or eagle opportunity ahead at the 16th hole, then when? Like I wrote yesterday, he should have four majors, at minimum, and I could make an argument for eight. After today, I could make an argument for nine. I'll defend this man to the death. I truly believe he has the talent and ability to have nine. He has one. We've reached a DEFCON 5 level of "what-if" with Johnson now. It's depressing.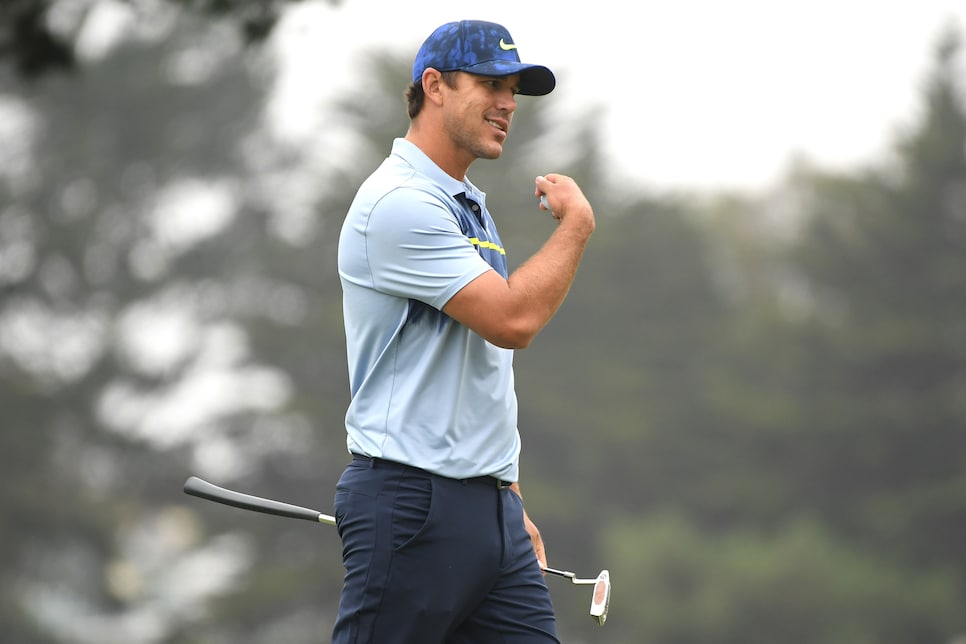 Social media is a very toxic place, one Brooks Koepka should probably stay away from for about two to four weeks, or however long until this all blows over. If he starts scrolling on his phone, he's not going to like what he sees.
And you know what? He asked for it. Actually, he practically begged for it. If you're going to talk the game Koepka talks, you simply have to back it up, even if you've already backed it up four times in your career. But after his comments on Saturday evening about DJ only having one major, Koepka's previoius four major titles became irrelevant. We live in a what-have-you-done-for-me-lately world, and the critics were not going to accept anything less than a fifth major and a PGA three-peat from Koepka on Sunday.
What they got instead was a round that was dead before it even started. Koepka bogeyed the par-4 second after an absolutely woeful approach shot and went full Houdini on the broadcast after that. Four-over 74 was the finaly tally, the equivalent of a quarterback guaranteeing victory and going out and throwing four interceptions in a blowout loss. Just a brutal look for ol' bombastic Brooks. That said, we should expect a full, swift recovery at Winged Foot in September. If "mad Brooks" is a real thing, he going to be pissed the hell off that week.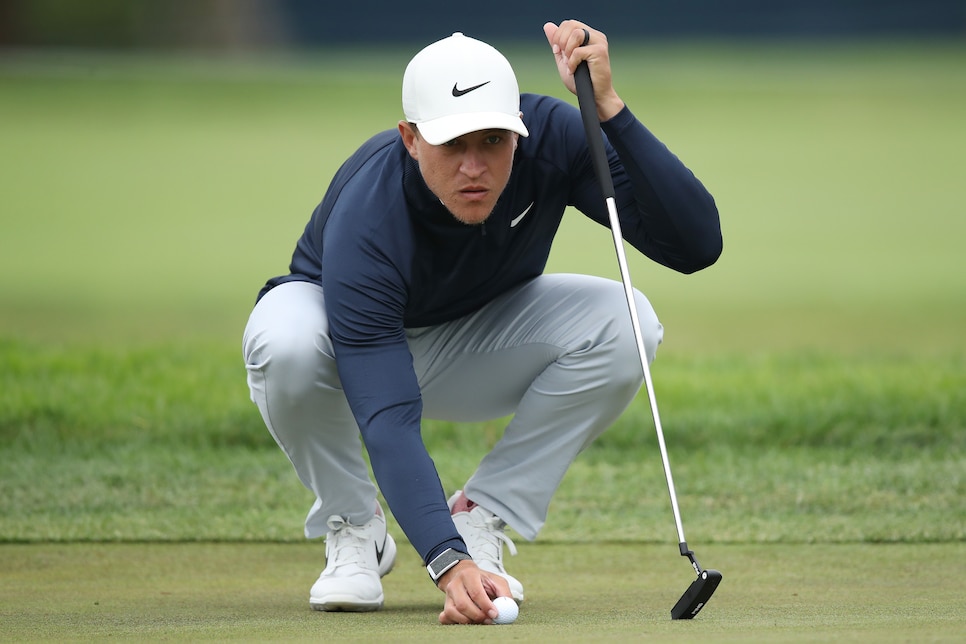 Christian Petersen/PGA of America
Assuming Morikawa doesn't win all the majors going forward, who is the next man up? For all the talk of needing experience on a major championship Sunday, Scottie Scheffler and Morikawa both showed that could be overrated. Scheffler, who was in the final group, shot a two-under 68 with just one bogey. It wasn't a 64, but that's still pretty damn good for a 24-year-old in his fourth career major start. Surprisingly, he hasn't won on tour yet, but there is little doubt that day is coming soon.
What about Cameron Champ? Early on, it looked like this was going to be his day and not Morikawa's. The long-hitting 25-year-old was holing all the putts you need to hole to win a major on Sunday, but a round-killing double bogey at the ninth hole crushed all of his momentum. He was never able to recover, shooting an even-par 70 and finishing five back. But man, for all of yesterday and much of today, Champ showed he's more than ready to win one of the four big ones.
Matthew Wolff? Yeah, him too. For a brief period he was sitting pretty in the clubhouse at 10 under thanks to a five-under 65, which should have been a 63, as Wolff missed two birdie putts inside of seven feet. Of course, that still wouldn't have been enough, but it would have been a hell of an effort. Something tells me we weren't overselling the Morikawa-Wolff-Viktor Hovland takeover last summer.
As for the rest, there's no question Bryson DeChambeau will get there, and I'd say the same for Tony Finau if he had another PGA Tour win or two. But for now, he's just a guy who lives in the top 10 and needs to breakthrough if he wants to turn everyone into a believer.