News
Masters 2020: How a 62-year-old former champion became the biggest surprise on Thursday at Augusta
Larry Mize plays his shot off the second tee during the first round of the Masters at Augusta National Golf Club.
Rob Carr
An Augusta, Ga., native carded six birdies en route to a two-under 70 in the opening round of the Masters. Would you have guessed he is 62 years old?
One birdie for each decade of Larry Mize's life—that has nice symmetry to it.
The round was also entertaining for the fact that Mize—who is so old that he was operating the score board adjacent the third green at Augusta National before Tiger Woods was even born—shot the same score as the reigning U.S. Open champ, Bryson DeChambeau.
Welcome to Augusta National, where old is so often young again.
There are 35 years separating Mize and DeChambeau, and nearly 100 yards, with the former averaging a meager 247 yards off the tee to the latter's brawny 334.
Just after 11 a.m. ET, on a golf course made soggy by heavy morning rain that delayed play for nearly three hours, Mize, after opening with a bogey on the difficult first hole, rattled off his third straight birdie to briefly take the lead at two under. What a moment for the 1987 champion.
"I did happen to see that," he said. "Wow, that's kind of cool. I'd like to be there more often. It's always fun to see your name up on the leader board here. I'm sorry I couldn't keep it there."
No need to apologize. Therein lies the beauty of the game.
Mize missed just one fairway, which is fewer than the number of fairway woods that he needed into some of Augusta's par 4s. As such, he bogeyed the seventh, ninth and 11th.
But what Mize lacks in length to compete on the 7,600-yard layout he makes up for in knowledge and short-game wizardry. This is, after all, his 37th Masters, where he has made the cut 20 times, the most recent of which was just three years ago.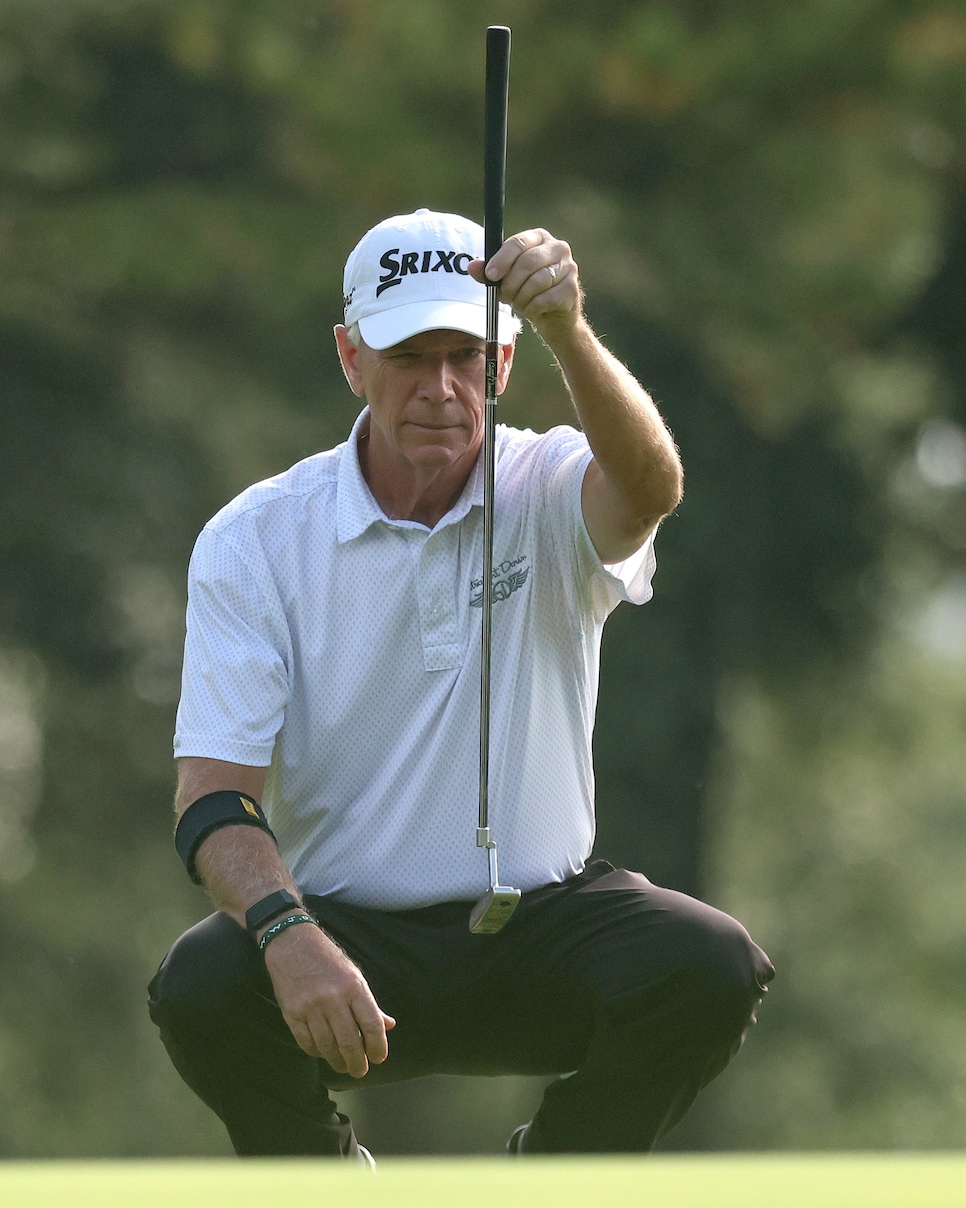 At the par-5 second, Mize sucked a wedge back from the fringe to the far-left pin, stopping his ball a few feet from the hole to set up an easy birdie. One hole later, a short part 4 on which DeChambeau would nearly reach the green from 350 yards away with just a 3-wood, Mize took a more classic approach, leaving himself 120 yards in before employing a smooth wedge to 15 feet on his way to another birdie. (DeChambeau parred the hole, by the way, even after that Herculean blast.) On the beefy 240-yard par-3 fourth, Mize only needed a long iron but again got his ball pin high and to 15 feet.
Three more birdies followed on the par-5 13th and 15th, where he leaned on more dandy wedge play, along with the par-3 16th, where Mize used the slope right of the flag and watched as his ball rolled to 10 feet. It was a shot worthy of a roar for the hometown hero, born in Augusta on Sept 23, 1958.
But no patrons, no cheers. Not this year.
"It would have been fun to make those six birdies in front of family and friends," Mize said. "Hopefully some of them were following me online and hopefully they enjoyed that, but it would have been fun with people here."