News
Masters 2020: Tiger Woods was feeling it Thursday and you didn't even need to see his score to know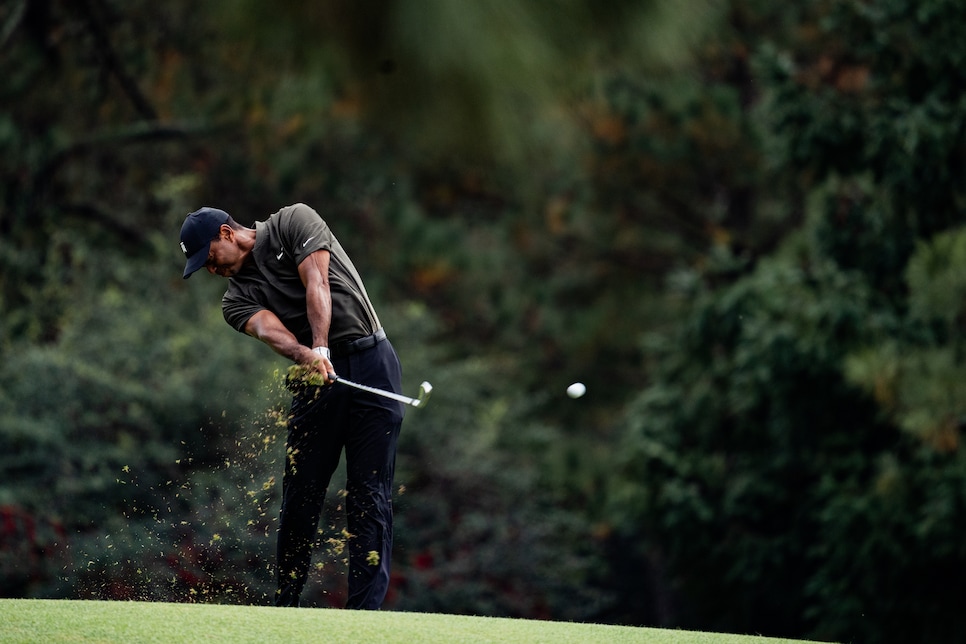 AUGUSTA. Ga. — The evidence hides in the margins. In the moments he's not standing over the golf ball. Unless you're blessed with bionic vision, Tiger Woods' swings always look more or less the same—whether he's contending or missing a cut. It's what happens between shots that tells you how he feels. And, at 44 years old, with a fused back, how he feels entirely determines his chances.
The tells—they're subtle. If you look away, you might miss them. On Thursday of the Masters, it happened after his third shot on the par-5 15th. One under for the day, Woods had just played a good-but-not-great pitch from long of the green to 10 feet. After marking his ball, he sprang up like a jack-in-the-box, quickly pulled his drenched shirt off both shoulders and pivoted around with rhythm that'd make Michael Jackson smile. It happened fast, but it told you everything you needed to know: Tiger Woods felt gooooood.
He drained the 10-footer for birdie. On the next hole, the par-3 16th that doubles as his personal highlight factory, he nearly holed his tee shot and tapped in to get to three under. And, at once, the chorus of pre-tournament doubters faded from memory.
Seemingly out of nowhere, Woods shot a bogey-free four-under 68 in the first round of his 2019 title defense. He was three back of Paul Casey's lead and firmly inside the top 10 when he finished. It's just the second time Woods has broken 70 in the first round of the Masters and matches his best opening-round score at Augusta.
"I did everything well," Woods said. "I drove it well, hit my irons well, putted well. The only real bad shot I hit today was I think 8. I had a perfect number with a 60-degree sand wedge and I hit it on the wrong shelf. Other than that, I just did everything well. The only thing I could say is that I wish I could have made a couple more putts."
We should have known—known to essentially disregard his poor form coming in. Yes, Woods has not finished better than T-37 in any of his six starts since golf's restart. He's been putting awfully for the better part of a year now. He missed the cut in the last major he played.
And yet, as soon as he ripped a tight draw down the middle of the 10th fairway on his first swing of the day, all that faded from view. Woods looked nothing like the creaky 44-year-old who trudged through a mediocre summer; instead, he resembled the hulking beast that so famously triumphed here 19 months ago. At Augusta National, Woods could slice his right hand open with a lawnmower 10 minutes before his tee time and you'd still fancy him to break par.
"Understanding how to play this golf course is so important," he said. "I was saying there that I've been lucky enough to have so many practice rounds throughout my career with so many past champions, and I was able to win this event early in my career and build myself up for the understanding that I'm going to come here each and every year. And the fact that this tournament is played on the same venue each and every year—understanding how to play it is a big factor."
It did, however, take Woods a good hour to kick into gear. His first approach shot of the day, at 10, missed a good 20 yards left of his target. He made par. At 11, just as he did on Sunday of last year, Woods sent his drive well right, in the direction of the marquee NFL duo of Peyton Manning and Roger Goodell (both Augusta members, of course). A friendly kick left and a controlled slice later, and he had a good look at birdie and a tap-in par. At 12, he played a cut to a back-right pin that crossed over the flag, prompting caddie Joe LaCava to plead for it to GO! Another semi-nervy par. At 13, his approach from the rough—which is longer than you'll ever see at Augusta, a genuine factor this week—was one yard away from finding the water. Instead, a birdie.
From then on, it was vintage Woods. High cut off the tee at 1, then a tomahawk nuke off 2, then a tight little draw with an iron off 3. Woods was slightly ticked as he spoke with reporters after the round, knowing the 68 could have easily been a 66. He missed a nine-footer for birdie at his last hole of the day on the high side, which was a bit of a theme.
"I missed everything on the high side," he said. "Putts just aren't moving, so it's just different with as slow as they are and then with the weather delay, the amount of rain they've had. The golf course is going to change a lot."
After pouring a 20-footer in the heart for birdie at 9, the putter went cold and he settled for eight straight pars. Woods headed to the putting green after the round—another sign he's up for it this week—but was delighted with what can only be described as a ball striking clinic. There was one bad shot, that balky wedge at 8. Just ask playing partner and 2019 U.S. Amateur champion Andy Ogletree, who enjoyed every second playing with his childhood idol.
"Every shot has a plan, and he executed really well," said Ogletree, who opened with a 73. "Super good to watch, see how he kind of hits the draws in some of the greens and fades into the others. Sometimes there was some wind up there, and he'd kind of hold against it—something you can't really see on TV, but I could kind of tell what he was trying to do, and he seemed to be in control of his golf ball."
Of course, not all 68s are created equal. Woods noted that this was as benign as Augusta can possibly play—it's a different course in the fall, and the downpour that delayed play for nearly three hours on Thursday morning robbed the greens of their fire. Plenty of players took it low, led by Paul Casey's 65. There is work to do, and there's no guarantee Woods will replicate this performance on Friday. He's had trouble stringing together good rounds all year.
But there were plenty of people who said he had no chance this week, that he would lay an egg in his title defense. We should have known that was never going to happen. Not even in 2020.