CME Group Tour Championship
How Lydia Ko revived her career and returned to LPGA glory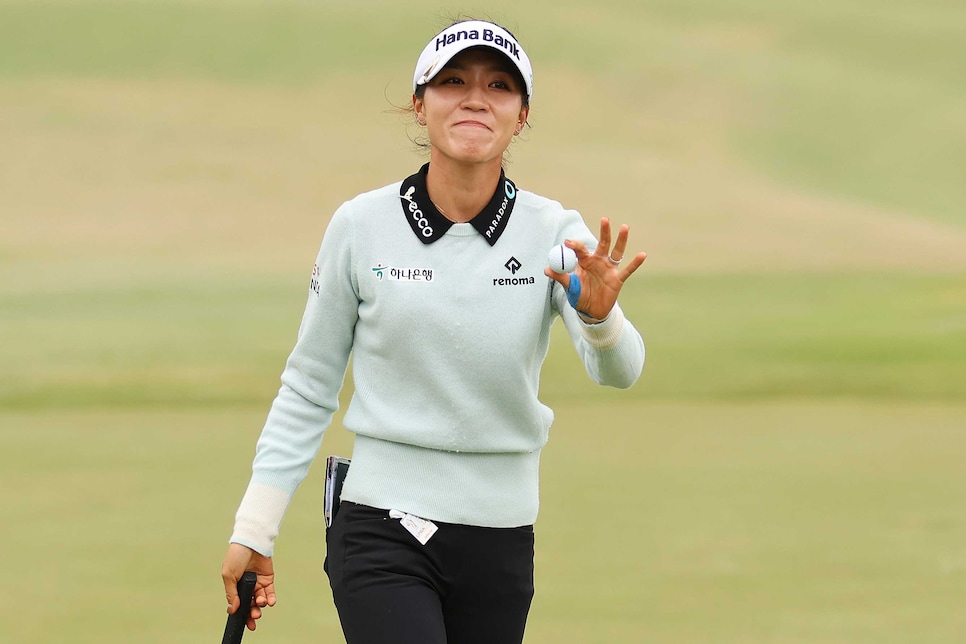 NAPLES, Fla. — On a cold, windy, overcast Sunday at the CME Group Tour Championship, Lydia Ko resembled the palm trees dotting Tiburon Golf Club—bending in the 20 mph gusts, precarious to the naked eye, but in fact rooted firmly to the earth and well prepared to outlast the conditions. Tied with Leona Maguire headed into the final round of the 2022 LPGA Tour season (and five shots clear of third place), Ko was a picture of composure, shooting her second-straight 70 to secure the record $2 million first prize, her 19th career LPGA title and her second career Rolex Player of the Year honor.
A narrative emerged ahead of the concluding round that Maguire, who won for the first time on the LPGA Tour in February, would be tough to beat due to her competitive nature. It was on display most vividly during the Solheim Cup 14 months ago, when she won 4½ points in her debut to spearhead Europe's upset road victory at Inverness Club. Plus there was her native Irish familiarity with windy conditions. Ignored in all this was Ko's pedigree, which includes two major wins and a sufficiently windy New Zealand heritage of her own.
Through nine holes, the two continued to dare the field to catch them. But on the back nine, as Anna Nordqvist in particular surged up the leaderboard, it was Ko who remained a step ahead of her competition. While Maguire scrambled admirably despite looking nervy at times, Ko, a nine-year LPGA veteran despite being just 25, was more composed down the stretch, a picture of serenity and mental resilience in the face of blustery weather and the nerves that attend a massive payday.
As a slight rain fell, a critical moment arrived on the 14th hole, a relatively straightforward par 5 that had played easy even in the tough conditions. With her second shot, Maguire made arguably her worst swing of the day, sending the ball low and left, where it disappeared into the high grass bordering the water, not to be found. Ko, in one of her few final-round missteps, followed by hitting her own second shot right, where it rolled into the same grass. Crucially, Ko found her ball and took a penalty drop nearer the hole. Both made bogey—Ko dropped to 15 under, Maguire to 14 under. But Nordqvist, who had just reached 13 under, made a bogey of her own on 16, largely due to her lack of confidence in making a pitch from near the green, choosing instead to putt around a bunker and leave a lengthy par attempt.
The critical moment came on the next hole, when Ko left her approach below the cup, aimed for the left-center and made a left-to-right putt of 10 feet for birdie to extend her lead to two shots. (When Maguire missed her putt from off the green, Ko kicked out a foot, as though she wanted it to fall; one of the quirks of a player who seems to root for her opponents during rounds.)
The par-5 17th was the easiest hole at Tiburon, and both Ko and Maguire made birdie to stave off a late challenge from Nordqvist, who made her fifth birdie in six holes on 18 with a long, winding putt to reach 14 under and secure third place.
Ko's drive on 18 flirted with the right rough, but when it stayed in the fairway, the tournament was essentially over—a competent approach and two putts later, she was $2 million richer.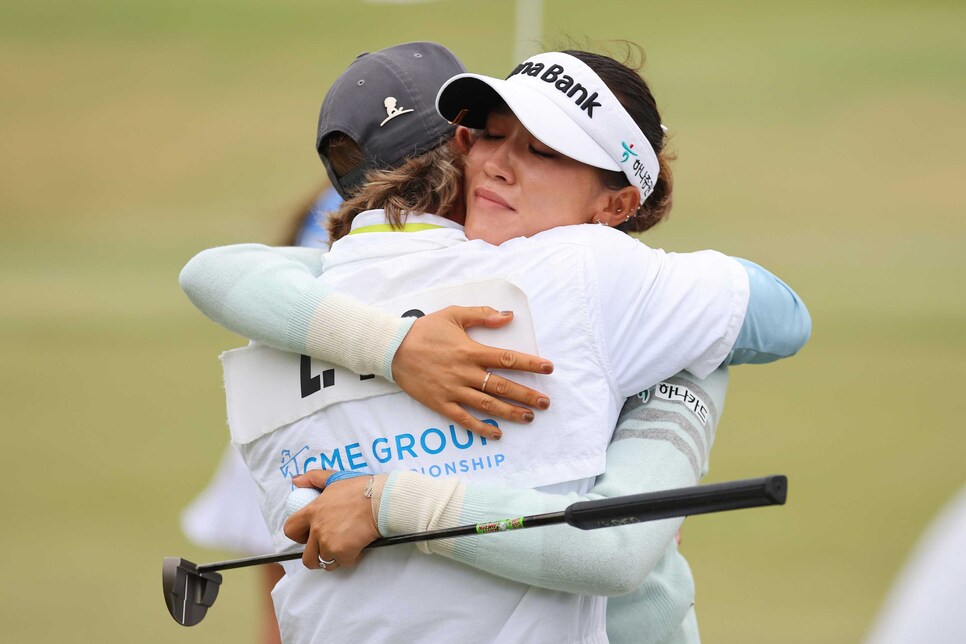 Lydia Ko was emotional when hugging her caddie Derek Kistler on the 18th green after winning her 19th LPGA Tour title on Sunday.
Michael Reaves
After her round, Ko said that she wanted to win for her fiancé, Jun Chung, just to do it in front of him so they could celebrate together—when she won in Korea last month without him, she said she started "bawling" because he wasn't there. Contrast that to her mother, who Ko laughingly said often tells her that she was better at age 15. As to whether mom might give daughter a break after winning, Lydia gave a rare short answer: "Oh, hell no."
To the victor went the spoils (or at least most of them). It was the second time Ko earned POY honors, the first time coming in 2015. Amazingly, Ko finished the year earning $4,364,403, exactly $591 short of Lorena Ochoa's 2007 record for most cash claimed in a single season, and also narrowly missed rising to World No. 1 with the win (Nelly Korda's T-10 finish was high enough to keep the American in the top spot.) Ko did take home the Vare Trophy as the player with the lowest scoring average of the year (68.988) and earned three more LPGA Hall of Fame points to give her 25 in total—just two shy of the 27 needed for admission.
"I felt pretty calm today," she said. "I thought I would be way more nervous. Last night I couldn't sleep as well, and I normally get the butterflies when I do get nervous. I remember actually in Korea [where she won the BMW Ladies Championship last month], that cart ride from the putting green to the tee, I was so nervous that I said, 'Man, I don't feel very good.' But today I was surprised at how not shaky I was, and I get nervous even during Pro-Ams because I wanna play good for our pro-am group. So I was surprised, but I think that might be because I wanted to totally focus on me and I just said 'today, I want to play golf that I won't regret.'"
The answer was typical of Ko: long, a little meandering, self-examining and, ultimately, more insightful than most athletes will let themselves be. She's an open book, which makes it more remarkable that she's so composed on the course. The steady, unflappable presence after winning the biggest single payday in women's golf history is the same who will unleash quotes like these moments later, about the arc of her career.
"A lot of things have happened since then. I was 17 in 2014 [the last time she won the CME Group Tour Championship] and I don't feel 25 right now. But there's been a lot of ups and downs, both on and off the golf course. And I think yes, maybe when I was younger, I played a bit more freely because I was a little clueless, at the same time … my perspective and how I treat the bad shots or the bad events a lot better now than I did then."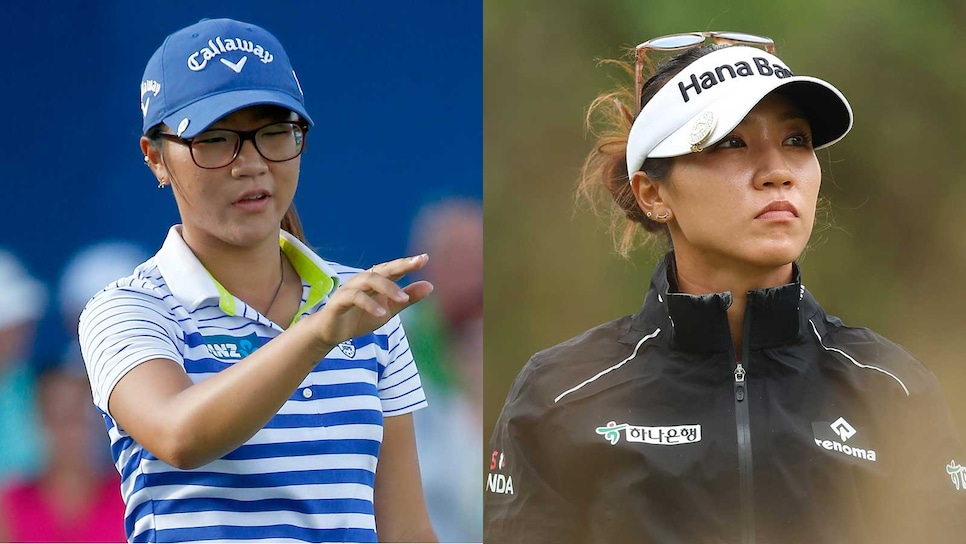 Ko has grown up in many ways in the eight years between her first CME Group Tour Championship win in 2014 (left) and her victory on Sunday (right).
Ko was one point ahead of Minjee Lee in the Player of the Year standings coming into this week, and beyond Lee, only Brooke Henderson and Atthaya Thitikul could catch her (and both would have needed to win). Lee struggled on the final day, shooting 77 to plummet down the leaderboard, while Henderson fought through an upper back injury for a surprising top-10 finish and Thitkul was just a shot behind her. None of it, though, was nearly enough to keep Ko from top honors.
"To win the Player of the Year and to win the Vare Trophy again, it's a dream come true," Ko said. "And to be able to do it in front of my family and team, it's a very special one, and as much as I'm excited that I've won, I'm also excited for some time off and to get ready to become a bride."
For Maguire, the disappointment was evident as she signed a few listless autographs and took her place in front of the microphones with the golfer's equivalent of the 1,000-yard stare. Even so, she kept her perspective on how her career has blossomed, a task made easier by the $550,000 earned for a solo second.
"It would have been nice to play a little better today, but it was tough out there," Maguire said. "The wind was strong, it was cold, the pins were tricky. … Obviously I would have loved to have won, but four years ago pretty much this week I missed second stage of Q school by a shot. I drove by that exit on Sunday driving down here, and to be here today in this position, it's a big jump forward. It's been my best season by far, and I've gotten better every year."
Nordqvist finished with a field-best 67 and earned $340,000, it was a satisfying end to her 2022 journey.
"It's been a really tough year for me," said the 35-year-old Swede. "I struggled a lot mentally and physically. I've had a lot of good people close to me believing in me when I didn't really believe in myself. I think they have seen a lot of good things. They've seen a lot of the hard work that I've put in. … It was just such a great feeling seeing the putt on the last go in."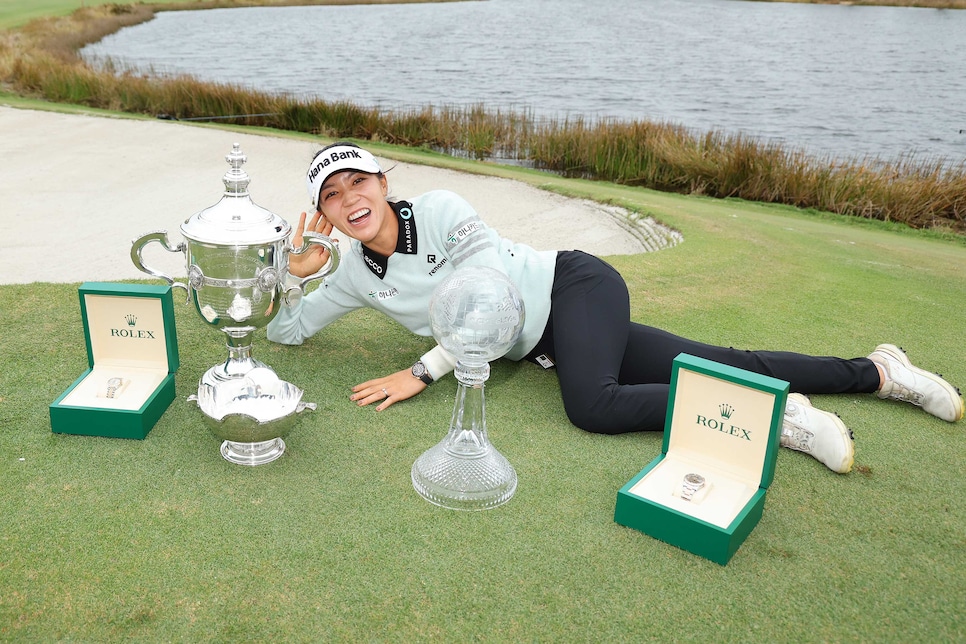 Ko poses with the Vare Trophy, the Rolex Player of the Year trophy and the CME Globe trophy.
Michael Reaves
The big winner, though, was easy to spot in the post-match presser, when three trophies were set up on the podium: the silver loving cup for the Player of the Year, the silver bowl-shaped Vare Trophy, and the glass globe signifying her win this weekend at the Tour Championship. Thrice decorated, wearing her Hana Bank visor and the sparkling jeweled hat clip on its brim, Lydia Ko smiled, answered questions, and walked off into a well-deserved offseason—not quite at her previous dizzying heights in the mid-aughts, when she was a teen wonder who reigned as the World No. 1 golfer and won two majors, but not very far either.