LPGA
It's great LPGA purses are increasing to more than $100 million. Now comes the hard part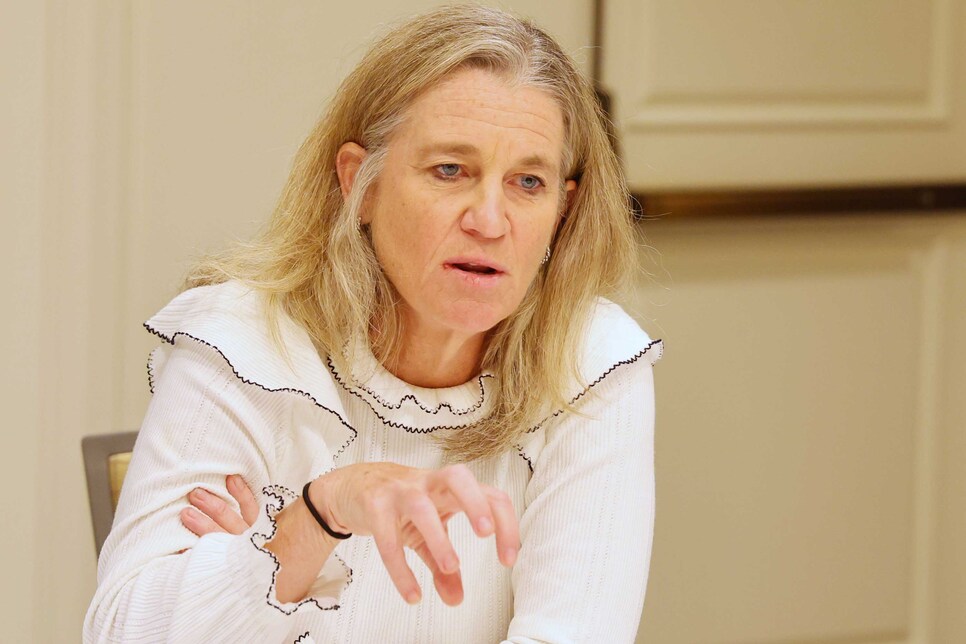 NAPLES, Fla. — On Friday, the LPGA Tour announced that total prize money payouts for the 2023 season would top $100 million for the first time in the organization's history. It's the latest coup for the women's professional game, which has seen significant financial growth over the last decade and which will award the largest first-prize check—$2 million—in the sport's history at this week's CME Group Tour Championship. According to LPGA Commissioner Mollie Marcoux Samaan, though, this is just the start. The former Athletic Director at Princeton is completing her first year in LPGA's top post, and after traveling to 28 tournaments and other industry events, she sees not just the potential, but the need for further growth.
"Right now, the 100th best player made $167,000," she said during a round table discussion on Friday morning at Tiburon Golf Club. She was referring to the 2022 season, in which purses grew by 30 percent over 2021. "It probably cost her $125,000 to $150,000 to be out here, and that's really a tangible goal for us to say we really want the 100th best player to be able to make a good living commensurate with her talent out here on the LPGA."
As benchmarks go, it's a good one. On the PGA Tour last season, Stephen Jaeger was No. 100 on the money list and he made $1.2 million; in all, 126 players made at least a million dollars in earnings. By contrast, as Marcoux Samaan noted, China's Ruixin Lu may have netted less than $20,000 as the 100th-ranked player on the LPGA money list.
The question is, how do you fix that?
The answer is "more money," of course, but it's the path to getting that money that forms the basis of the commissioner's job. There are adjustments that can be made, like re-allocating the increases in prize money to lift the income of the rank-and-file players as much as the elite, but that comes with its own consequences. Another idea is to pay stipends at tournaments to mitigate the costs of travel. It's something the PGA Tour added for non-exempt players in the 2022-23 season, giving $5,000 to each for every missed cut.
"I think that would help significantly because it's expensive to be out here," Marcoux Samaan said. "So we're looking at that."
No final decisions have been reached on that front, and the truth is that for significant change to happen, the growth in purses must continue unabated year to year. In order to achieve that goal, and to secure more investors, Marcoux Samaan pointed to marketing as the chief strategy for her team.
"We're focused on new media and data to drive fan engagement," she said. "We need to speak to our fans more intentionally and more aggressively, and we need to grow our fan base. … I've said this from the minute I started, we need to let the world get to know our players better because they are remarkable both as humans and as talent. So we're going to invest in that goal."
What does that look like? It boils down, according to Marcoux Samaan, to "telling the stories of our players more effectively." Social media will be a big part of that, and the technology involved with how fans interact with the LPGA Tour is a major part of the equation.
"We need to upgrade our technology, which includes looking at our website, looking at our scoring, looking at our video content on the back site, looking at potential apps," she said. "All the ways that we can in a modern world have two-way communication with our fans, know who our fans are, aggressively deliver content that they're interested in, encourage them to come and be a part of our ecosystem."
For her, the bottom line is "content, content, content," and that could involve a narrative video series. When asked about the Netflix documentary "Drive To Survive," which drove major growth in F1 racing, and whether something similar could be done on the LPGA Tour (Netflix is currently making a documentary on men's professional golf), she seemed to indicate that this already had been seriously discussed.
"We've been talking about that for a year," she said. "I think that the stories of our remarkable women out here need to be told, and so we are working internally and working with some external partners to think about how we achieve that either with an outside partner or, like I said, doing it ourselves because I think our women are inspiring both with their talent on the golf course, but the life that they live out here, the challenges that they face ... we need to tell the stories of the players as humans more effectively."
There's no word yet on what that specifically entails, or how far along in the process they are, but it's an indication of the major current of change Marcoux Samaan will oversee. Her attention to the job has come with personal sacrifices; she has two teenage daughters who she's had to see less of while traveling 32 weeks, and she admitted with a laugh that she doesn't exercise as much or eat as well as she should.
Which isn't to say she's not happy with the current state of affairs. Clearly, the LPGA Tour is an attractive property to sponsors, and she pointed to investments of $3 million from JM Eagle and $2.75 million from Mizuho to run their events. According to Marcoux Samaan, brand deals for the LPGA Tour are up 30 percent overall, and sponsorship revenue continues to increase. Still, for the goals she has in mind, it's not good enough; even the organization itself, she said, has to expand.
"Like all women's sports properties, we're under-resourced, and the infrastructure of the organization needs to grow for us to grow," she said. "You hear people talk about in women's sports all the time this idea that we need to be able to thrive rather than just survive, and I think that takes investment, and that takes infrastructure.
"We feel very bullish on where we're going," she concluded, "but we are not done yet."