Payday at Tiburon
Here's what makes the record prize money payout at the LPGA's 2022 CME Group Tour Championship so interesting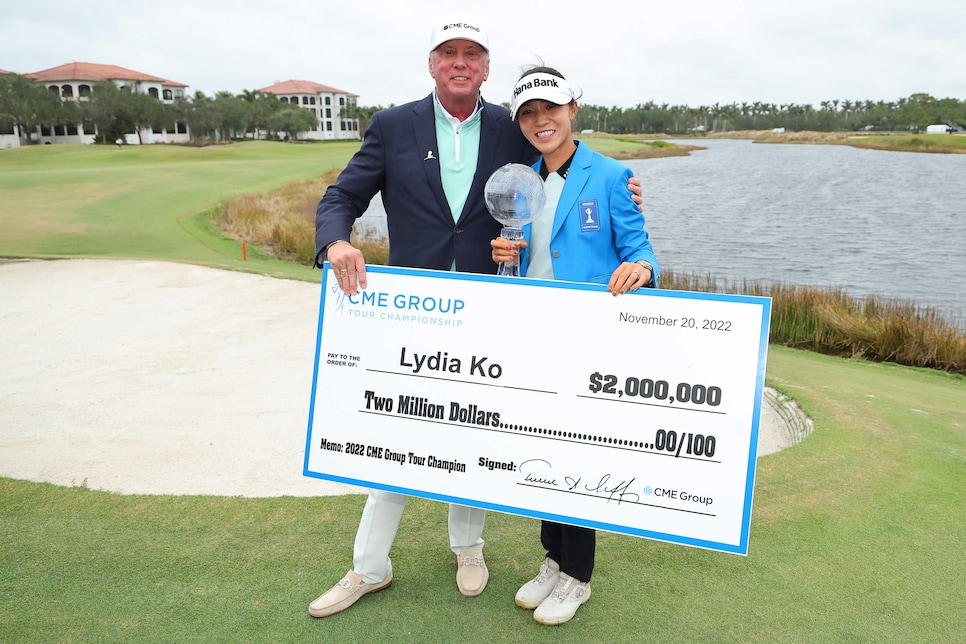 Lydia Ko poses with CME Group CEO Terry Duffy and the winner's check after winning the CME Group Tour Championship.
Michael Reaves
It was a good week to play well on the LPGA Tour, as there was a record first-place prize money payout offered at this year's CME Group Tour Championship. While the $7 million overall purse at Tiburon Golf Club in Naples, Fla., didn't top the all-time record of $10 million offered at the U.S. Women's Open this summer, it was in line with the paydays at the remaining LPGA majors. Meanwhile, the $2 million payday for the winner, Lydia Ko, at the CME did surpass the $1.8 million handed out to Minjee Lee at Pine Needles.
Ko, 25, started the day tied for the lead with Leona Maguire at 15 under, five shots ahead of the next closest pursuer. The New Zealander then played steady in breezy, overcast conditions, shooting a closing two-under 70 to grab her 19th career LPGA title. In the process, she also earned Rolex Player of the Year honors for the second time, previously winning it in 2015, and secured the Vare Trophy for low stroke average on the season.
As it turned out, a high finish at the LPGA's season finale got rewarded more greatly than at other LPGA Tour event—and even most PGA Tour stops. The $2 million payday at the CME Group Tour Championship was 28.57 percent of the overall purse. That's a far greater percentage compared to typical LPGA Tour events, which pay out 15 percent of the overall purse to the winner. The U.S. Women's Open paid 18 percent, which is also the standard percentage for PGA Tour events.
Here's the prize money payouts for every golfer competing this week in the LPGA season finale:
Win: Lydia Ko, -17, $2,000,000
2: Leona Maguire, -15, $550,000
3: Anna Nordqvist, -14, $340,000
T-4: Georgia Hall, -12, $222,500
T-4: Jeongeun Lee6, -12, $222,500
6: Pajaree Anannarukarn, -10, $150,000
T-7: Hyo Joo Kim, -9, $105,667
T-7: Brooke M. Henderson, -9, $105,667
T-7: Gemma Dryburgh, -9, $105,667
T-10: Celine Boutier, -8, $83,500
T-10: Atthaya Thitikul, -8, $83,500
T-10: Nelly Korda, -8, $83,500
T-13: Moriya Jutanugarn, -7, $76,000
T-13: Madelene Sagstrom, -7, $76,000
T-15: Jodi Ewart Shadoff, -6, $72,000
T-15: Danielle Kang, -6, $72,000
T-17: Allisen Corpuz, -5, $67,250
T-17: Chella Choi, -5, $67,250
T-17: Andrea Lee, -5, $67,250
T-17: Lizette Salas, -5, $67,250
T-21: Lexi Thompson, -4, $62,500
T-21: Megan Khang, -4, $62,500
T-21: Amy Yang, -4, $62,500
T-21: Xiyu Janet Lin, -4, $62,500
T-25: Marina Alex, -3, $58,000
T-25: Sei Young Kim, -3, $58,000
T-25: Ayaka Furue, -3, $58,000
T-25: Caroline Masson, -3, $58,000
T-25: Stacy Lewis, -3, $58,000
T-30: Charley Hull, -2, $54,250
T-30: Lilia Vu, -2, $54,250
T-30: Sophia Schubert, -2, $54,250
T-33: Nanna Koerstz Madsen, -1, $50,125
T-33: Ashleigh Buhai, -1, $50,125
T-33: Jin Young Ko, -1, $50,125
T-33: Hannah Green, -1, $50,125
T-33: Narin An, -1, $50,125
T-33: Jennifer Kupcho, -1, $50,125
T-33: In Gee Chun, -1, $50,125
T-33: Minjee Lee, -1, $50,125
T-41: Eun-Hee Ji, E, $46,250
T-41: Sarah Schmelzel, E, $46,250
T-41: Alison Lee, E, $46,250
T-41: Nasa Hataoka, E, $46,250
T-45: Ryann O'Toole, +1, $44,250
T-45: Cheyenne Knight, +1, $44,250
T-45: Maja Stark, +1, $44,250
T-45: Ally Ewing, +1, $44,250
T-49: Pornanong Phatlum, +2, $42,750
T-49: Hinako Shibuno, +2, $42,750
51: A Lim Kim, +3, $42,250
52: Matilda Castren, +4, $42,000
53: Mina Harigae, +5, $41,750
T-54: Hye-Jin Choi, +6, $41,125
T-54: Ariya Jutanugarn, +6, $41,125
T-54: Paula Reto, +6, $41,125
T-54: Carlota Ciganda, +6, $41,125
58: Gaby Lopez, +7, $40,500
T-59: Yuka Saso, +8, $40,125
T-59: Patty Tavatanakit, +8, $40,125