South Africa's Bobby Locke, a four-time Open champion, is generally credited with coming up with the phrase "Drive for show and putt for dough" to describe the key ingredients to winning a golf tournament. It was a theory that held true for some time, but in recent years statistical data shows the formula for winning on the PGA Tour has been inverted, the long game becoming a bigger separator between top players and average pros; in 2022 found more than over half of players averaged at least 300 yards on the tee.
Simlarly, Locke's recipe seems to be missing something required of late to win in women's professional golf, at least according to a recent first-time LPGA Tour winner.
With two events remaining on the 2022 LPGA season, the data for this year corresponds with numbers gathered over the last decade that show greens in regulation (and in conjunction putts per GIR) have had the highest correlation with winning on tour compared to putting or driving. Statistical research of winners during that time shows they have averaged 25th in greens in regulation for the season (and 23rd in putts per green in regulation), 47th in average putts and 55th in average driving distance.
Lee might be one of the most interesting individual examples of this: After all, she ranks 152nd in driving distance on the LPGA this season yet is one of a record-tying 11 first-time winners in 2022.
The dominance by players who top the tour's greens in regulation stats is eye-popping. In eight of the last 10 seasons, the leader for the year in GIR percentage has won at least one tournament: Suzann Pettersen, 2013; Brooke Henderson, 2015; Anna Nordqvist, 2016; Lexi Thompson, 2017; Jin Young Ko, 2018 and 2019; Sei Young Kim, 2020; and Ally Ewing, 2022. All eight, not coincidentally are multiple-time tour winners. As for 2014 and 2021, the lone seasons the No. 1 player in GIR percentage did not win an event, the second-ranked player did (Anna Nordqvist in 2014; Jin Young Ko in 2021). Notably, 37.3 percent of tournaments on the LPGA since 2013 have been won by players who ranked in the top 10 in greens in regulation during that season.
Patty Tavatanakit, the 2021 ANA Inspiration champion in her rookie season on the LPGA Tour, says consistently hitting greens provides physical and mental relief for players, "because there's not so many up and downs" literally and figuratively en route to posting a good score. Over a long season, it's challenging to remain competitive if a player is grinding the whole way, she felt.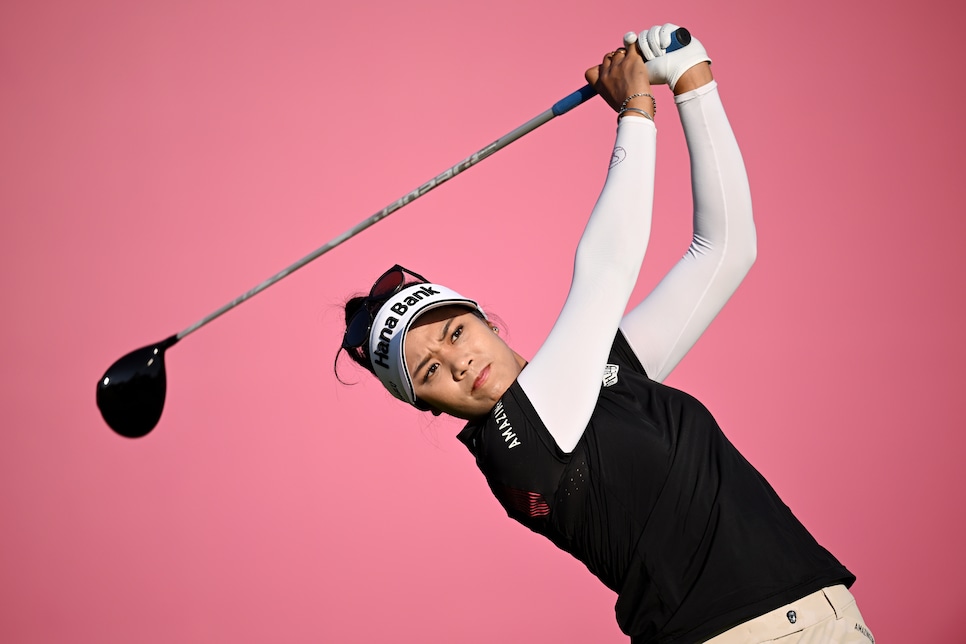 Patty Tavatanakit believes the reason having a high GIR percentage correlates to winning on the LPGA Tour is because it puts less stress on all other aspects of your game.
Stuart Franklin
"You can putt well to save par, and you can putt well to score here and there. But then mentally it becomes very tiring, exhausting if you're out of position and always have to [make putts] a lot," Tavatanakit said. "You're not going to last the whole season doing that."
Given the dominance by those hitting the green, it also explains the difference between winners averaging 25th in greens in regulation and 47th in average putts.
One of the LPGA's all-time greatest putters, Inbee Park, exemplifies this difference. For 16 of her 21 career LPGA victories, she was the top player on tour in putts per green in regulation. However, only one of her wins—the 2021 Kia Classic—came in a season in which she led the LPGA in putting average. Over the last decade, 46.9 percent of winners have finished in the top 10 in putts per green in regulation for the season.
Ewing, a three-time winner, is seemingly an exception to this rule in 2022. While she leads the tour in GIR at 77.9 percent, she's last in putting average at 173rd. Her putts per green in regulation isn't much better, sitting at T-139. However, during her victory at the Kroger Queen City Championship in September, the 30-year-old LPGA Tour veteran finished fifth for the week in putting and second in putts per green in regulation. Ewing outperformed her putting average by an astounding 4.3 putts per round at Kenwood Country Club in Cincinnati, Ohio, an approximate 17-putt improvement over the course of the tournament.
"It's been really tough for me mentally just knowing that I've been hitting it so great," Ewing explained after her win, "Seeing that stuff everywhere, seeing the stats, knowing I'm not hitting putts like I want to, it's just being kind of the thing holding me back."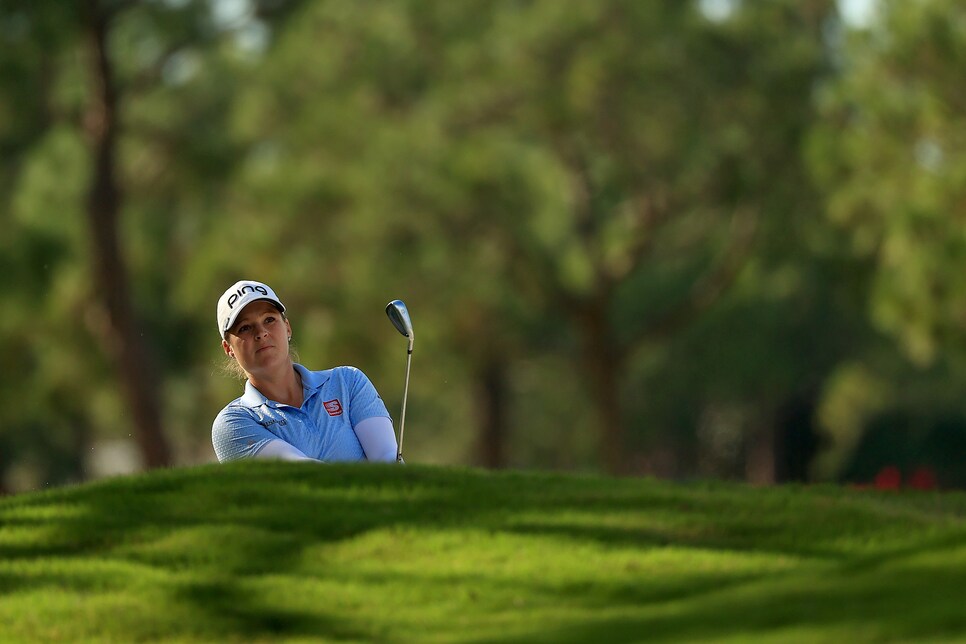 Ally Ewing is among the best ball-strikers on tour, which might explain her three wins in the last three seasons.
Mike Ehrmann
Indeed, putting remains a critical factor in winning according to LPGA stars Hannah Green, Georgia Hall and Nelly Korda, but potentially from a psychological aspect as much as a statistical one.
"At the end of the day, you need to get the ball in the hole," Korda said. "So I think the person that putts the best typically is the one that wins that week. I mean, overall, you kind of need to have every part of your game flowing correctly, and you have to get the good bounces and all that. But I would say at the end of the day, it's the person that makes the most putts that wins."
But Green, Hall and Korda all brought up a key point: holing the most putts. As Tavatanakit notes, there's no proximity tracked on tour. Therefore, the strength of putts per GIR and knocking the ball in the hole is influenced not only by one's ability to putt but also the strength of their ball-striking. It's in part why greens in regulation and putts per green in regulation rankings have tied so closely over the last 10 seasons.
"I can just be hitting 30-, 40-footer all day onto the green," Tavatanakit said, "and that may always say I'm a bad putter, but if you look at proximity, you're like, 'oh, she's not hitting it as close. … It's not necessarily [guaranteed] you hit 15 greens, you [shoot] five under."
As the influence of driving distance has grown large on the PGA Tour, no one Golf Digest spoke with mentioned it as a key factor in winning on the LPGA Tour. The PGA Tour's driving leaders over the last four seasons (Cameron Champ, Bryson DeChambeau) won four times in that time span. Over that same period, the LPGA Tour's distance leader 2019 Team Europe Solheim Cup member Anne van Dam, had to return to Q-Series in 2021 and did not improve her status, finishing T-60.
In the last 10 years, no season leader in driving distance in has won on the LPGA. In fact, more players have won who rank outside the top 150 in driving distance in 2022 (Lizette Salas, Andrea Lee) than inside the top 10 (Nanna Koerstz Madsen). Six of the last 15 tournament winners in 2022 are outside the top 100 in the season ranking (Lydia Ko, a two-time winner, is just inside that top 100 mark at 98th). In the 30 events to date on tour in 2022, winners are averaging 71st on the season-long average driving distance list, the worst since 2013.
Tavatanakit, who averaged more than 300 yards on her way to her major victory in the Palm Springs desert in April 2021, points to a particular reason for driving distance not leading to winning: course setup. From the Thai's perspective, often times the courses the tour plays demand hitting to a specific landing area off the tee. Should long hitters take out a driver, they have a tougher time hitting the ideal spot compared to players with average distance.
"There are courses where it does fit longer players," Tavatanakit explained, "but most of the courses we play and the way they set it up, it's basically for short to average players to be able to dominate as well."
Tavatanakit felt the majors set up better for longer hitters than the regular events, but even then, In Gee Chun and Ashleigh Buhai at 127th and 117th in average driving distance, respectively, won two of the final three majors of the season.
Tavatanakit, 13th in driving distance this year, averaging 272 yards, used the AmazingCre Portland Classic's sixth hole as an example. The 379-yard dogleg right requires Tavatanakit to take a 5-wood, which she plays to around 225 yards, to put herself in the best position to attack the green. She wasn't upset at the tour officials for setting up courses the way they are, but does wish they'd utilize more of the course, with some holes leaving 15 to 20 yards off.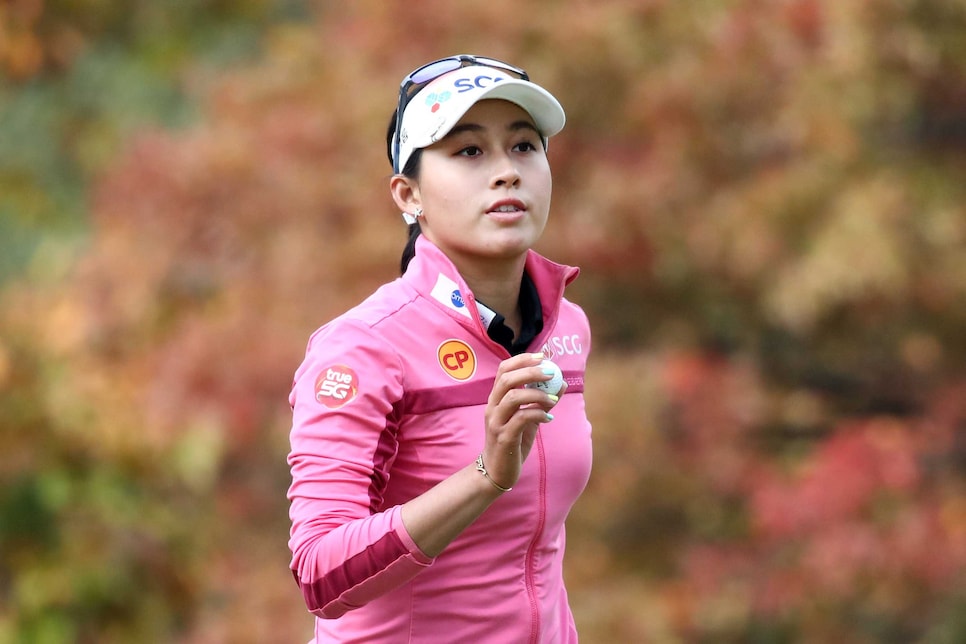 At just 19, LPGA rookie Atthaya Thitikul has won twice on the tour in 2022 despite she's kept the driver in her bag more than expected.
Chung Sung-Jun
Atthaya Thitikul, fresh Rolex Women's World Ranking No. 1, is the second-longest hitter to win on the LPGA in 2022 and faced similar choices at her most recent victory. The 19-year-old hit her driver at the Walmart NW Arkansas Championship only three or four times a round even though Thitikul likes to hit her driver (emphasizing the point twice). The two-time winner just didn't see the need.
"It's not the long course," Thitikul said of Pinnacle Country Club, playing at 6,438 yards, "and then the fairway, it's pretty narrow as well on the Walmart. "I mean, it's no point to hit a driver on it, so that's why I'll take a hybrid and 3-woods on the tee pretty much."
Apparently, the 19-year-old has already figured out the code for victory on the LPGA. You don't have to drive or putt for show to win. Rather, find the green in regulation and you're setting yourself up for success.