LPGA Tour
Former Stanford star and amateur standout Andrea Lee wins in Portland to capture first LPGA Tour victory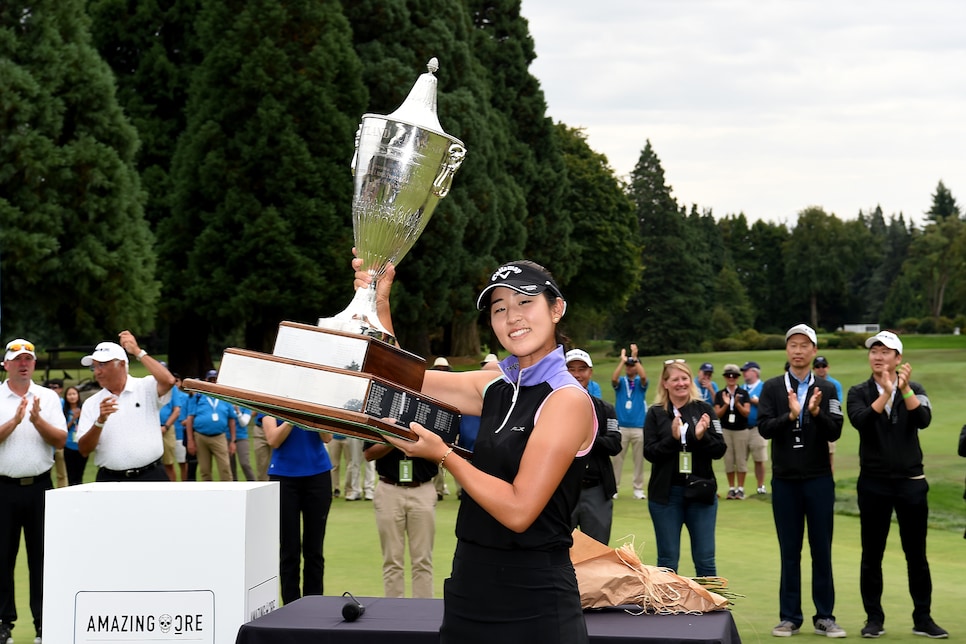 There are no guarantees of success when a collegiate star turns professional. Will good college play translate into a stellar professional career? Can a player who thrived in a team setting continue to thrive once she's on her own?
Andrea Lee, who owns the record for the most victories in the history of the Stanford women's program (nine), proved, after a shaky season, that she can successfully make the jump from college to the pro ranks. The 24-year-old shot a final-round 66 at the AmazingCre Portland Classic to finish at 19 under, earning her first LPGA Tour victory.
Lee's amateur stardom started before she even got to Stanford. At 15, she qualified for the 2014 U.S. Women's Open at Pinehurst and made the cut. In 2019, she made it to the semifinals at the U.S. Women's Amateur and was the No. 1-ranked amateur in the world. That fall, she went to LPGA Q-School and finished T-30, getting status for the 2020 season.
Over the following seasons, Lee struggled to find her place on tour. There were good moments, like the T-7 finish at the AIG Women's British Open in 2020. But then there were tougher times, like in 2021 when she had two separate stretches where she missed four consecutive cuts. She lost her full exempt status and played on the Epson Tour, the LPGA's developmental circuit, at the start of 2022.
"My junior career and my amateur career have always been kind of smooth sailing I would say," Lee said. "I kind of expected a lot out of myself coming into the LPGA and turning professional. I put a lot of pressure on myself to do really well off the bat. That wasn't the case at all. 2020 was a decent year, but then 2021 was a struggle. I think I missed like my first 10 out of 13 cuts last year. I realized it is really difficult to win out here. Everyone is such a great player. I think every single player out here has the ability to win on the LPGA Tour."
Back in April she earned her first professional win at an Epson Tour event in Arizona. She received sponsor's invites to LPGA events and finished high enough to improve her status and get into more events. Now, five months after that Epson Tour win, she's in the winner's circle on the LPGA.
Lee made her presence known at Columbia Edgewater Country Club in the second round, when she shot a bogey-free eight-under 64. After a third-round 67 she found herself in the final group on Sunday and tied for the lead. The leaderboard shifted throughout the final round, with major champ Hannah Green making a charge and Ayaka Furue keeping the pressure on, among others.
Lee held a two-shot advantage on 17 when her tee ball came to rest in a divot in the fairway. Her approach went left, looking like her club was turned over due to the lie in the divot, and she ended up in the bunker. She hit the bunker shot to a foot and made par.
"A little bad break, but nothing you could do about it," Lee said. "I was debating whether I should hit a full 7 or a choke 6. I went with a choke 6 and just kind of tugged it a little bit."
Up ahead, Daniela Darquea made birdie on 18, cutting Lee's lead to one but ultimately it was not enough. Darquea finished in second place, one shot back. Green, Furue, Narin An, Esther Henseleit and Lilia Vu all tied for third place.
Lee only missed four fairways the entire week in Portland and remained unphased, needing only par on the last to earn her maiden victory. She hit the fairway, hit the green and two-putted to clinch it. The worries about her status on tour are no longer. After throwing an arm in the air in celebration, she began to cry, and fellow tour members rushed the green to spray celebratory drinks on her.
"It's more than anything I could have imagined," Lee said. "I can't believe it actually. I'm speechless."