Payday in Portland
Here's the prize money payout for each golfer at the 2022 AmazingCre Portland Classic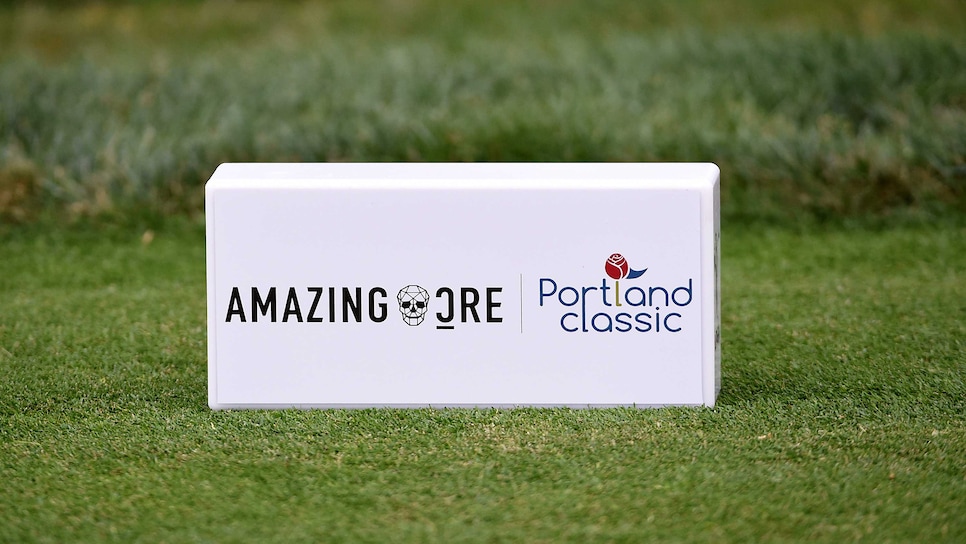 At one point during the final round AmazingCre Portland Classic, you could safely say it was anyone's tournament to win. And by anyone, we're only exaggerating slightly. Early on the back nine at Columbia Edgewater Country Club in Portland, Ore., there were five golfers tied for the lead and six other players within two shots.
Eventually, Andrea Lee emerged from the crowded pack, shooting a six-under 66 with eight birdies on her final 14 holes to grab her maiden LPGA title. The 24-year-old former All-American at Stanford shot a 19-under 269 total, one shot clear of Daniela Darquea.
"Hi, Mom! I did it," Lee smiled and said into the camera after clinching the title.
With the win, Lee earned a first-place prize money payout of $225,000 from the $1.5 million overall purse. Here's the prize money payout for each golfer who made the cut this week in Portland.
Win: Andrea Lee, -19, $225,000
2: Daniela Darquea, -18, $139,217
T-3: Narin An, -17, $67,303
T-3: Esther Henseleit, -17, $67,303
T-3: Hannah Green, -17, $67,303
T-3: Ayaka Furue, -17, $67,303
T-3: Lilia Vu, -17, $67,303
8: Maja Stark, -16, $37,730
9: Ryann O'Toole, -15, $33,919
T-10: Weiwei Zhang, -14, $27,782
T-10: Brooke M. Henderson, -14, $27,782
T-10: Frida Kinhult, -14, $27,782
T-10: Paula Reto, -14, $27,782
14: Chella Choi, -12, $23,476
T-15: Amy Olson, -11, $20,427
T-15: Georgia Hall, -11, $20,427
T-15: Ruoning Yin, -11, $20,427
T-15: Caroline Inglis, -11, $20,427
T-19: Bianca Pagdanganan, -10, $16,921
T-19: Rachel Rohanna, -10, $16,921
T-19: Pornanong Phatlum, -10, $16,921
T-19: Hye-Jin Choi, -10, $16,921
T-19: Carlota Ciganda, -10, $16,921
T-24: A Lim Kim, -9, $14,291
T-24: Min Lee, -9, $14,291
T-24: Ruixin Liu, -9, $14,291
T-24: Marina Alex, -9, $14,291
T-28: Katie Yoo, -8, $12,449
T-28: Mi Hyang Lee, -8, $12,449
T-28: Hinako Shibuno, -8, $12,449
T-31: Isi Gabsa, -7, $10,823
T-31: Gemma Dryburgh, -7, $10,823
T-31: Jenny Shin, -7, $10,823
T-31: Nelly Korda, -7, $10,823
35: So Yeon Ryu, -6, $9,757
T-36: Aditi Ashok, -5, $8,137
T-36: Lauren Hartlage, -5, $8,137
T-36: Angel Yin, -5, $8,137
T-36: Lauren Stephenson, -5, $8,137
T-36: Sarah Kemp, -5, $8,137
T-36: Yealimi Noh, -5, $8,137
T-36: Dana Finkelstein, -5, $8,137
T-36: Cheyenne Knight, -5, $8,137
T-44: Maria Fassi, -4, $6,479
T-44: Ayako Uehara, -4, $6,479
T-44: Mo Martin, -4, $6,479
T-47: Albane Valenzuela, -3, $5,579
T-47: Karis Anne Davidson, -3, $5,579
T-47: Ana Belac, -3, $5,579
T-47: Anne van Dam, -3, $5,579
T-47: Tiffany Chan, -3, $5,579
T-52: Charlotte Thomas, -2, $4,878
T-52: Alena Sharp, -2, $4,878
T-52: Mina Harigae, -2, $4,878
55: Jessica Peng, -1, $4,573
T-56: Cydney Clanton, E, $4,192
T-56: Morgane Metraux, E, $4,192
T-56: Na Yeon Choi, E, $4,192
T-56: Sung Hyun Park E, $4,192
T-60: Lindy Duncan, +1, $3,735
T-60: Peiyun Chien, +1, $3,735
T-60: Sarah Rhee, +1, $3,735
63: Haylee Rae Harford, +2, $3,582
T-64: Jenny Coleman, +3, $3,468
T-64: Savannah Vilaubi, +3, $3,468
66: Mariah Stackhouse, +4, $3,354
T-67: Maria McBride, +5, $3,239
T-67: Linnea Johansson, +5, $3,239
T-69: Annie Park, +6, $3,062
T-69: Cindy LaCrosse, +6, $3,062
T-69: Sydnee Michaels, +6, $3,062