ANA Inspiration
Patty Tavatanakit realizes her dream (and a Snapchat) with her two-stroke victory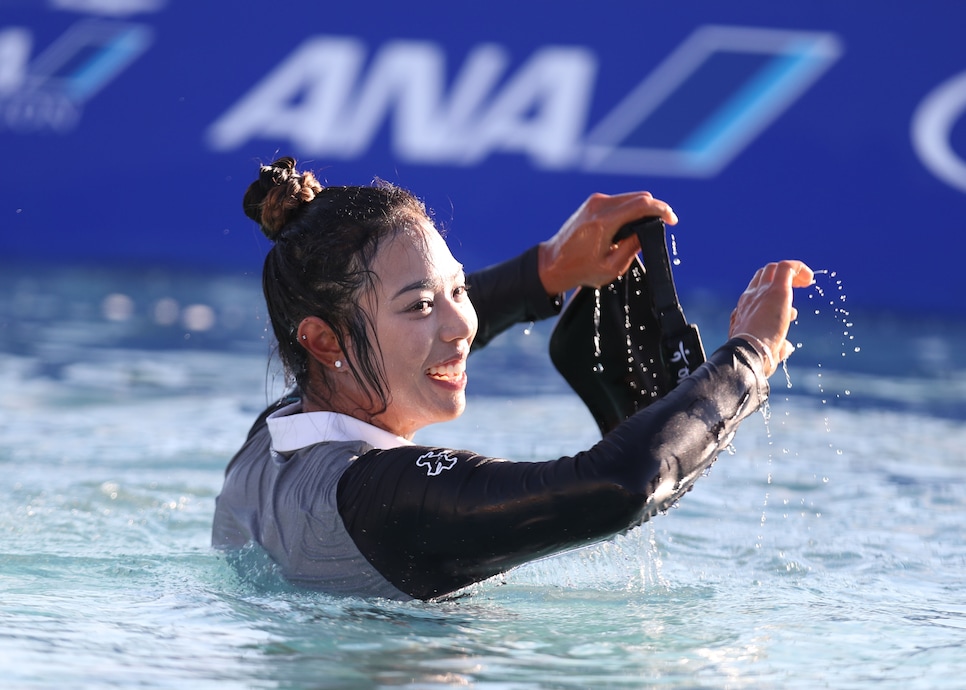 RANCHO MIRAGE, Calif. — All players practice visualization, but what Patty Tavatanakit was visualizing two years ago was not her next shot, but her future, and it precluded her from accepting an invitation from Augusta National. Magnolia Lane represented a detour.
Tavatanakit declined an opportunity to play in the inaugural Augusta National Women's Amateur in 2019. Looking ahead to an LPGA career, she instead accepted an invitation to play in the ANA Inspiration, concluding that it would better prepare her. "It's a bummer letting go of that [Augusta], but the ANA is a perfect field for me," she said at the time.
How'd that work out for her? Well, a day after the conclusion of the second Augusta National Women's Amateur, Tavatanakit made the celebratory leap into Poppie's Pond, confirmation that her decision was the right one. Only 21, Tavatanakit won the ANA Inspiration, a wire-to-wire victory that further illuminates what in many precincts already was considered a given.
That her future was bright.
"It's a dream come true," she said. "Every time I play here I remember exactly. I was on this green receiving my low amateur award [at the 2019 ANA Inspiration] and I saw they were jumping [into the water] and I took a Snapchat and the caption was, 'One day.' "
His maiden LPGA victory in only her 18th start as a tour member, came with more difficulty than she might have imagined, having staked herself to a five-stroke lead through 54 holes. But Lydia Ko, a past ANA champion, made her earn it by going out in seven-under-par 29, followed by birdies at 10 and 11 to cut Tavatanakit's lead to two, the final margin of victory.
Tavatanakit gamely protected her lead, playing a bogey-free round of four-under 68 that included a chip-in eagle on the second hole and birdies at eight and 12. She completed 72 holes in 18-under 270. Ko, meanwhile, shot a 10-under 62 and finished second.
The victory for the native of Thailand who still is classified as a rookie validated the potential foretold by her amateur résumé that included seven victories while at UCLA, a tie for fifth in the U.S. Women's Open as an amateur in 2018 and three Symetra Tour wins.
It was a methodical 18-hole victory lap for Tavatanakit, who was expressionless throughout her round, concealing whatever her emotions were. Only when she tapped in for par on the 18th green did even-keel give way to a wide grin. Then the celebration began with a champagne shower from other players, the trophy presentation and the traditional leap into Poppie's Pond adjacent to the 18th green.
She conceded that she was unaware of what was unfolding ahead of her. No fans equaled no roars and her cursory glance at leader boards did not include her looking at the numbers.
"I had no idea," she said. "I saw her name up there, but I didn't look at it. I wanted to play my own game, which I did, and did a really good job of that today."
It wasn't a stress-free round, the final round of a major not permitting one. But she did not add to the stress with any wild, errant shots. She missed only three fairways and hit 16 of 18 greens in regulation.
It was, in the final analysis, a clinic on how to close out a victory, her first, but unlikely her last.