Payday at Mission Hills
Here's the prize money payout for each golfer at the 2021 ANA Inspiration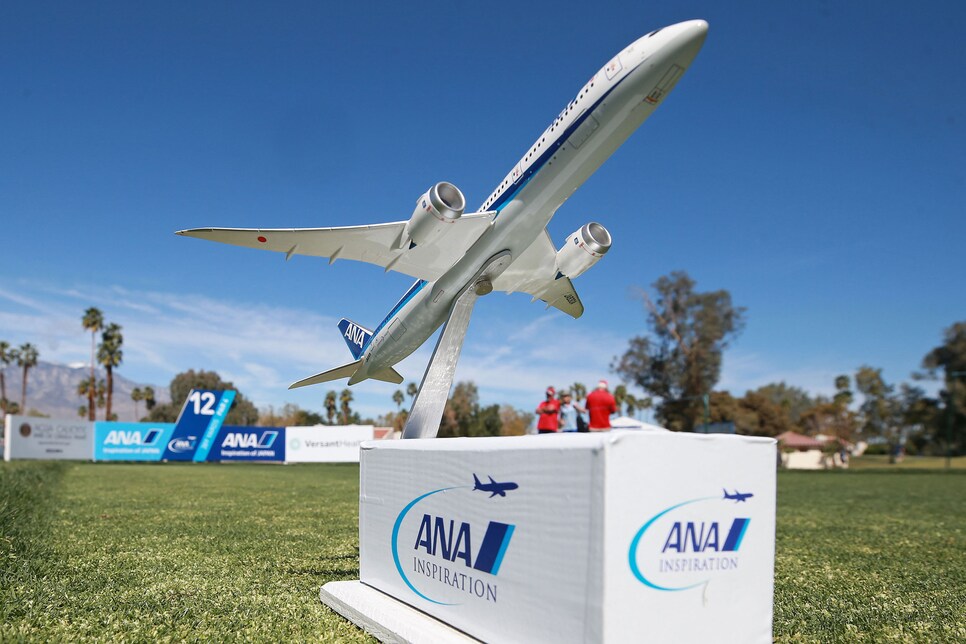 Players speak in reverent tones when they talk about the ANA Inspiration, even in years when the tournament isn't celebrating a notable milestone. Danielle Kang and Nelly Korda both compared the championship—being played for the 50th time this week—to the Masters in men's golf. That's natural given the ANA's history at the same venue, the Dinah Shore Tournament Course at Mission Hills in Rancho Mirage, Calif., and the traditions that have arisen surrounding the event.
Most notable, of course, is the winner taking a leap into Poppie's Pond beside the 18th green, a ritual so ensconced into the fabric of the tournament that there is special fabric for the champion to don after making the leap—a white robe that has become as much a part of the ritual as the splash landing.
On Sunday, Patty Tavatanakit became the latest to enjoy that tradition. The 21-year-old rookie from Thailand whose best finish on the LPGA Tour prior to this week was a share of fifth place, went wire-to-wire to beat a hard-charging Lydia Ko, who shot a course-record-tying 62 on Sunday. Tavatanakit's final-round 68 gave her a 18-under 270 overall, two shots clearr of Ko.
With the victory, she joins a list of past champions in the California desert includes a healthy group of LPGA Hall of Famers: Jane Blalock, Mickey Wright, Judy Rankin, Donna Caponi, Nancy Lopez, Amy Alcott, Juli Inkster, Betsy King, Annika Sorenstam, Karrie Webb, Lorena Ochoa and Inbee Park.
Most players will also tell you the prestige with winning a major championship in women's golf outshines the financial reward that comes with it. But taking the title will make any player's accountant happy. The prize money payout at the ANA Inspiration is $3.1 million, the fifth most lucrative event on the LPGA Tour. And the winner takes home $465,000 for their effort. Previously, Tavatanakit had earned $181,619 in her entire LPGA career.
Below is the prize money payout for each golfer who makes the cut this week at Mission Hills.
Win: Patty Tavatanakit, -18, $465,000
2: Lydia Ko, -16, $287,716
T3: Sei Young Kim, -11, $151,615
T3: Nelly Korda, -11, $151,615
T3: Nanna Koerstz Madsen, -11, $151,615
T3: Shanshan Feng, -11, $151,615
T7: Jin Young Ko, -10, $79,025
T7: Inbee Park, -10, $79,025
T7: Ally Ewing, -10, $79,025
T10: Megan Khang, -9, $59,333
T10: Moriya Jutanugarn, -9, $59,333
T10: Mirim Lee, -9, $59,333
13: Danielle Kang, -8, $51,666
T14: Mel Reid, -7, $43,476
T14: Pernilla Lindberg, -7, $43,476
T14: Mi Hyang Lee, -7, $43,476
T14: Hannah Green, -7, $43,476
T14: Charley Hull, -7, $43,476
T19: Stephanie Meadow, -6, $34,340
T19: Ryann O'Toole, -6, $34,340
T19: Christina Kim, -6, $34,340
T19: Brooke M. Henderson, -6, $34,340
T19: Gabriela Ruffels, -6, $34,340
T25: Minjee Lee, -5, $28,984
T25: Anna Nordqvist, -5, $28,984
T25: Gaby Lopez, -5, $28,984
T28: Cristie Kerr, -4, $23,352
T28: Jenny Shin, -4, $23,352
T28: Hyo Joo Kim, -4, $23,352
T28: Lauren Stephenson, -4, $23,352
T28: Yui Kawamoto, -4, $23,352
T28: Azahara Munoz, -4, $23,352
T28: Leona Maguire, -4, $23,352
T28: Pajaree Anannarukarn, -4, $23,352
T36: Xiyu Lin, -3, $18,194
T36: Lexi Thompson, -3, $18,194
T36: Georgia Hall, -3, $18,194
T36: Jessica Korda, -3, $18,194
T40: Angela Stanford, -2, $14,560
T40: Amy Olson, -2, $14,560
T40: Austin Ernst, -2, $14,560
T40: Mi Jung Hur, -2, $14,560
T40: Gerina Piller, -2, $14,560
T40: Stacy Lewis, -2, $14,560
T40: Jaye Marie Green, -2, $14,560
T47: Hee Young Park, -1, $11,971
T47: Maria Fernanda Torres, -1, $11,971
T47: Jeongeun Lee6, -1, $11,971
T50: Bronte Law, E, $10,081
T50: Yuka Saso, E, $10,081
T50: Pornanong Phatlum, E, $10,081
T50: Celine Boutier, E, $10,081
T50: Amy Yang, E, $10,081
T50: Dani Holmqvist, E, $10,081
T50: So Yeon Ryu, E, $10,081
T57: Brittany Lincicome, 1, $8,507
T57: Angel Yin, 1, $8,507
T57: Linnea Strom, 1, $8,507
T60: Ariya Jutanugarn, 2, $7,719
T60: Jennifer Kupcho, 2, $7,719
T60: Sophia Popov, 2, $7,719
T63: Eun-Hee Ji, 3, $7,167
T63: Kelly Tan, 3, $7,167
T63: Nicole Broch Larsen, 3, $7,167
T63: Caroline Masson, 3, $7,167
T67: Aditi Ashok, 4, $6,695
T67: Nasa Hataoka, 4, $6,695
69: Jennifer Song, 5, $6,458
T70: Kristen Gillman, 6, $6,263
T70: Cydney Clanton, 6, $6,263