ANA Inspiration Preview
Sophia Popov travels the high road en route to her ANA Inspiration debut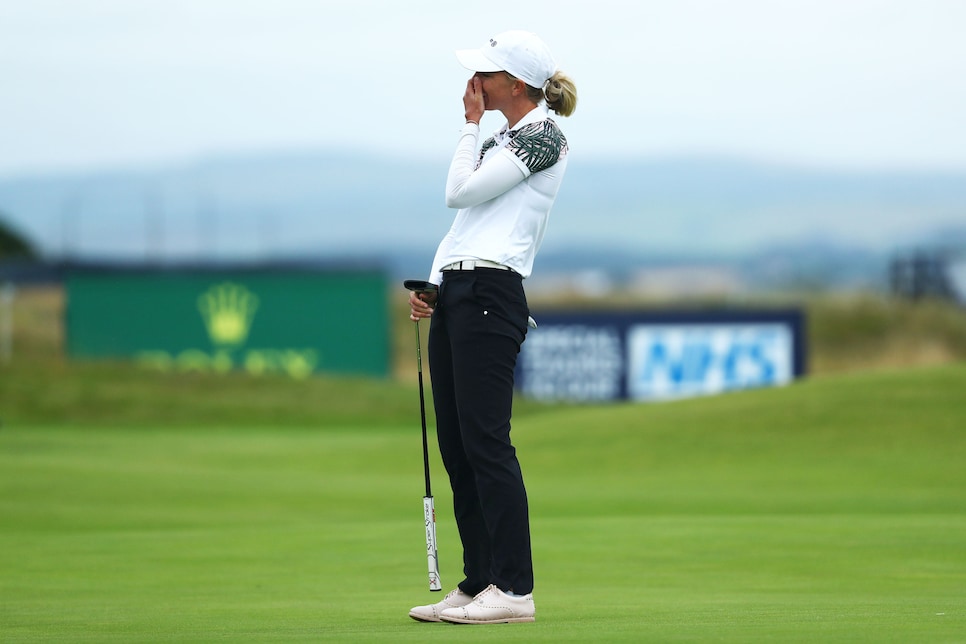 Photo By: Matthew Lewis/R&A
Sophia Popov, with her stunning victory in the AIG Women's British Open last summer, conceivably might have considered it tainted with a broad brush of rancor directed at the LPGA. Condemnation of the tour in the aftermath was swift and unsparing.
The hostility was unleashed by the LPGA's decision not to deviate from protocol that granted nonmembers (of which Popov was one at the time) who won a major championship only a two-year tour exemption rather than the five years given to members. The tour also declined to grant Popov an exemption into the 2020 ANA Inspiration that had been postponed from March to September, claiming the field was set and that Popov's ANA exemption technically didn't begin until 2021.
Yet the 28-year-old German native declined to allow it to taint one of the best golf stories of 2020, a woman ranked 304th in the world, winning a major championship, the pivotal point of a career that finally found some traction.
Popov learned within minutes after winning at Royal Troon of the strident rules surrounding her victory, "which was fine," she said. "I was a little bit bummed. But I didn't really care about anything at that moment. I just wanted to celebrate and to go home and celebrate with my family. I didn't really want those things to be a downer. I didn't even think about that until a couple days later."
The celebrations went on unfettered, and Popov finally will get her day in the desert sun. She makes her ANA Inspiration debut on the Dinah Shore Tournament Course at Mission Hills in Rancho Mirage, Calif., this coming week.
"I'm really looking forward to it," Popov said via telephone recently from her home in Fountain Hills, Ariz. "I'm excited to see the course and condition. I think the last time I played the course was in Q [qualifying] school in 2014."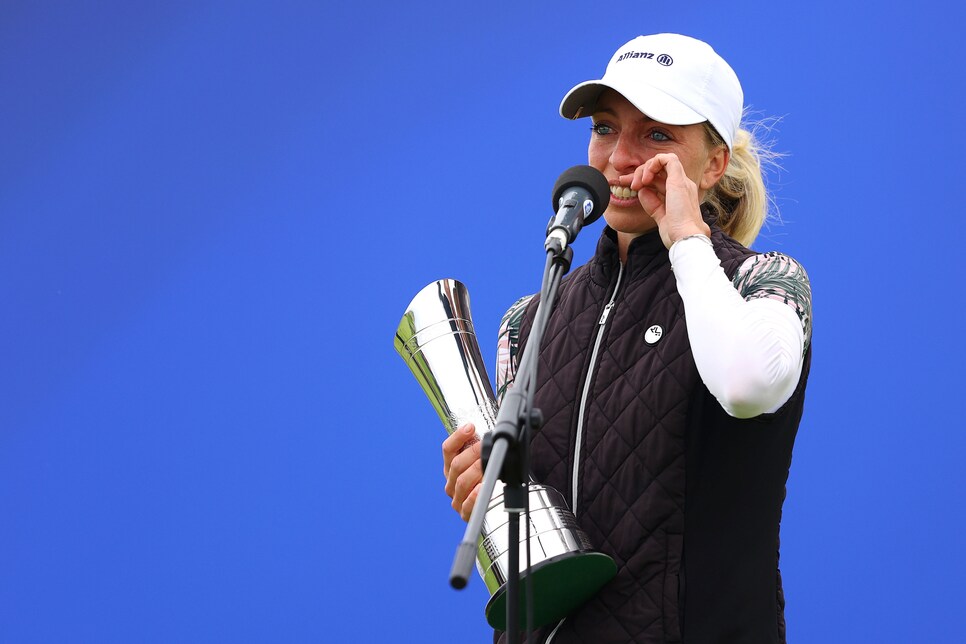 A late qualifier for the major championship, Popov was emotional in the wake of her first career LPGA win.
Richard Heathcote/R&A
Popov also called it "a fun major to watch," which she has done onsite, when it was still called the Kraft Nabisco Championship. She, too, was part of its television audience in September, and it convinced her that had she been given a choice of playing it then or in April, she would have chosen the latter. "I think that made that part easier for me."
So did the $675,000 that turned up in her bank account for winning the British Open. "At first I'm thinking, 'Gosh, illegal activity?' she told CNN. "But then I saw it sit there, and I go, 'Well, this is what you have worked for for six years. This is not a paycheck for one week of playing. This is for all the work you put in since you graduated college, and even before then.'"
They were six lean years that were unforeseen given her college success at the University of Southern California, with five individual victories and a national team championship in 2013. She earned LPGA membership in 2015, but made only $34,626 in 19 starts over the next five years and lost her tour card. She played full time on the Symetra Tour in 2016 and 2017 with modest success that had not transferred to the LPGA.
She had two options: Keep grinding or quit, and she considered both.
"I never fully lost hope," she said. "But I was definitely on the verge of quitting the game. There are moments in every professional golfer putting themselves in my shoes. Some weeks nothing is happening or you're missing cuts by one every single time. There were probably five or six heartbreaking moments over the last six years that put things in perspective, whether you want to put yourself through the mental battle every week. Deep down I knew I had the ability and I loved the game."
Perseverance is mandatory for those hoping to survive in a fickle game that promises nothing, and for Popov it sustained her. Two weeks before the Women's British Open, she played in the Marathon LPGA Classic and tied for ninth to earn one of the 10 exemptions accorded those not already qualified to play at Royal Troon. A week prior to that, she caddied for Anne van Dam in the LPGA's first tournament back after the COVID-19 hiatus.
Holding both U.S. and German citizenship, Popov returned to Europe without expectations beyond playing well for a second straight event.
"Essentially, every time you tee up you're hoping to win the tournament," she said. "But I saw it as a bonus week, to go out and have fun, to enjoy links golf, to play the best I can. Halfway through the tournament my game was in really good shape. The weather was so bad the first few days, I was trying to survive more or less. But it definitely helps to go out there seeing it as the bonus week it was. You go out and if you play well, great. If not, it doesn't really change anything."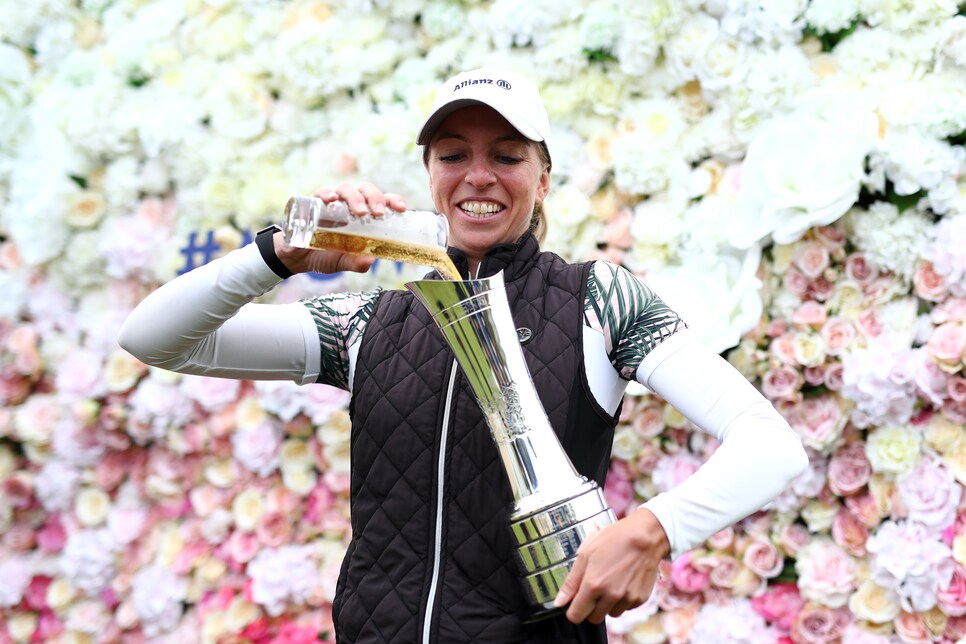 Popov pours a celebratory drink into the trophy following victory at the AIG Women's Open.
Matthew Lewis/R&A
Popov entered the weekend tied for second, then shot 67-68 and won by two, followed for a week or so by the ensuing controversy, including a statement LPGA Commissioner Mike Whan gave five days later explaining himself.
"Everything he says makes sense," Popov said. "I tried to emotionally detach myself from the situation, because in the end I have to realize that rules are rules. It was a very tough position for him to be in. What is he supposed to do? What would you do if you were him?"
After another nonmember, A Lim Kim, won the U.S. Women's Open in December and faced the same situation as Popov, the LPGA announced in February that it was amending its rules moving forward, extending the five-year exemption to nonmembers as well
Even the high road has potholes, and for Popov, one of them was the fact that she had previously been a member of the LPGA and Symetra tours. "I almost spent about $50,000 in entry fees and I was considered a nonmember. That was hard for me to take."
But the euphoria from her victory that helped mitigate any ill will hasn't entirely waned in the ensuing months.
"The trophy is sitting on the kitchen counter, so I have an opportunity to look at it every day at home," she said, its luster the same as the day she was handed it.