NAPLES, Fla. — On Tuesday afternoon at Tiburon Golf Club, Minjee Lee sat in the media room next to a small trophy she had won a week earlier for capturing the Aon Risk Reward Challenge. It's a season-long competition measuring a player's scoring average on difficult holes at various tour stops. Scottie Scheffler won the same honor on the PGA Tour, and the prize for both of them was $1 million.
Amazingly, it was the second time that Lee had won $1 million or more in a single sitting in 2022, the first coming at the U.S. Women's Open in June, when the Aussie captured the largest first prize (to date) ever given out in women's golf—$1.8 million—for winning. Lee followed that with two top-10s at the KPMG Women's PGA Championship and the AIG Women's Open, and even before she pocketed this latest seven-figure check, she had earned more than $3.7 million in 2022, which is already the second-highest total in LPGA history. Meanwhile, she's rocketed inside the top five in the Rolex Women's Ranking.
That's what we call an historic year, and it would almost seem rude to speculate on how it could be any better. And yet … it could be better. It could be, arguably, one of the best ever.
At stake for the 26-year-old Lee going into this week's CME Group Tour Championship are a few final prizes that would send her 2022 campaign into legendary echelons:
• If she beats Lydia Ko and finishes in the top 10 come Sunday, Lee will win at least a share of the Rolex Player of the Year award, and the Hall of Fame point that comes along with it. She currently trails Ko by a single point in the POY race. "I really want to win that," Lee said, when it was mentioned at the press conference.
• If she wins the tournament, she'll once again have won the biggest prize in the history of women's golf—this time $2 million.
• If she wins, she will simultaneously become the only woman in the history of women's professional golf to win two tournament prizes over $1 million in the same year (with the $1 million Aon prize thrown in for good measure).
• If she wins, she would also set the record for most money earned in a single season, eclipsing Lorena Ochoa's 2007 figure of $4.364 million (if she finishes solo second, winning $687,000, she'll also top Ochoa, but will finish just short with a third-place showing, which would be as "agonizing" as it gets when you're still winning more than $4 million in a single year).
All of this is tantalizing, but the fact is, Lee has not been at her best lately. Since finishing T-4 at Muirfield during the AIG Women's Open in early August, she's cooled off in a big way, with two missed cuts in five tournaments and a best finish of T-36. That lull allowed Ko to overtake her in the player-of-the-year race, and Lee knows she's been flagging toward the season finale.
"Probably the last few weeks I haven't really been quite on top of my game," she said. "I was striking it so well come, what, like eight, nine months throughout the year. Probably didn't hit it as well or putted it as well the last couple of weeks, but this is the last event of the season … I really want to do well."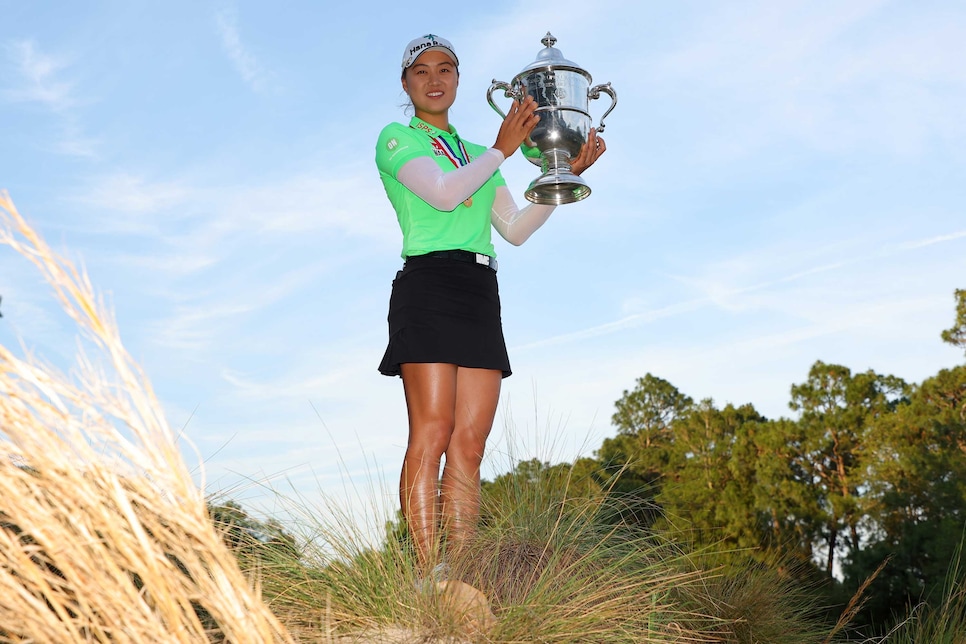 Minjee Lee won what at the time was the largest first-place prize—$1.8 million—in women's golf history at the U.S. Women's Open in June.
Kevin C. Cox
When asked whether it was tough to continue playing at such a high level for 11-plus months, she pointed to the strain a long year can take.
"My body can do it," she said, "but I think mentally at some point you kind of need a break and have a break and reflect and kind of refresh. That's been a little difficult for me. I think I've refreshed, but sometimes you just kind of get back. I think it's difficult for most people, not just for me. I'm always working on that, and because I've not really been in that type of position, I sort of didn't really know how to kind of refresh."
Lee has been so busy, and so focused, that she hasn't even had much time to spend the money she's accumulated.
"Actually, I haven't really splurged," she said, laughing. "I haven't really had the time to go shopping yet."
It's clear to some extent that Lee is ready for the offseason, and while it's tempting to look at the possibilities this week presents, it's equally important to understand what she's accomplished already. It's impossible to measure the single greatest season—even if Lee wins this week and captures the money record and player of the year and everything else, would you really put her above Annika Sorenstam winning two majors and 10 events overall in 2005? Or Inbee Park capturing three majors in 2013?
But if Lee can triumph in Naples, she'll have at least an honest claim. Even if she finishes dead last, though, it's still a spectacular foundation for a legacy that has only begun to grow.