LPGA
A frustrated Jin Young Ko can't do much to keep her 2022 LPGA season from coming to a painful end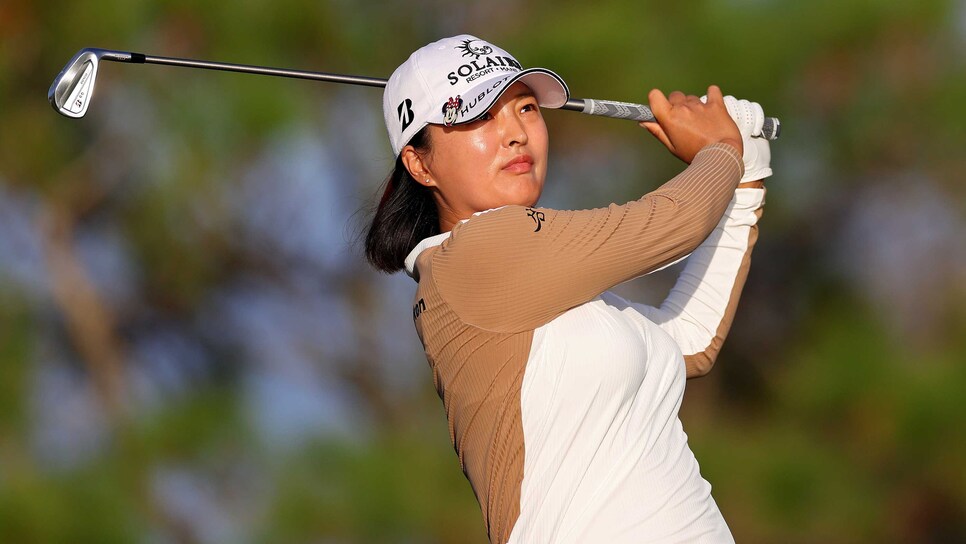 NAPLES, Fla. — On the eve of any given tournament in the world of professional golf, the defending champion will participate in a press conference. As you might imagine, this genre of media appearance features a lot of smiles, good memories and abundant optimism. Yet on Tuesday at the CME Group Tour Championship, two-time defending champion Jin Young Ko gave a performance that could only be described as "thoroughly downcast."
The reason was the nagging left wrist injury that is now at least a year-and-a-half old, and which produces pain on every single shot—even chips. The pain starts on the takeaway, and part of what makes it so hard is that Ko is limited to medicine and tape to ameliorate a problem that won't go away. Perhaps the best summation of how the 27-year-old South Korean is feeling came when she was asked what her biggest challenge was during the course of a difficult year. One part of her answer: "Don't cry."
The story was more or less the same last year at the same event, when Ko's pain was bad enough that she took no warm-ups, barely practiced and still managed to card a tournament-record 23-under score to win the $1.5 million first prize and clinch LPGA Player of the Year honors. According to Ko, the pain is worse this year. The results have been worse, too; after returning to World No. 1 in January, winning the HSBC Women's Championship in March for her 13th career LPGA title and posting some top-10s early in the summer, Ko began one of the worst stretches of her otherwise standout career. After two missed cuts in August (she had missed just one cut in the four years prior to that), she took some time off, only to return at the BMW Ladies Championship in October. But playing in front of her home crowd, Ko posted the two highest scores of her LPGA career (80-79) before withdrawing. A week later, she lost her No. 1 ranking.
Ko said that "inflammation" is the primary problem and described her current level of pain as "7 or 8 out of 10." A translator quickly clarified that a higher number means less pain in Korea, but at the BMW, it had been a "2 or 3"—much worse. It was so bad that she considered not even coming to the U.S. for the last two tournaments of the LPGA season and didn't make a final decision until the minute she got on the plane.
So why did she come? Why isn't she resting at home in Korea? The answer was complicated—Ko actually opted to come early to give herself more time to practice, which was strange enough considering that too much practice was the reason she gave for the injury in the first place. In the end, she considered herself fit enough to play at last week's Pelican Women's Championship, where she missed another cut but shot an opening-round 69.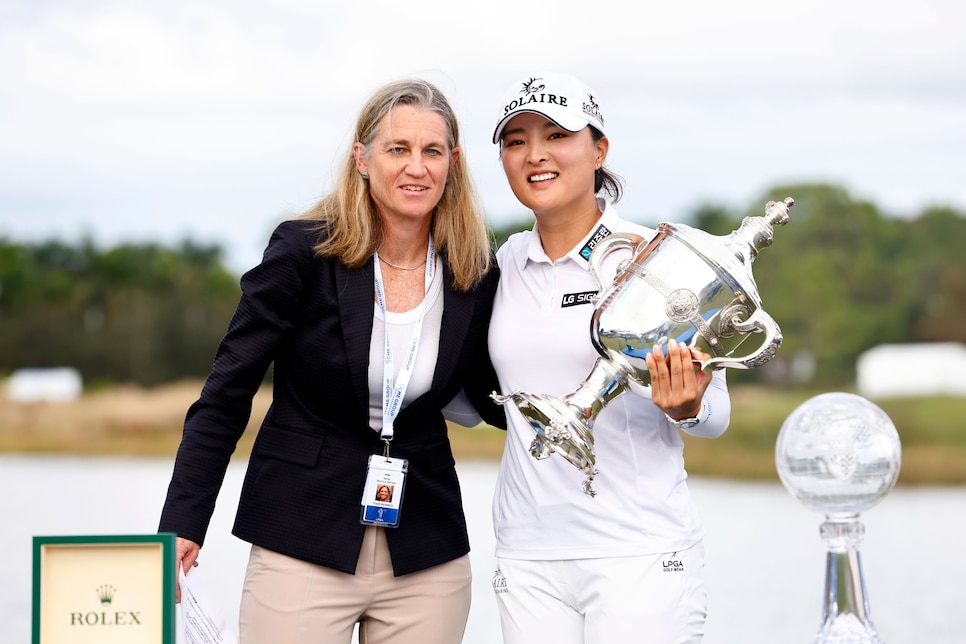 Jin Young Ko's sore left write kept her from practicing between rounds a year ago at the CME Group Tour Championship, but she still managed to win the title and clinch Player of the Year honors.
Michael Reaves
"I just want to know what the problem is in my game right now," she offered by way of explanation, and her interpreter clarified that "she has to feel something from this pain and her difficult situation."
Ko, who once shot 30 straight rounds under par and hit 63 straight greens in regulation, hit some shots on the course the last two days, but spent no time on the range, and it's likely her workload will be limited to the four rounds she plays on Tiburon Golf Club (with a field of 60, there is no cut this week).
"I just want to protect my wrist during the tournament," she said.
Meanwhile, the rest of her quotes sounded very much like someone limping across the finish line. She dropped lines like, "just two more tournaments left, so I'm just going to tough it out," and "it's hard to think I'm fine like this, because I know I'm painful here." After the season, she plans to try blood spinning, but is scared because she's heard how painful it can be.
It wasn't all dire—when asked how she might spend the $2 million if she were to defy the odds and win the biggest first prize in the history of women's golf, she allowed herself the dream of buying a Ferrari.
And yet despite her obvious resilience, and her determination to see out the season on her own terms rather than calling it quits to rest and rehabilitate, you couldn't help but feel that we're seeing the two-time major winner and former World No. 1 at a low point in her career.
"Golf is hard," she said at one point, and whatever else was said, that age-old truth seemed to be the day's dominant theme. If she can secure a third straight title, she'll have earned it in a way that few players before can boast. Even so, you get the feeling that the prize she needs the most is the mercy of the offseason.