Rap Report
The opportunity the PGA Tour sees in new Netflix series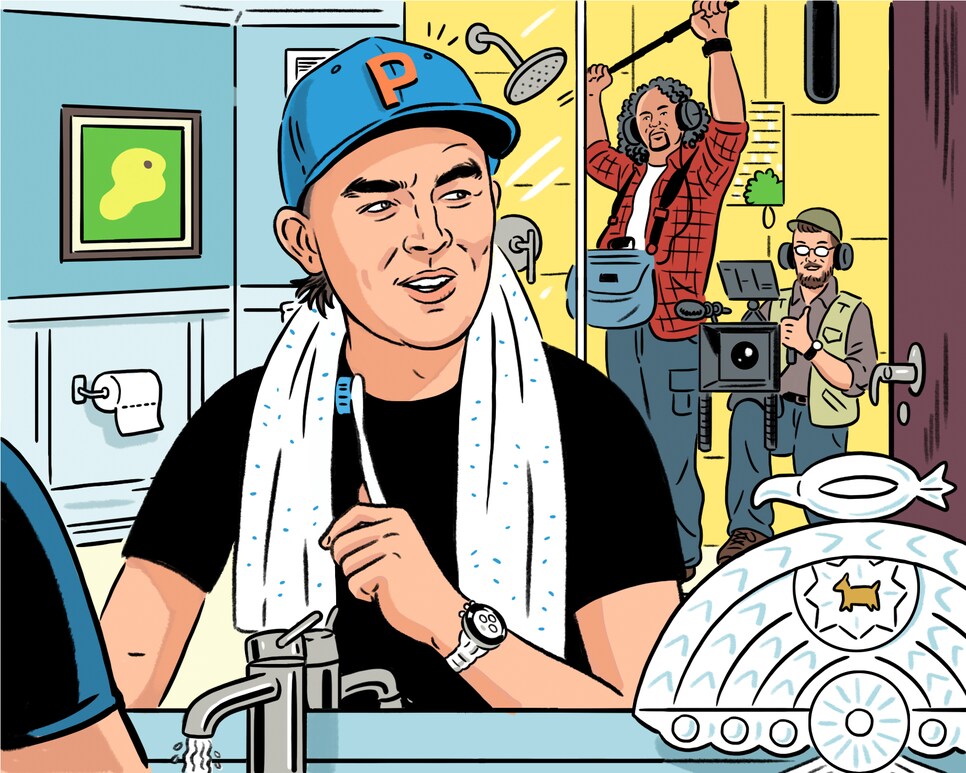 Illustration by Kyle Hilton
The idea came together on the golf course, naturally. Chad Mumm, head of entertainment at Vox Media Studios and a self-described golf sicko, pitched his vision to Chris Wandell during a round at Shadow Creek in Las Vegas: a behind-the-scenes documentary following golfers throughout a season. This had been Mumm's dream project for a half-decade, confined to the "one day" category until a confluence of factors turned Wandell, the PGA Tour's vice president for media business development, into an intrigued listener.
Deep-pocketed streaming platforms had shown a willingness to invest in premium sports documentaries. A generation of 20-something stars had shown an eagerness to share their lives with fans on social media. Crucially, PGA Tour commissioner Jay Monahan was intrigued by the benefits of presenting golf less filtered. Wandell knew they needed a third party to do that, and through years of friendship he had grown to trust Mumm and Vox, so they presented the idea to Monahan.
Monahan was in if the players were. That job fell to Mumm, who spent the next two years pitching guys on the idea of letting cameras follow them inside and outside the ropes for free. Rickie Fowler came aboard first, shrewdly sensing an opportunity to reach a new demographic and form deeper bonds with fans. Tony Finau and Cameron Champ signed on shortly after. So did Justin Thomas, a massive fan of HBO's NFL docuseries "Hard Knocks."
"[Fans] might see a picture or video on Instagram of me hitting balls or me working out but maybe not through an entire clubfitting or a session with my dad," Thomas says. "Just me drinking beer with my buddies and watching football—there's a lot of different aspects to show that will give people a better understanding of who we are and grow our brand a bit."
Mumm and Wandell secured commitments from each of the four major championships, which meant convincing four separate governing bodies to grant someone else's cameras unprecedented access. "It's about the characters, not the tournaments," Wandell says.
The last piece, then, was finding a platform to fund and distribute the project. Vox and the tour presented to almost every streaming service, both sports-centric and not, but Netflix emerged as the front-runner because of the success of "Drive to Survive," a Netflix docuseries on Formula One racing. The average age of a Formula One fan dropped from 36 in 2017 to 32 last year, an attractive number for advertisers and a great harbinger of sustained popularity. Call it the Netflix Effect. The PGA Tour's average fan, as you might guess, skews significantly older.
Netflix green-lit the PGA Tour's project and connected the tour with Box To Box Films, the group behind the slick production of "Drive to Survive." Paul Martin, co-head of Box To Box, joined the show as an executive producer, and David Check, a 25-time Emmy-award winner, will serve as the showrunner. The creative forces behind this show—and the platform on which it will air—are all essentially newcomers to golf, which is kind of the idea.
"If we do this right, there will be a significant number of new fans who have never watched live golf who get to know guys like Collin Morikawa and Jordan Spieth," Wandell says.
Other big names signed on include Dustin Johnson, Brooks Koepka, Viktor Hovland, Xander Schauffele, Tommy Fleetwood, Bubba Watson and Sergio Garcia. Notable non-participants—Tiger Woods, Phil Mickelson, Rory McIlroy and Jon Rahm—can be counted on one hand. The show will also include lower-ranked players with huge personalities, like Joel Dahmen and Harry Higgs.
From a show perspective, Formula One has inherent advantages over the PGA Tour—there are complicated team dynamics in racing that golf doesn't have (yet). The Grand Prix doubles as a congregation of extraordinary wealth and weeklong parties conducted at breathtaking (and yacht-friendly) venues: Monaco, Barcelona, Southern France, Northern Italy. There's also the whole fast-cars-rounding-corners-at-deathly-speeds thing. But mostly, the success of "Drive to Survive" is because of its characters and storytelling, not the glitz.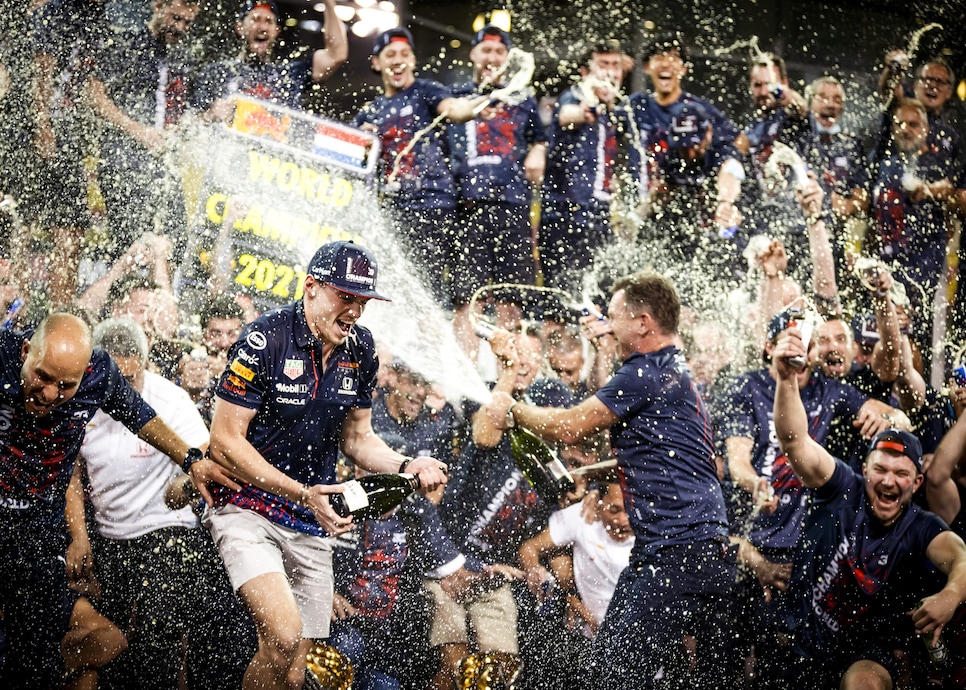 Max Verstappen celebrates with his team after winning the Formula 1 World Championship after the Abu Dhabi Grand Prix in December of 2021.
ANP
"Formula One, similar to golf, had created this environment where players didn't feel like they could really be themselves," Martin says. "What 'Drive to Survive' did is allow us to interview and capture things on camera where the drivers were relaxed because they didn't feel like they were doing it for the tour or a sponsor or a brand. This show was about giving them the opportunity to be themselves. That's what resonated with the golfers, and I think that's what will resonate with fans."
The PGA Tour has ceded final editorial say to Netflix. Whereas the tour has tried to gloss over controversies in the past—it doesn't publicize fines and has tried to downplay rules disputes—the Netflix show will ostensibly lean into that type of spicy drama.
"People have this misconception that golf is a bunch of country club, silver-spoon rich kids who are boring," says Mumm, a 35-year-old low-handicapper. "But that's not who's on tour right now. None of the characters in our cast really come from that type of background. These are grinders. A lot of them came from nothing. Golf is such an individual sport, and with the mental side, it's almost like a psycho-drama. When you dive deeper into the professional game, the dynamics are richer than even I could have ever imagined."
Filming began at the Farmers Insurance Open in January and will continue through the Tour Championship in August. Producers plan to learn the rhythm of filming tournament weeks as they go and are confident they'll build trust with players—and thus get more access—as the season goes on. Caddies will be involved, too; there is also hope that players not participating in season one will succumb to the fear of missing out and eventually agree to take part, just as Formula One megastar Lewis Hamilton did. As with "Drive to Survive," the show will not air until months after filming wraps.
That golf's powerbrokers have united behind such an ambitious project—with significant financial incentive, of course—signifies some self-awareness. Trotting out the same content on the same channels will not appeal to the new eyeballs the game covets. After decades of carefully controlling its image, pro golf is pulling back the curtain.