Your turn, PGA Tour
LIV Golf announces season-long 'Combine' contest, promptly deletes said announcement
LIV Golf has tried to find as many ways to differentiate itself from the PGA Tour in its short existence, right down to the fact they allow their players to play in shorts. LIV features teams (and a handy team-picker exercise for new fans), fewer rounds (and fewer events), shotgun starts, and even a skydiving commissioner in Greg Norman (Stop slacking, Jay Monahan). Well, now you can add something else to the list.
The upstart golf league introduced on Friday the "LIV Combine," a season-long contest of, well, various contests. "Each of the 14 events will feature a challenge that will test the players' mental & physical abilities," according to the announcement. (UPDATE: The announcement has since been deleted! But here's what it looked like.)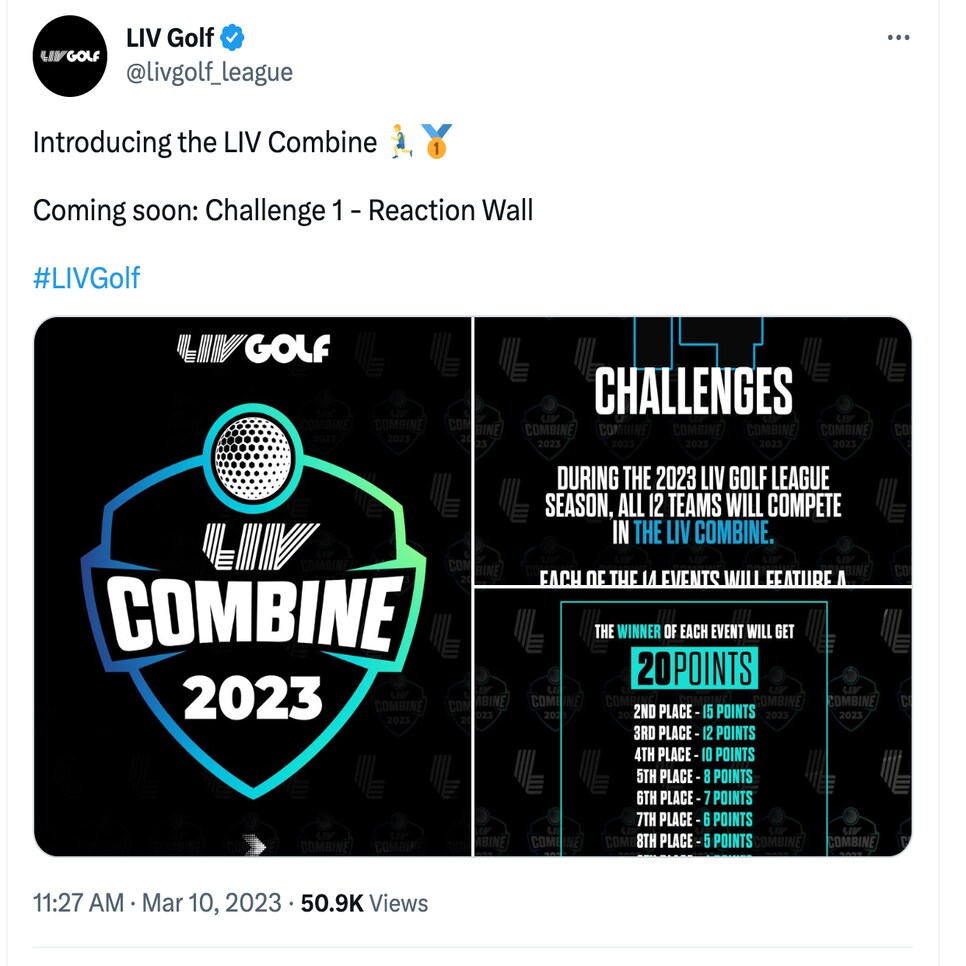 What is going on in LIV Land? Bizarre . . . Anyway, although it's not clear what all those challenges will be (assuming this is still a thing), the announcement specified that the LIV Combine will start with the "Reaction Wall." Which has this video of Phil Mickelson playing Whack-a-Mole with his hands making more sense all of a sudden:
The timing of the announcement (at least, the original announcement before it was delted) is a bit curious with the first LIV tournament—and LIV Combine contest—already in the books. But Greg Norman and Co. probably wanted to make a splash during the PGA Tour's flagship event, the Players Championship. Besides, there's not much else going on with LIV during these off weeks. Heck, Cam Smith was spotted playing at a public course near TPC Sawgrass on Thursday! And before people think this post is biased against LIV, allow us to add that the PGA Tour is probably scrambling right now to come up with something similar.
Seriously, though, this could actually be a fun idea—and the possibilities are endless. Phil Mickelson running the 40-yard dash? Dustin Johnson taking the Wonderlic Test? Patrick Reed building sand castles? Brooks Koepka doing some sort of arts and crafts? You get the point.
What's also unclear is if there's any extra prize money on the line for these competitions. Imagine Bryson DeChambeau having to play a game of Jenga with millions on the line? Anyway, keep your eyes peeled—and your hands at the ready.