AUGUSTA, Ga. — They roamed with purpose, Jon Rahm and Brooks Koepka, big and powerful and inevitable, like water buffalos on the hunt. Hunt, that's what we saw. The Masters is usually more romantic and less pugilistic. But romance went out the window after Friday's 30-degree temperature drop and Saturday's second coming of Noah's Ark washed away the meek. And though there were others after the same prize, from the start of Sunday's marathon, the field of 51 was really down to two, Rahm and Koepka, together in isolation, both knowing there was enough for just one to eat.
It wasn't pretty, because hunts rarely are. It wasn't dramatic, because hunts are only dramatic on Animal Planet. The thing about hunts is they are not won by the quickest or most ferocious. Those are assets, but the true arbiter of a hunt is a refusal to surrender. As his opponent lost his breath and succumbed to fatigue, Rahm stayed steady, remained patient and struck with precision. And for that he captured the 87th Masters Tournament.
"Hard to put it into words. Obviously we all dream of things like this as players, and you try to visualize what it's going to be like and what it's going to feel like," Rahm said after authoring a final-round 69 for a four-shot win at 12 under over Koepka, who closed with a 75, and Phil Mickelson (65). "And when I hit that third shot on the green [at the 18th], and I could tell it was close by the crowd's reaction, just the wave of emotion of so many things just overtook me. Never thought I was going to cry by winning a golf tournament, but I got very close on that 18th hole."
Rahm established himself as a big-game hunter well before this week. He won the U.S. Open in 2021 and owns nine top-10 finishes at majors. He was a one-man wrecking crew for Europe's losing side at the pandemic-delayed 2021 Ryder Cup. He had 19 worldwide victories, six of them coming since last year's trip to Augusta. The only thing that briefly extinguished his early-season heater was a stomach bug at the Players Championship. He returned to No. 1 in the world on Sunday and certified his reputation as one of this generation's certified alphas, a standing he cemented on Thursday when bouncing back from a four-putt double bogey at the first to turn in a 65.
He's also that rare talent who is judged not against his peers but to the past, forever linked with his fellow countryman, the great Seve Ballesteros, and that comparison casts a mighty shadow. In some ways, it is a lazy analog. OK, Rahm shares the spirit for competition that Seve did, and possesses the soft touch capable of conjuring magic around the greens. But Rahm's game is more consistent and measured and total, a game that produces rounds that can come off as plodding in the best possible connotation. He knows what he needs to do, then sticks to the plan. Ballesteros? A tortured artist whose work sometimes went way outside the canvas.
Conversely, though that creativity came at the expense of results, there was no doubt the beauty of what Seve produced. Perhaps it's no surprise that one of the few critiques of Rahm is that it would behoove him to deviate from script and recognize that golf calls for bravado and occasionally a bit of wild cowboy. He had reached the sport's apex with that U.S. Open victory, and whatever happens after doesn't supersede the climb. However, there are a select few that are held to a different standard. That one mountain isn't enough. Their talents beget more summits to reach, and failing to add to that total is seen as squandered potential. The standards are vicious, but that is the deal with stardom. Rahm is blessed with that curse, those top-10s seen by some not as a display of Rahm's talent but an indictment that when the golf matters the most, Rahm's golf routinely falls just short. That includes at the Masters, where Rahm finished T-9 or better four times but never contended late.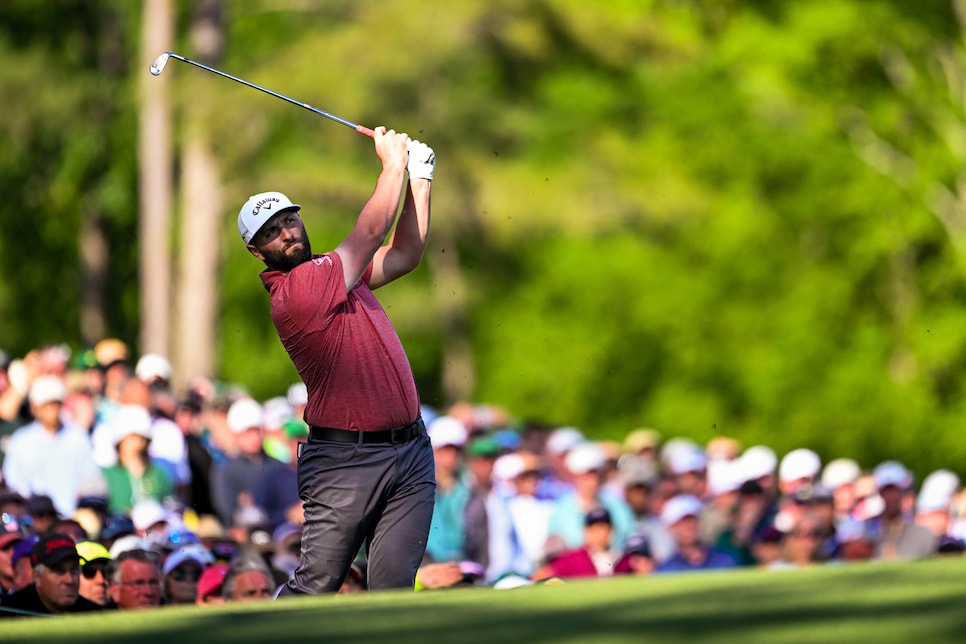 Though Jon Rahm is often compared to countryman Seve Ballesteros, he's a much more consistent player.
J.D. Cuban
Sunday offered the chance for Rahm to rewrite his story and do so with vigor. Multiple weather delays meant 30 holes were on tap for the final day at Augusta National, and though the green jacket is never conferred, it would take a special type of fortitude to don it this time. Resuming his third round on the seventh green, Rahm's four-shot deficit to Koepka was cut to two as they walked to the eighth, Rahm making birdie to Koepka's bogey. Any aspirations of a Sunday morning charge, however, were quickly erased.
It was no longer raining in Augusta and the dulcet tones that bounced off the loblolly pines assured the SubAir systems were at work, but the grounds remained wet and the sky remained cold, so the course played long and tough. It was unwise to be aggressive and those who tried were punished.
"It was a tough day out there. It was windy, and all those wind gusts are not easy," Rahm said. "You can hit good shots that are going to end up in bad spots, and it happened to everybody."
That included Sam Bennett, the amateur paired with Koepka and Rahm who for two days held his own with the pros but suddenly looked like a boy among men and became nothing more than a bystander as the morning went on. Both Koepka and Rahm played steady, albeit unspectacular golf over their final 11 holes, putting the two in the final group for the afternoon, a heavyweight billing that major championships often hype but rarely deliver.
Except, despite the sun finally realizing it had a tee time to make, Augusta National remained mean in Round 4. This would be a heavyweight fight, all right. Only the winner would not be decided by who dished out the most heat but who would be the last man standing. Rahm struck first with a birdie at the third and Koepka bogeyed the fourth, and with 14 holes the duel seemed to be on.
Only Koepka, who for the previous three days appeared to be the Koepka of old, looked like a Koepka who could not get the stick out of neutral. Maybe it was the long day to a body whose impressive physique belies its mileage and scars, or a bit of competitive atrophy from the friendly confines and 54-hole limits at LIV Golf. Or it was just one of those days where every bounce is bad, when the wind goes up when you think it's down, when the flag posts a sign that says "Sorry, we're closed," when it seems like there are higher forces at work and for some reason they are working against you.
Whatever the reason, Sunday was not Koepka's day.
Koepka bogeyed the sixth, parred the very birdieable eighth, and made a mess around the ninth green for 5. There was a nice up-and-down at the 10th, but another short-game miscue at the 12th. After reaching 12 under at one point, he left Amen Corner at minus seven to give Rahm a three-shot lead and ending Koepka's Masters chances.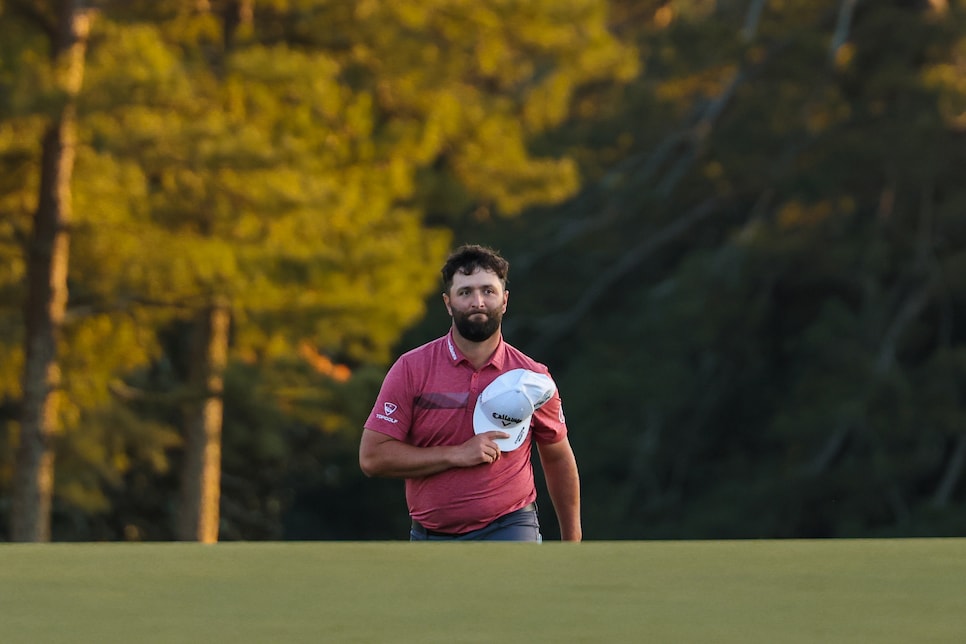 Jon Rahm approaches the 18th green.
Ben Walton
"Obviously, it's super disappointing. Didn't play good enough to win. Hit some shots where I also feel like I didn't get some good breaks," said Koepka, who closed with 73-75. "Didn't feel like I did too much wrong, but that's how golf goes sometimes."
Far ahead, Jordan Spieth and Mickelson cobbled together runs that, while not quite applying pressure, assured Rahm could not commence his victory parade, at least not yet. What followed from Rahm was not flashy and certainly without the flair of Ballesteros; there was no hitting from other fairways or finding windows through walls of pine. That's also not what the situation called for. He made the turn in one under, managed pars at the tough 10th, 11th and 12th.
Plodding, sure. Today, plodding was good. Rahm put the tournament on ice with birdies at the 13th and 14th, with the 14th punctuated by an approach just behind an overhanging pine, navigating around those pesky needles with a savage cut and using the slope to the left of the pin to funnel his ball to four feet. Maybe there's a bravado to his game after all. The only issue in doubt over the final hour was the final margin.
"When I'm out there, I have a job to do," Rahm said. "I'm also never going to give up. Even if I shoot myself out of contention, whatever, and I can finish strong to give myself a possibility to finish fourth ... it's always going to be better than anything. So I wouldn't be able to live with myself if I didn't try my hardest on every shot, so maybe that's where it comes from."
So what do we make of Rahm? Two majors and 20 wins, all before age 29. The first European to grab both the Masters and U.S. Open. The type of tour de force performance that fulfilled the lofty ambitions his talents promised and instills wonders of where he might ultimately go. That's all well and good. It's also worth appreciating the moment for what it is and what it means.
For Rahm, who has always been liked and respected, but not exactly beloved, it was watching that admiration turn into something more this weekend at Augusta National. To know he was no longer a curiosity, the fledgling talent with prodigious skills and sometimes prodigious temper. Over the past year in golf's civil war, Rahm has proven to be one of its most astute and reasoned voices, speaking with poise on a matter that tends to get heated. He let us know what he believed was right without saying who was wrong. His heightened play certainly aids his popularity, but that fans now have a better idea of the man doing the performing doesn't hurt.
Maybe that's why the patrons were so strong and loud in Rahm's corner. They know what this tournament means to him, how much he wanted it, so they let him know they were here to carry him home.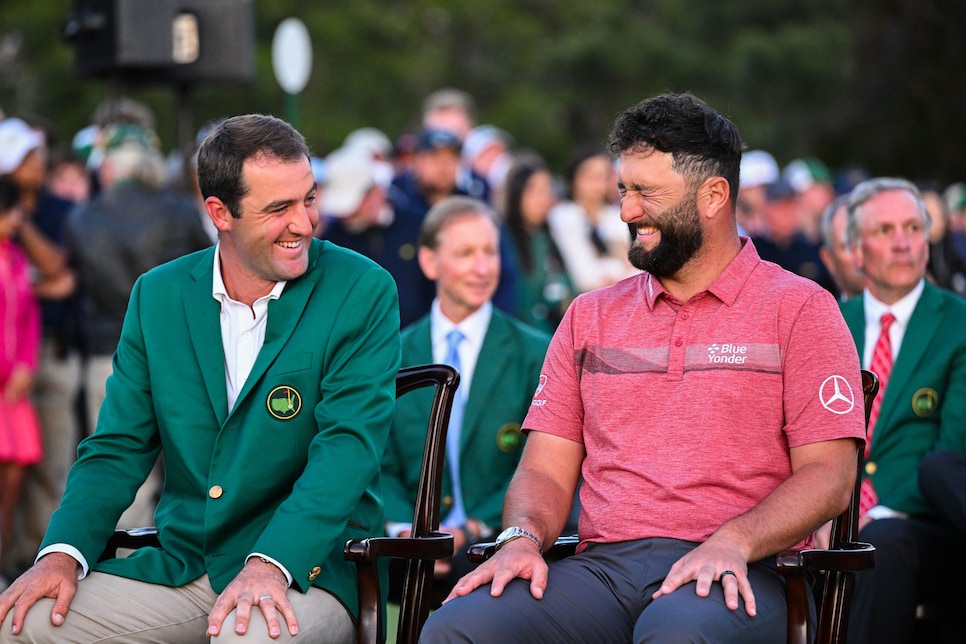 Waiting to get his green jacket, Jon Rahm was finding it hard to believe he had accomplished what he had accomplished
J.D. Cuban
"The support was pretty incredible all throughout, and I kept hearing, "Seve! Seve! Seve! Do it for Seve!," Rahm said. "I heard that the entire back nine. That might have been the hardest thing to control today, is the emotion of knowing what it could be if I were to win; that might have been the hardest thing."
Ah, yes, Seve. The ghost Rahm will forever chase. It was noted often that Sunday marked the 40th anniversary of Ballesteros' last Masters win, and a day that would have been Ballesteros' birthday. Turns out there was some romanticism at this Masters after all.
Seve would have liked a day like this Masters marathon, because it separated those who pretend to be bad men from those who are. You better believe Jon Rahm is a bad man, because it is Sunday night at Augusta National, and he is the last one standing.
RELATED 2023 MASTERS COVERAGE