AUGUSTA, Ga. — Phil Mickelson went off Sunday at the Masters. For the first time in recent memory, he did it with his clubs and not his vocal cords. And the patrons, who earlier in the week seemed hesitant to fully embrace him again, responded with the roars he deserved for the performance he gave.
Mickelson didn't turn back the clock so much as he turned his back on it. Having come close to making himself a pariah in the game after decades as one of its heroes, the enigmatic left-hander got people to love him again, at least for one afternoon, the only way he could—with a vintage golfing performance.
Dressed in black from head to toe in his team attire from LIV Golf—you know, looking like the bad guy—Mickelson painted the lowest red score on the board on a day when there weren't many. The seven-under-par 65 he dropped on Augusta National Golf Club didn't come out of nowhere; it came from a place that's just been hard to find. The impeccable effort made up of eight birdies against a lone bogey enabled him to climb into a tie for second place with fellow LIV golfer Brooks Koepka at eight-under 280.
The duo ended up four behind winner Jon Rahm, but their emotions were diametrically opposite considering Koepka had held at least a share of the lead after each of the first three rounds, while Mickelson never got closer to it than two shots after he holed an 11-footer on 18 to complete and inward 31 and tie his lowest score in 114 Masters rounds.
It was easily his best finish since he won the 2021 PGA Championship at Kiawah Island at age 51 to become the oldest major winner. On Sunday, he passed Ben Hogan as the oldest player to finish in the top-five at Augusta. It was his 12th runner-up finish in a major, second to only Jack Nicklaus' 19.
"I feel like it was evident to me that I was hitting a lot of good shots, that I was playing well; I wasn't getting the score out of it. Today was a great day for me to stay present and just keep hitting good shots," said Mickelson, who turns 53 in June. "Even after I might have had a mess-up here or there, I was able to stay present, keep hitting good shots."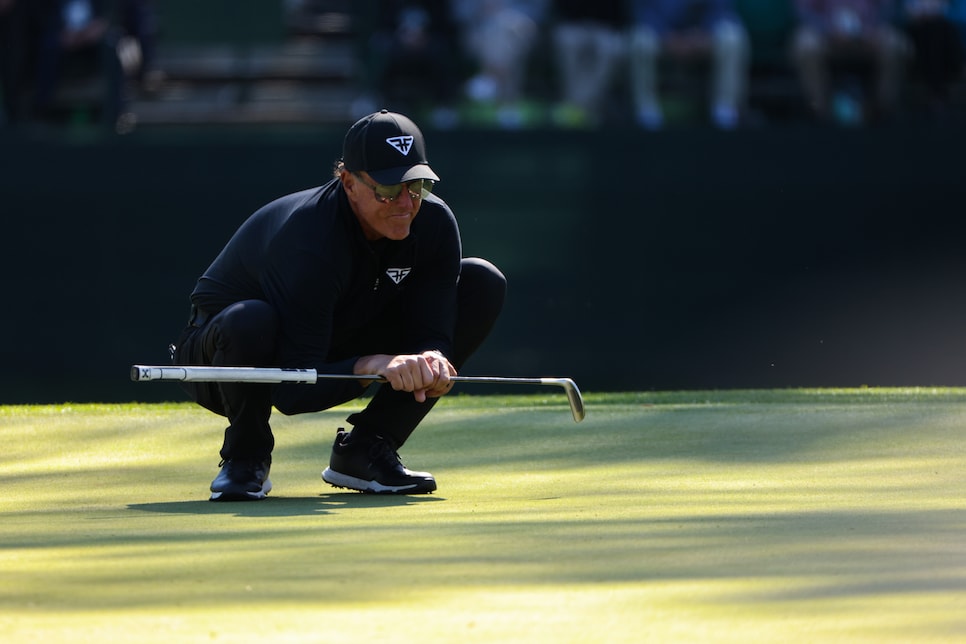 The next lowest score on Sunday, a 66, came from Jordan Spieth, who happened to be paired with Mickelson. Just four other players broke 70, one of them the champion, who closed with a 69. Rahm is 24 years younger than Mickelson and played his college golf at Arizona State, which is Phil's alma mater, and where Rahm's coach was Phil brother and caddie, Tim Mickelson.
Rahm will move from World No. 3 to the top of the Official World Golf Ranking. Mickelson will move up, too, after coming in 425th. It's hard to say what Lefty covets more, the $1.5484 million in prize money or finally collecting some world ranking points, a privilege so far denied LIV competitors.
Speaking of LIV, Mickelson signed on to the upstart tour for a sum that would make Sam Bankman-Fried blush (well, a little), but he has given LIV CEO Greg Norman not much of a return on investment. He has broken par just three times this year and his low round in 10 LIV starts is 66.
So there he was breaking par three times this week, his only poor round a 75 that started Saturday in a cold rain and wrapped up early on Easter Sunday. Then he followed up with one of the more punctilious performances since he won his third green jacket in 2010, hitting 12 fairways and 16 greens in regulation and showing up Spieth, world No. 16. And doing so at age 52.
A three-time Masters champion, Mickelson elected to not show up last year at Augusta National, not even for the champions dinner, after he uttered several regrettable remarks about the PGA Tour and about the Saudis who are backing the LIV Golf League, remarks offered before he left the former and joined the latter. Apparently, he didn't forget how to manage his game on a course where he now has 10 top-three finishes and 16 top-10s in 30 appearances.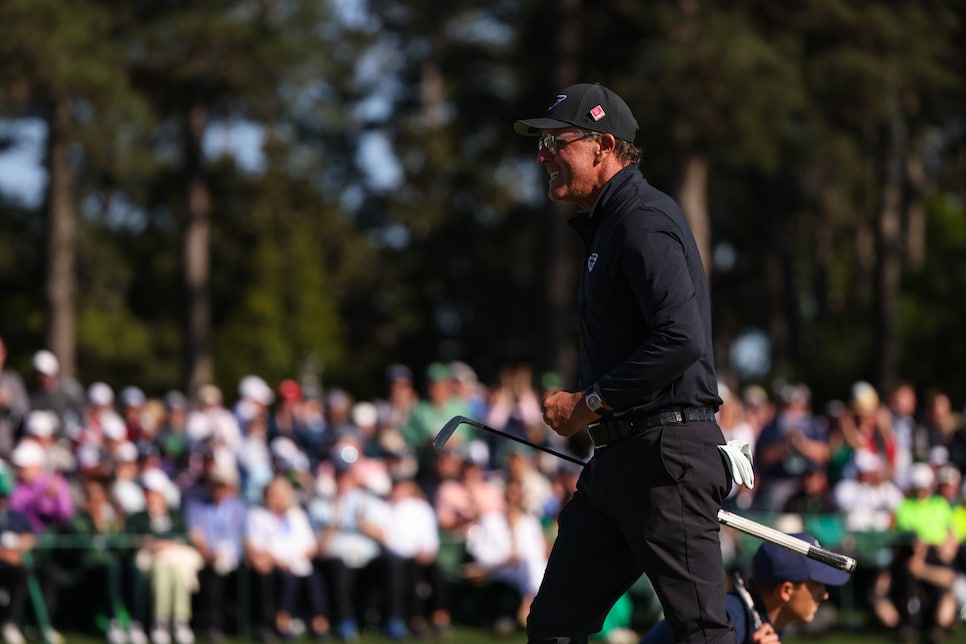 "I think when you come here to Augusta, you end up having a sense of gratitude," said Mickelson, repeating for the umpteenth time his talking point for the week. "There's kind of a calm that comes over you; the fact that we get to play and compete in this Masters, and I think we've all been very appreciative of that. I know after missing last year, to be here this year, it means a lot to me, and it means a lot to me to be a part of this tournament going forward. It's what I dreamed of as a kid to be a part of, and I've got so many great memories wrapped up here at Augusta."
And now he has one more. When he walked off the 18th green, Rahm and Koepka were just making the turn and Mickelson only fielded a few questions from the media because he wanted to wait to see if a playoff was possible. Rahm squelched that notion. But it didn't take away from the pure joy on his face and on that of his wife Amy and his agent, Steve Loy.
"I just hope you appreciate what he's done," a teary-eyed Loy said. "Whew. It was too close to being like 2004 [the first of Mickelson's three green jackets]. It brought back great memories. Great memories. It felt like a win."
Spieth, who bogeyed the last to fall to a tie for fourth with another past Masters winner, Patrick Reed, who also defected to LIV Golf, found himself trying to match Mickelson "shot for shot coming in." The two men made for the most electric pairing on a temperate afternoon as they traded in their respective high-wire, high-anxiety games for high-octane scoring.
"I think No. 6 was a big moment for him," Spieth said of the 8-iron Mickelson hit to four feet to set up one of just five birdies on the day at the 174-yard par 3. "That was such a hard hole for him today with the wind. Your normal wind it's a good little par 3, but today it's brutally difficult. When he birdied there into 7, I think he started to get a little pep in his step. Then he kind of carried it on from there."
And the gallery fell in line. "I thought, once we both started to get it going, it became a really exciting group, and … it felt very [much] like eight, nine, 10 years ago," Spieth said of the support for him and Mickelson both.
Whether Mickelson can carry this over to the PGA Championship in May—after he also skipped that major last year as defending champion—even he couldn't guess. Oak Hill isn't Augusta National, a place of great comfort and which he knows so well. Whether anyone cares if he can carry it over to his next LIV start is yet another mystery. It's doubtful. His thoughts on that are relatively unknown; he dismissed the notion that his play on Sunday began to repair his relationship with fans.
But it was a start. For one day, at least, Mickelson could bask in the glow of the guy he used to be before he was a guy that seemed used up. He could look ahead with some optimism. "Hopefully, it's a stepping-stone," he said with a genuine smile.
A stepping-stone to where is the question. That's always the question with Phil Mickelson.