A week like no other
Masters 2023: Augusta on Sunday, 36 holes in college on Monday? Sam Bennett might just pull it off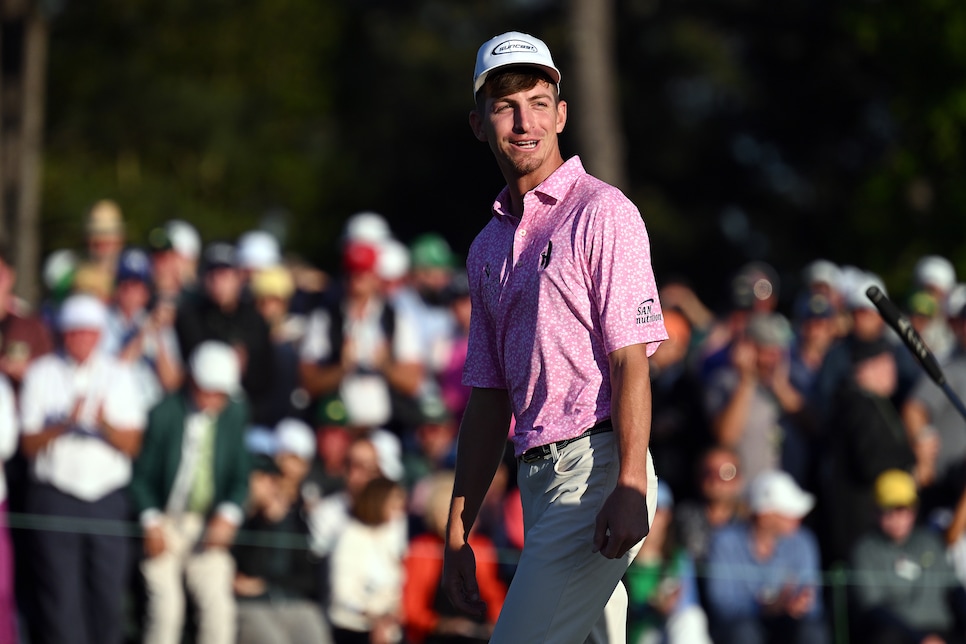 Amateur Sam Bennett said the walk up 18 on Sunday was the "coolest" thing he's done in his life.
Ross Kinnaird
For anybody grabbing a burger on Saturday night at the Five Guys on Crane Creek Drive in Augusta, that guy you thought you recognized from TV, causing bother for the best golfers in the world … it was indeed him. Sam Bennett, the Masters first-timer who became a sensation at Augusta National by contending deep into the weekend as a 23-year-old amateur, was so fried by the night before the final round that he just wanted to hang with his buddies and gobble some fast food. "Nothing crazy," Bennett said.
No, crazy was left for the golf course, where a leg-weary Bennett played the final 11 holes of the weather-delayed third round on Sunday morning before finishing up the last 18 in the afternoon. After a spectacular opening on Thursday of birdie-eagle and 68s in the first two rounds, the reigning U.S. Amateur champion was slapped back into reality by going 76-74 over the last 36 holes to finish in a tie for 16th place with a two-under total.
Nuttier still was that Bennett was considering a quick return to school on Monday so that he could play in the Aggie Invitational in Bryan, Texas, where the players are scheduled for the usual 36 holes on the first day and 18 more on Tuesday. The golfers carry their bags, with Bennett drawing laughs when someone asked about a pushcart. "This ain't Stanford," he quipped.
"I don't have many more college tournaments left, so I'd like to play in my home event," the fifth-year senior said on Sunday. "I came back to school to be with my team and do that, so I think I want to play."
The young man from little Madisonville, Texas, will no doubt get a hero's welcome. The SEC Golfer of the Year in 2022, Bennett burst onto the national scene last summer when he won the U.S. Amateur, which earned him a spot in the Masters. He has also shared about the devasting loss of his father, Mark, who died in June 2021 after a battle with early onset Alzheimer's disease. Bennett got a tattoo on his arm to honor his dad.
Bennett was clearly disappointed to bogey the 72nd hole on Sunday but was met with admiring cheers from the Augusta gallery and an embrace behind the green from his mother and brother. Few amateurs had reached such lofty territory in the Masters. Only three had ever finished second.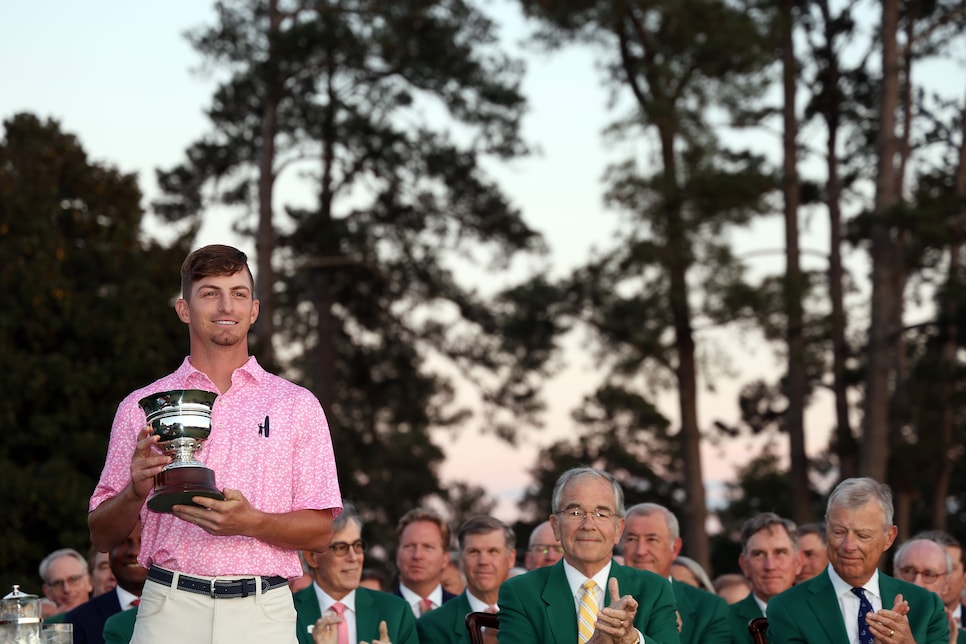 Sam Bennett poses with the trophy for being the low amateur in the Masters.
Christian Petersen
"From growing up as a kid watching this tournament, to losing my dad, to the struggles I've faced and still face—to be able to walk up that green on 18 on a Sunday, Easter Sunday, and just be appreciative of everything … if you had told me I was going to be here when I was a kid, I would have thought you were crazy," Bennett said.
Bennett played with such poise and consistency in the first two rounds that it looked like he might do the unthinkable and continue to contend into the final round. But when play resumed at 8:30 a.m. ET on Sunday, he never got his mojo back. He bogeyed the 13th and 14th in finishing up the third round and, playing alongside two-time major champion Collin Morikawa in the fourth, Bennett made just one birdie, at the 14th, and bogeyed 8, 12 and 18 for his 74.
"I was tired this weekend. I think that's what it was," he said. "My body wasn't moving how it should be. That's why I had the driver slotted the first two rounds, and then my legs kind of gave out. It wasn't turning and started missing them left. … I think I need to get in a little better shape, get in the gym."
His heavy legs had no problem carrying him one final time up the hill at 18 where he one day hopes to return.
"I haven't had kids yet," Bennett said, "so that walk up 18 was definitely the coolest experience of my life."