Upon Further Review
Masters 2023: Jordan Spieth comes up just short (again), blames 'too much golf' for mental errors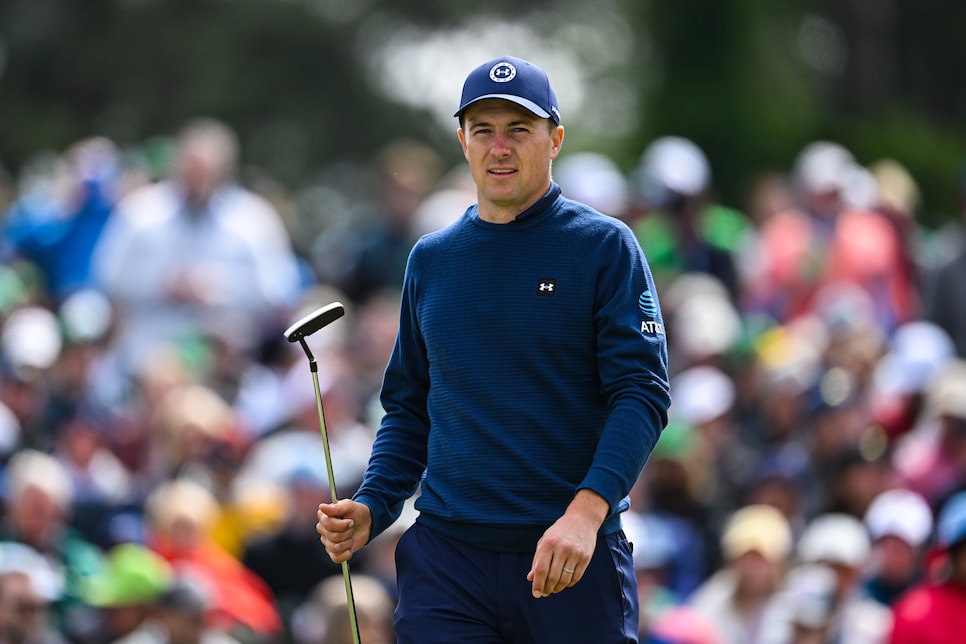 AUGUSTA, Ga. — Jordan Spieth did that thing he does on Sunday at Augusta National. He literally always does it. He could be 12 shots back, in the first group off, and he'd still find a way to get into the mix by the time he reaches the 16th tee. He's never not made his presence felt in a final round.
Well, except for last year, when Spieth, the 2015 champion here, missed the cut for the first time in his Masters career. It was such a foreign concept to him that he decided to play golf that Sunday in Hilton Head because he couldn't bear to watch the final round.
Spieth will be back in Hilton Head this coming week to defend his title at Harbour Town. It will be his ninth event in the last 11 weeks, Spieth testing the theory that there is no such thing as too much golf. Following his final-round 66, which featured a brutal bogey at the last that all but ended his chances, he couldn't help but wonder if there was.
"I think I played way too much golf into this," Spieth said. "I came in mentally fatigued, and you overwork this week every year. I played way too much golf in the last—I mean, this is eight out of ten weeks. So I need to change my schedule up going forward to be a little sharper this week. I think that has a lot to do with it."
Convenient excuse, or a legitimate factor? It's hard not to lean with the latter when you recall a few of the head-scratching decisions Spieth made earlier this week. Two that quickly jump to mind:
1.) in his first round on Thursday, Spieth, three under at the time, went for the green in two at the par-5 13th from the pine straw right of the fairway, taking an aggressive line at the pin. He fanned the shot badly, his ball finding Rae's Creek and leading to a double.
2.) During Saturday's cold and wet third round, Spieth blocked a drive into the woods at the par-5 fifth. Rather than take an unplayable, he attempted to hack it out and needed two tries to do so, leading to his second double bogey of the week.
Some quick math—those four dropped shots, plus another dropped shot at the 72nd thanks to a toe-hooked tee shot right when he got back in the thick of it, wound up being the difference between he and eventual winner Jon Rahm's 12-under total.
"I just feel I got a little bit lazy in picking targets," he said. "I probably only had a target 50 percent of the shots this week, and I like to have them 100 percent of the time. I kind of was trying to remind myself, but there was a few swings Thursday and Friday where I could have really taken it quite a bit deeper and left a few out there."
Honest to a fault, Spieth admitted he hadn't realized just how much all the golf had gotten to him until this week.
"I started to kind of realize it I would say this week, a little bit in match play," Spieth said. "It was more than I've ever really played in that stretch.
"No regrets. I didn't know. But I would attest some of my decision-making just to a level of focus that I wish I had a little bit more of. If I'm trying to pinpoint it, it seems like I don't remember the last time I tried to peak on my eighth out of ten weeks in a row. I don't remember ever having that."
Spieth's focus will be tested again in just four days, when he'll look to go back-to-back at the RBC Heritage, his most recent tour victory. Being that he's the defending champ, and the fact that it's an elevated event, he doesn't have much choice.
He's looking forward to the new-and-improved schedule next year, to say the least.
"This is a year that's a bridge year for us on the PGA Tour," he said. "So I want to keep playing the elevated events as well as the other events that I really love to play. So I knew that was going to happen this year, but it should be decided for me in the future, which would be a good thing."