Not Wrong
J.K. Dobbins went scorched earth on the Ravens' play-calling and he's ... kinda right?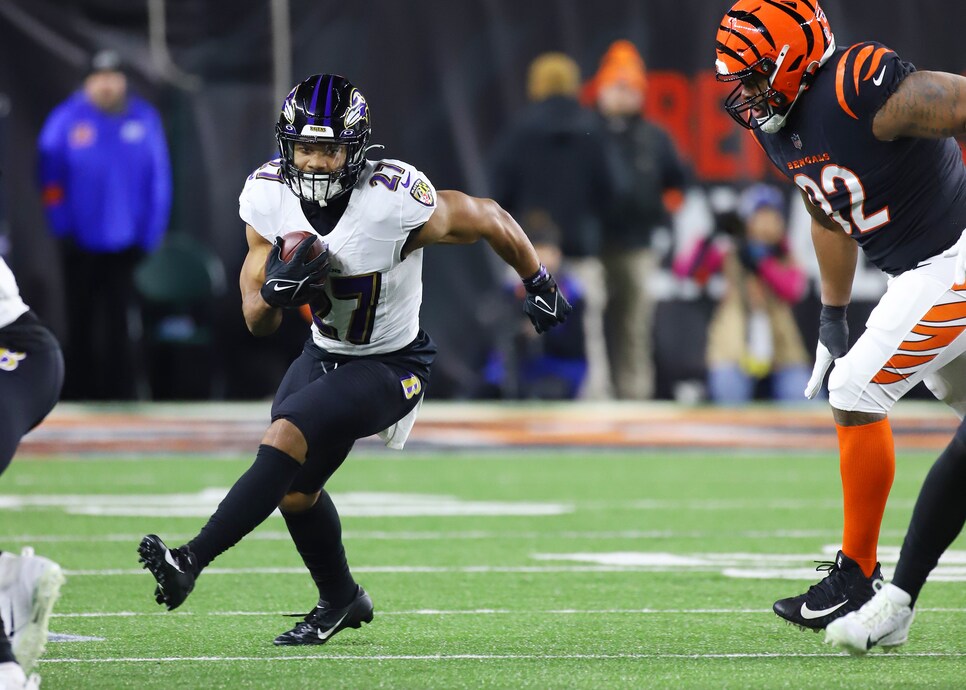 Modern-day social media, particularly sports social media, has made it impossible to believe anything is real, even quotes attributed to players and coaches by supposed "verified" folks with blue checks. Anytime you see a big quote graphic with something that reads as too incendiary to be real, that's probably because it's not real. Fake quotes = real engagement.
That's why the antennas went up early on Monday morning when these quotes attributed to Baltimore Ravens running back J.K. Dobbins hit Twitter. No way he actually said this, right?
Even after checking the actual source, it was hard to believe this was something Dobbins actually said. Of course, with the context removed completely, which is what all good quote graphics do, this looks a lot worse than it actually was.
The actual source, Jeff Zrebiec, is a senior staff writer for The Athletic-Baltimore, and his beat is the Ravens. If there was ever someone to trust in regards to the Ravens, it would be him, and apparently Dobbins had much more to say after his team's gutting 24-17 loss to the Cincinnati Bengals in the Wild Card Round:
Dobbins was obvously heated over the season-changing fumble that cost the Ravens the game. Less than five minutes into the fourth quarter, Baltimore appeared on track to pull off a huge upset, with quarterback Tyler Huntley, in for absentee quarterback Lamar Jackson, driving the offense down to the Cincinnati two-yard line. Despite having 1st and goal from there, Dobbins, who scored the Ravens' first touchdown on and impressive catch, run and stretch for the goal line, did not get a single touch on the drive. Even on 3rd and goal from the one-yard line, the Ravens coaching staff called for a quarterback sneak that had Huntley dangerously reaching the ball over a dog pile. It was knocked out of his hands and fell into the arms of Bengals defensive lineman Sam Hubbard, who returned it 98 yards for a touchdown.
That proved to be the decisive play, the Ravens failing to score on any of their ensuing three drives and losing 24-17. Had they scored there, they would have gone up 24-17, and the pressure would have shifted over to the Bengals, who were 9.5-point favorites at home.
Every decision and call in the playoffs is ripe for hindsight and second-guessing, but it's hard not to agree with Dobbins here. While Baltimore was certainly easing him back into the fold late in the year after he returned from another knee surgery, this is the playoffs. Not the time to "ease" anybody in when the season is on the line. But, if Lamar Jackson's absence is any indication, things aren't exactly going according to plan in that building right now. Between that and Dobbins going scorched earth on the playcalling, we'd love to be a fly on that wall.