Awkward
Jay Monahan's speech during last year's Players trophy presentation to Cameron Smith has NOT aged well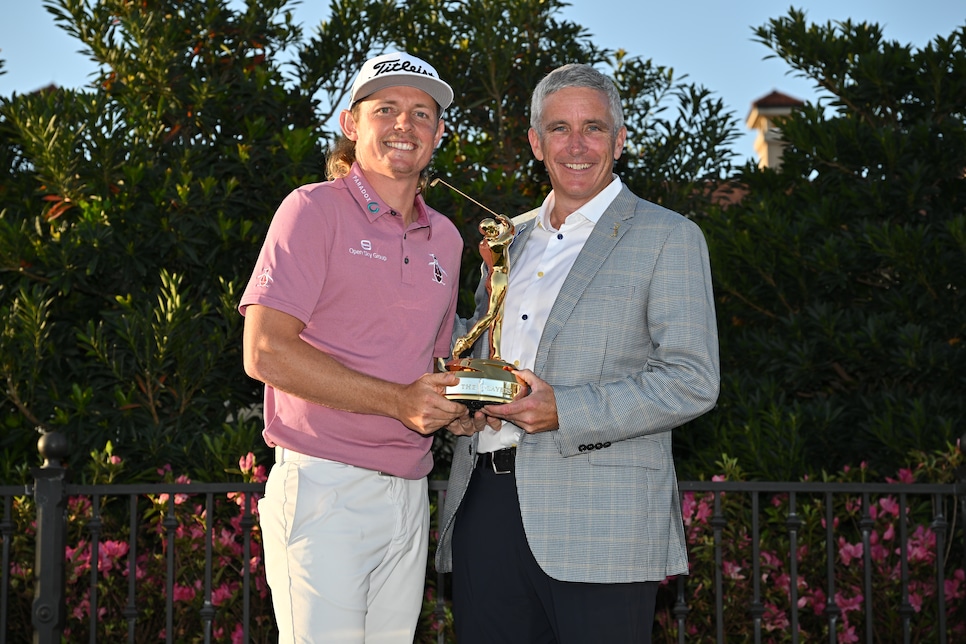 The PLAYERS Championship may be the PGA Tour's FLAGSHIP event, but there's certainly been a lot of LIV Golf talk this week thus far at TPC Sawgrass. And for good reason. Defending champ Cameron Smith is NOT in the field this week, nor are the top three finishers and five of the top 10 from last year's event. Unfortunately for the PGA Tour, that means they can't technically claim this year's tournament features the STRONGEST field in golf, and if you think all these all-caps words are awkward, wait until you re-watch last year's trophy presentation.
Thanks to Golf Twitter community member Rob Williamson for pointing out what's now a particularly uncomfortable watch as PGA Tour commissioner Jay Monahan not only heaps praise on Smith, but takes it the extra, um, mile, with this line about the Aussie's close proximity to the tour's Ponte Vedra Beach headquarters:
"And before we hand him the trophy, Cameron doesn't live far from here," Monahan says in the clip. "And every single time he pulls his car up the main road, he's going to receive a hero's welcome." Ooo boy, play it back!
Nope, that definitely has NOT aged well. Of course, Smith received no hero's welcome this week, and Monahan acknowledged on Tuesday the "awkward" nature of not having the defending champ teeing it up. And, of course, Smith also knew he wouldn't be back when he bolted to LIV shortly after winning the Open Championship a few months later.
But where the clip is particularly juicy is in that reference to Smith driving up the main road. Because the tour took away his champion parking spot at TPC Sawgrass—as well as removing winning photos and memorabilia from the clubhouse—within two weeks of Mullet Man moving on. Rough.
Smith has joked about showing up to the course as a fan this week, but he told Golf Digest he'll probably be fishing nearby as the tournament unfolds.
"I think all the residents will be out watching the golf tournament," Smith said. "So I'll be able to strap out and have the water to myself."
At least, he shouldn't have much of a problem finding a parking spot, either.