THE PLAYERS CHAMPIONSHIP
Players 2023: PGA Tour commissioner acknowledges 'awkward' nature of having banned defending Players champion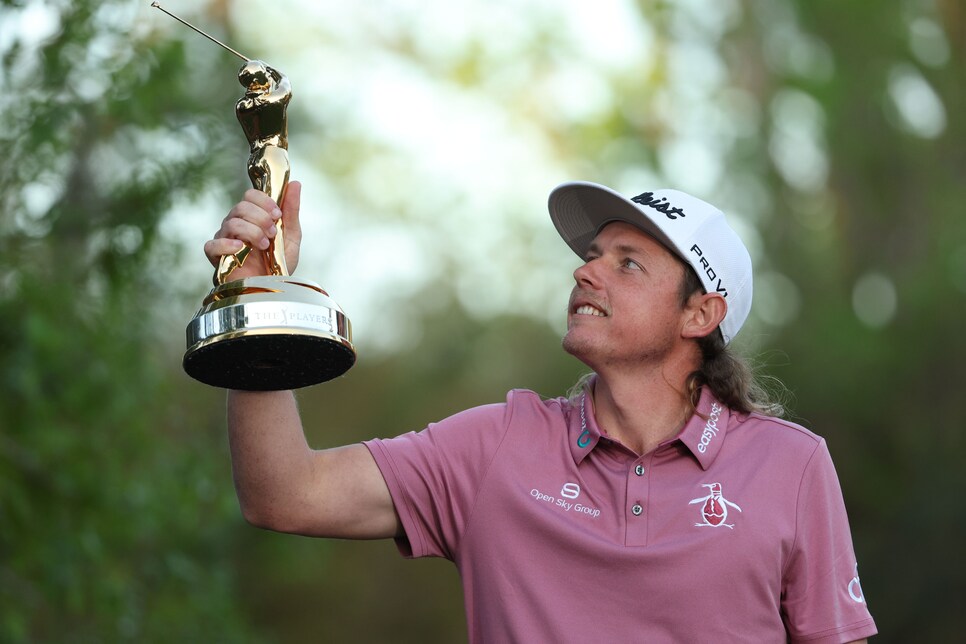 Cameron Smith celebrates with the 2022 Players Championship trophy.
Patrick Smith
PONTE VEDRA BEACH — LIV golfers will not be allowed back on the PGA Tour, even if one happens to be the defending champion at the Players Championship. That was the message PGA Tour commissioner Jay Monahan had Tuesday at TPC Sawgrass in his annual pre-tournament press conference, where he fielded several questions about the rival league.
The topic of LIV was prominent Tuesday at the Players given last year's winner, Cameron Smith, would be defending his title had he not left the PGA Tour for LIV Golf last fall. Smith, a six-time PGA Tour winner, defeated Anirban Lahiri last year in a thrilling Monday finish.
Monahan was asked if Smith's absence was a complicated look for the tour's flagship event. "He was a deserved champion … yes, it's awkward, but ultimately it's a decision that he made," Monahan said.
"Would it be better if the defending champion was here this week? Absolutely," McIlroy said. "But he made a decision that he felt was the best thing for him, and he knew that decision was going to come with consequences."
Rahm referenced the fact the Players had developed a reputation as the strongest field in golf. It had earned a nickname as golf's unofficial fifth major. The ban contrasts with the fact eligible LIV golfers will be allowed to tee up this year in the four major championships. Smith will defend his British Open title at Royal Liverpool in July.
"Yes and no," Rahm said when asked if Smith should here this week. "I feel like as defending champion you've earned a right. But we're talking about a very unique circumstance in the world of golf. Yes this is very close to major quality event, but it's still a PGA Tour event. So with that regard, no."
"For some reason I've been hearing that a lot lately, and I'm not certain where that's coming from," Monahan said. "The players playing on that tour are contractually obligated to play on that tour. So any hypotheticals at this point really aren't relevant.
"But our position … has not changed."
That position is that PGA Tour members who left for LIV will remain banned by the PGA Tour. Non-members can also be banned for playing in "unauthorized" events. One of the provisions in the PGA Tour Player Handbook is that each PGA Tour member acknowledges the commissioner, the tour's policy board and the appeals committee have the authority to permanently ban a member from playing in tour co-sponsored, approved or coordinated tournaments if the member violates its regulations.