News
What is Phil Mickelson's senior tour future? It's complicated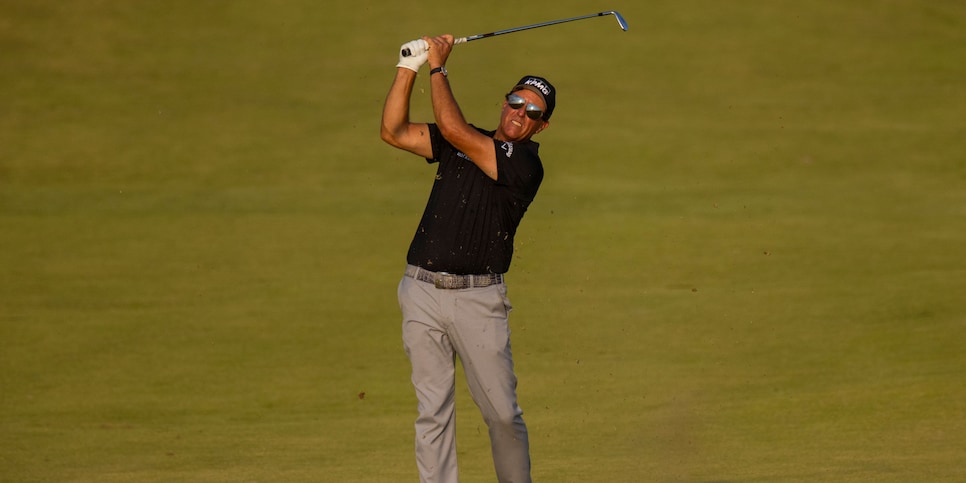 The most revealing and pivotal moment for Phil Mickelson on the way to shooting the lowest debut round in PGA Tour Champions history on Monday unfolded on the 13th green at Ozarks National Golf Course. The 18-footer he converted ignited a streak of five straight birdies to propel him to a 10-under 61 and the lead, so there was that. But then there was the fist pump that followed. He set his jaw. He dropped his left hand emphatically. It mattered. Him being there. Competing. Vying for a slice of a $3 million purse when he's used to bellying up to buffets of $9 million or more.
Why it mattered is left to conjecture.
Did he want to impress in his senior debut? Sure. Did he want to make up for the earliest departure of his career in the FedEx Cup Playoffs the week prior? Presumably. Did he have something to prove to himself? Maybe. That he could still shoot some low scores? Yes, yes, and yes. Did he have a burning desire to become the 20th man in PGA Tour Champions history to win in his first start, or does he have bigger things in mind?
Seriously, what do you think?
Phil Mickelson invaded the senior tour this week and left little doubt about the damage he could do if he were to become a regular among the 50-and-older set. A rather perfunctory five-under 66 on Wednesday was enough to secure not only a four-stroke conquest in the Charles Schwab Series at Ozarks National, but also some accompanying psychological reinforcement that he had hoped would be a residue of the experience.
And that's what Mickelson was hoping to find, more or less.
After missing the cut Friday at The Northern Trust, the PGA Tour's opening playoff event, Mickelson, who turned 50 in June, promptly opted for a detour to Ridgedale, Mo., with the expressed purpose of working on some shots in a competitive atmosphere and "building a little momentum." Reuniting with old friends was fine and all, and Mickelson spoke repeatedly of enjoying the experience, which included the enjoyable addition of $450,000 to his bank account. But the U.S. Open at Winged Foot is three weeks away and the Masters is in November, and the old left-hander wasn't warming up in the bullpen this week just to go out and win the Charles Schwab Cup.
"I had a lot of fun here, I really did," Mickelson said. "I'm hopeful to play in some more, too, but I also want to use this as a way to get sharp for the regular tour and for the majors."
And now? He'll tee it up in two weeks in the PGA Tour season opener, the Safeway Open in Napa, Calif., before heading for New York. "I'll be working on my game the next week and a half, see if I can be really sharp for the U.S. Open," he said, revealing more of where his head and heart really are. "Obviously, I have a lot of work to do [for] some redemption at Winged Foot, but it's a great golf course and I'm looking forward to the challenge."
Does Phil move a needle? The unequivocal needle-moving champ, Tiger Woods, was asked about the enigmatic left-hander Wednesday morning at the BMW Championship, near Chicago, the event for which Mickelson failed to qualify, thus inducing his decision for less greener but more pluckable pastures these last three days. The BMW is a FedEx Cup Playoff event with a $9.5 million purse, and senior golf is among the menu topics? Only because of Phil.
"Playing unbelievable golf," said Woods, apparently taking some passing interest in his rival's pursuits. "He said he's been close to playing well. I think that he was already one of the longer hitters out here, and now he goes to where he's going to pick up a huge advantage off the tee, but you have to take advantage of that opportunity off the tee. His wedge game is off the charts, as we all know. … There's no reason why he can't win every event he plays out there."
Not surprisingly, there were a lot of interested parties. Other than TV ratings, Twitter is perhaps the best barometer for gauging interest in a golf tournament, and Mickelson postings multiplied across the social-media platform starting with his Monday salvo. One veteran golf journalist wrote, "Damn you, Phil," for making him care about senior scores. Well, he wasn't alone.
Oh, and about those TV ratings. Golf Channel saw ratings increases of 150 percent on Monday and nearly 300 percent on Tuesday for its coverage of the PGA Tour Champions compared to programming in the same time period (6-8 p.m. EDT) the prior four weeks. Tuesday's coverage was the most-watched Tuesday telecast since Golf Central Live during the 2019 Masters. (Wednesday's figures weren't yet available.)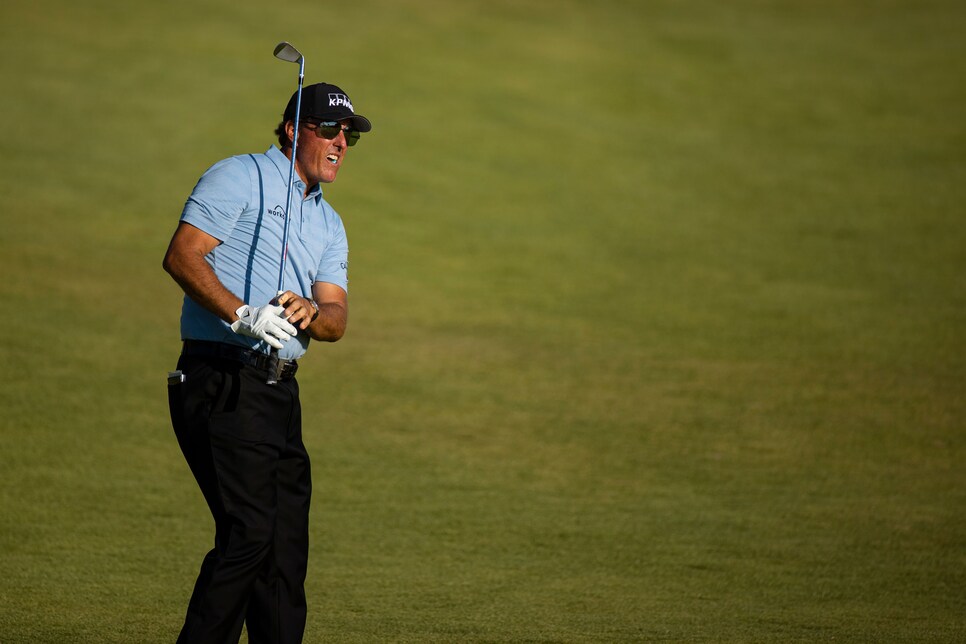 Mickelson shot the tour's lowest score in his senior debut round (61) and matched the tour's 54-hole scoring record.
Brett Carlsen
No wonder his peers have been eager to see him join the ranks. They recognize that Ernie Els and Jim Furyk and Mike Weir and Rich Beem, major champions all, are terrific additions to the elder statesmen herd this year, but no one ever conjured up an ad campaign entitled, "What will Ernie do next?"
"I'm glad it was sooner rather than later," said two-time U.S. Open champion Lee Janzen about Mickelson's appearance. "Obviously his career … stellar. He brings a lot of attention to our tour. He's also a great presence for pro-ams, in the locker room, talking trash. He's fun to have around."
"I think all of us out here would wish he would play out here a lot, because he brings such a presence, but I don't think any of us would expect him to," Steve Flesch said. "He gives our tour great exposure, as do a lot of other new guys like a Jim Furyk, Ernie, Retief. But Phil is just another notch higher as far as popularity. That's just who fans like. And, you saw he just dismantled the golf course here. The rest of us mere mortals have to play it one way. He's playing on another universe out there.
"He just kind of came in and blew through us. I wish we'd have had a few big names pushing him," Flesch added. "My worry is he might not find it challenging enough. Not to demean anyone on our tour, but the guy is [ranked] 50-something in the world. We all kind of know where he should be playing."
It didn't even look like a fair fight. The coffee-swilling five-time major winner has no gray hair, stands without slouching, has remained fit and retained his flexibility, and he doesn't appear particularly interested in giving his driver a respite of appreciable duration. He attacked Ozark National, which, fortuitously, happens to be generous off the tee, with a tournament-leading driving average of 323.7 yards. And he provided one of several highlight-reel shots by using the same club in the second round to escape from under a tree, with the ball perched on pine straw and bark.
Per usual, Phil can thrill.
Not that this necessarily always thrills Phil. Earlier this year he sounded like a man who fancied a little more scoring efficiency.
"I believe I can play at an extremely high level," he said. "I just need to show it. I need to show what I believe."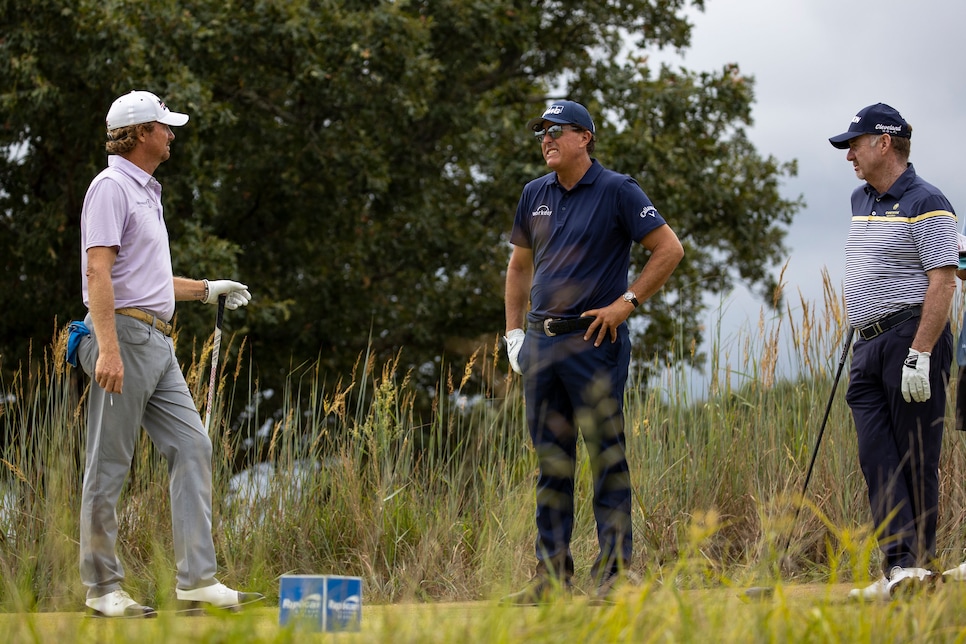 The chance to renew friendships with former competitors might give playing the PGA Tour Champions more appeal for Mickelson.
Brett Carlsen
There have been plenty of accomplished players to join the senior tour in the years since Jack Nicklaus dipped his toe in sporadically in 1990, started collecting senior majors with relative ease and then remained somewhat fixated on winning the only four majors that matter. Since then, it can be argued, no 50-year-old has been more focused on, better prepared for, and seemingly capable of winning a major championship than Mickelson.
At 54th in the World Rankings, he could still be a threat at any major even if he is not a threat in every major.
Only last month Mickelson finished T-2 at the WGC-FedEx St. Jude, where he became the first player age 50 or older to finish in the top five in a WGC event. Last year, he won a record-tying fifth title at the AT&T Pebble Beach Pro-Am for his 44th PGA Tour victory, and the year before he broke a winless streak of almost five years by defeating reigning FedEx Cup champion Justin Thomas in a playoff at the WGC-Mexico Championship.
A month before that Pebble triumph, Mickelson opened the American Express with a 60. He can still bring some heat. And he can still flame out, as witnessed from time to time, which only adds to his aura and intensifies the fascination with which fans, both casual and golf-rabid, hold him. Is there another player in the world who advances a golf ball with more abandon and has more fun doing it?
There was once, but Arnold Palmer has left the building.
Mickelson is the first player since Tom Watson to stick a peg in the forward tees whom we might think of as an authentic "legendary-type" figure. The two guys who maybe came closest in between were Fred Couples and John Daly, for different—and very separate—reasons. And Mickelson, frankly, might be the last, unless Woods decides, five-plus years from now, that he wants to spread a last layer of whoop-ass on his peers.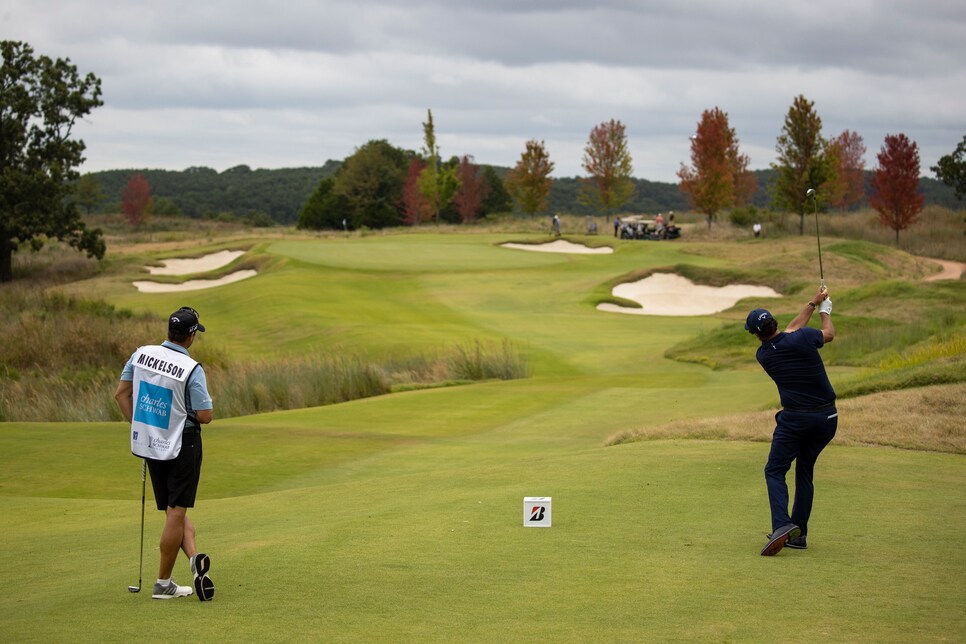 While still competitive on the PGA Tour, Mickelson has said his starts with the seniors will be sparing.
Brett Carlsen
How much will Mickelson hang around his fellow seniors? That is the real question, and the answer would seem to be not much. At least for the foreseeable future.
In February, before he nearly defended his title at Pebble Beach, Mickelson said he didn't want to, "hurt the Champions Tour in any way, and if not playing the Champions Tour is going to hurt it, I'll play a couple of events. I'll probably play one, two or three events a year because I want to support it; I want it to be successful."
Prior to the coronavirus pandemic, Mickelson was quite enamored with the direction his game was headed, and he was highly motivated about the possibilities ahead. He put down this marker: "This motivates me to compete against the best players in the world. That drives me to get in the gym, it drives me to work hard on the range, it drives me to spend time on the putting green. And I'm not sure I would have the same passion and drive to be my best on the Champions Tour, but I have it out here, and so right now it's starting to bring out the best in me and I want to play out here."
The previous three days in Missouri already had been set to give the PGA Tour Champions a spotlight to enjoy, given that there were no other competitive golf events up against it. Then Phil Mickelson swooped in and changed the entire complexion of the thing. It is for that reason that the rest of the senior contingent wishes for his increased attendance, even if it means he is going to throttle them with bombs.
A World Golf Hall-of-Famer, Mickelson could add his name to a long line of fine players who ardently attempted to compete on both tours. But, seriously, what's the point?
Mediate summed it up best. "Hopefully he'll play some more, but he's still fine on the regular tour. He still has big game, as you can see."
Still has big aspirations, too.