News
Tiger Woods: 'No reason' Phil Mickelson can't win every week on Champions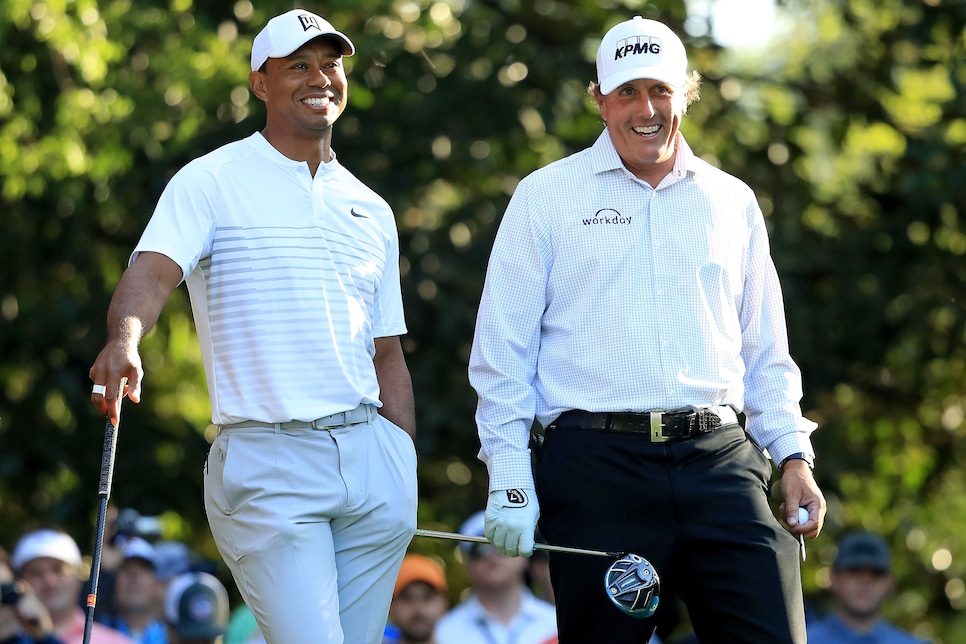 Andrew Redington/Getty Images
Phil Mickelson, golf's greatest showman, has taken his performance to the Ozarks this week, leading the Charles Schwab Series through two rounds in his senior circuit debut. Winning a Champions event on the first try is not groundbreaking; should Mickelson hold onto his advantage, he would be the 20th player to do so. Still, it's been an entertaining display, one that's caught the eye of his frenemy, Tiger Woods.
"He said he's been close to playing well," Woods said. "Obviously he played well in Memphis. You know, I think that he was already one of the longer hitters out here, and now he goes to where he's going to pick up a huge advantage off the tee, but you have to take advantage of that opportunity off the tee."
Mickelson is unlikely to make a full-fledged Champions jump for some time; as Woods noted, Phil just finished runner-up at the WGC-FedEx St. Jude earlier this month, and Mickelson was looking for reps ahead of next month's U.S. Open. Still, Woods believes Mickelson's distance, coupled with his short game, would make him a contender every time he tees it up on the Champions.
"His wedge game is off the charts, as we all know, and getting every wedge in there he's going to put it inside of 10, 15 feet each and every time, hole those, get momentum and keeps it going, there's no reason why he can't win every event he plays out there," Woods said. "He's got such a big advantage over the rest of the field just with sheer length."
As for his own senior prospects—Woods turns 45 this December—the 15-time major winner sounds like his mind is very much in the present.
"Well, there was a time in which I didn't think I would play out here again, so I'm just enjoying what I have here, and that's six years away," Woods said. "That's a long time. I've only been back for a few years. Looking forward to just playing out here and being part of the guys out here."
Woods begins this week ranked 57th in the FedEx Cup. The top 30 following the BMW advance to the season-finale Tour Championship at East Lake.