News
Phil Mickelson stays hot, extends lead on mission to win his Champions debut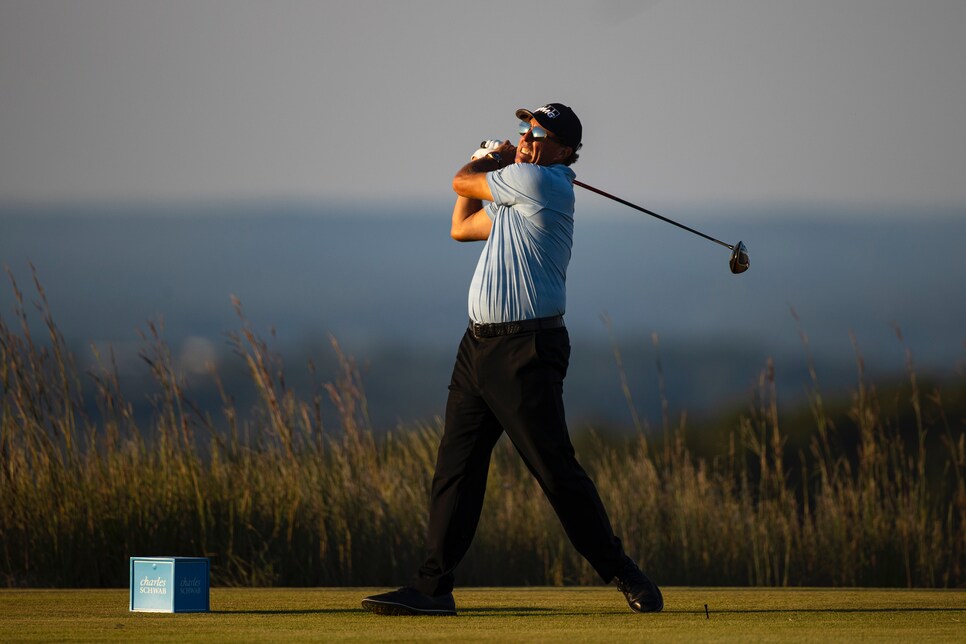 Phil Mickelson hits his tee shot on the 18th hole during the second round of the Charles Schwab Series at Ozarks National.
Brett Carlsen
Mickelson pulled off a stunning birdie from what looked like a potentially disastrous predicament, saved a bogey after a lost ball could have caused serious damage to his card, and he backed up his spectacular opening round with a seven-under-par 64 in the Charles Schwab Series.
When closest pursuer Tim Petrovic bogeyed the 18th hole with a short iron in his hand from the fairway, Mickelson headed for dinner in Ridgedale, Mo., with a four-shot lead. Going into the final round, he has forged that margin in dominating fashion by making 19 birdies against just two bogeys.
The 61 was the best score shot in a Champions debut, and Mickelson's 36-hole total of 125 is second only to Bruce Fleisher's 124 at the 2002 RJR Championship. However, Mickelson has arguably been better. He's 17 under at par-71 Ozarks National, while Fleisher was 16 under on par-70 Tanglewood Park in North Carolina. Fleisher owns the tour's 54-hole record of 191, and Mickelson can match that with a closing 66.
If Mickelson, the week's heavy betting favorite, can seize the win—his first since the 2019 AT&T Pebble Beach Pro-Am—it will go with the World Golf Hall of Famer's collection of five major titles and 44 victories on the regular tour. Now 50, he took his first championship nearly 30 years ago as an amateur in the 1991 Northern Telecom Open.
"I didn't drive it the way I've been driving it," Mickelson lamented after the round. "I kind of hung on to a few drives. I haven't been doing that. I'm going to try to fix that on the range and … I can be more aggressive with the driver and make more birdies."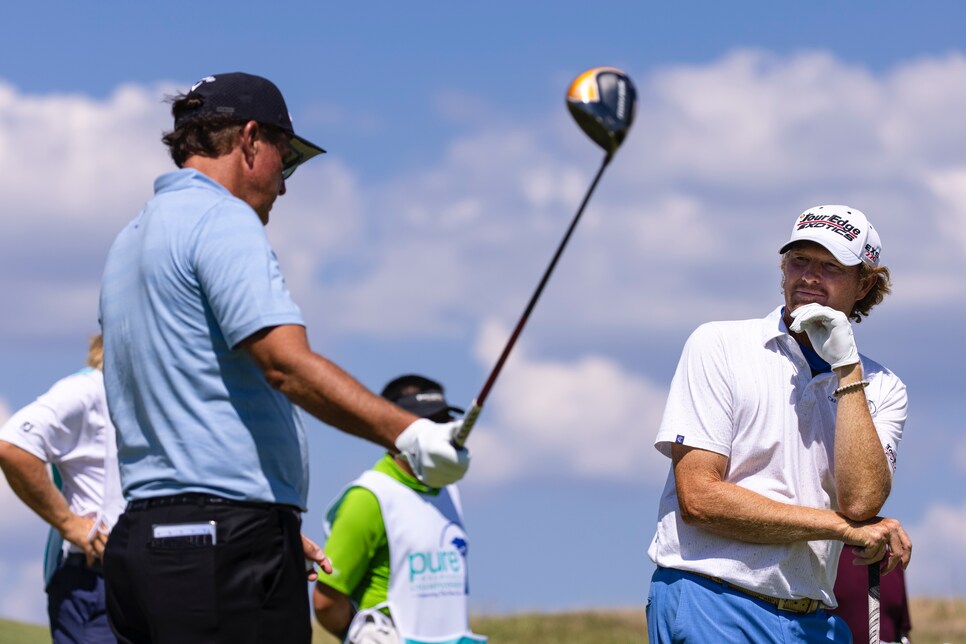 Phil Mickelson talks with Tim Petrovic before the start of play in round two of the Charles Schwab Series at Oazks National.
Brett Carlsen
He admitted the choice to use a driver on the par-4 10th hole nearly torched his great run. His tee shot blew into high fescue and the ball couldn't be found. Mickelson had to take the drive of shame in the golf cart back to the tee, powered a 3-wood into the fairway, and then got up and down from there for an unexpectedly happy bogey.
"To get out of there with a bogey—a birdie with my provisional—was a huge thing," said Mickelson, who birdied three of the next four holes.
Though he didn't drain any 35- or 40-foot putts like he did the day before, Mickelson was again confident with the putter. His best roll came at the par-3 sixth, when he putted off the green, with his back nearly to the hole, and his ball made a 10-foot bend before dropping into the heart of the cup.
Mickelson credited his improved putting to his work with San Diego putting guru Derek Uyeda, who works with, among others, world No. 10 Xander Schauffele. "I've been getting a lot of feedback on how I want the stroke to be, the launch of the ball, all the little details," Mickelson said. "When I get on the course my feels start to equate and do what I'm expecting. So I've been putting really well."
It's not as if the other Champions players are letting Mickelson waltz away. Tied for second, the 54-year-old Petrovic and 50-year-old Rod Pampling are hungry for their own first Champions triumphs, and both have played admirably with scores of 64-65. Rocco Mediate, 57, with four Champions titles, is at 12 under (64-66).