News
Phil Mickelson sets the pace in his Champions debut with a 61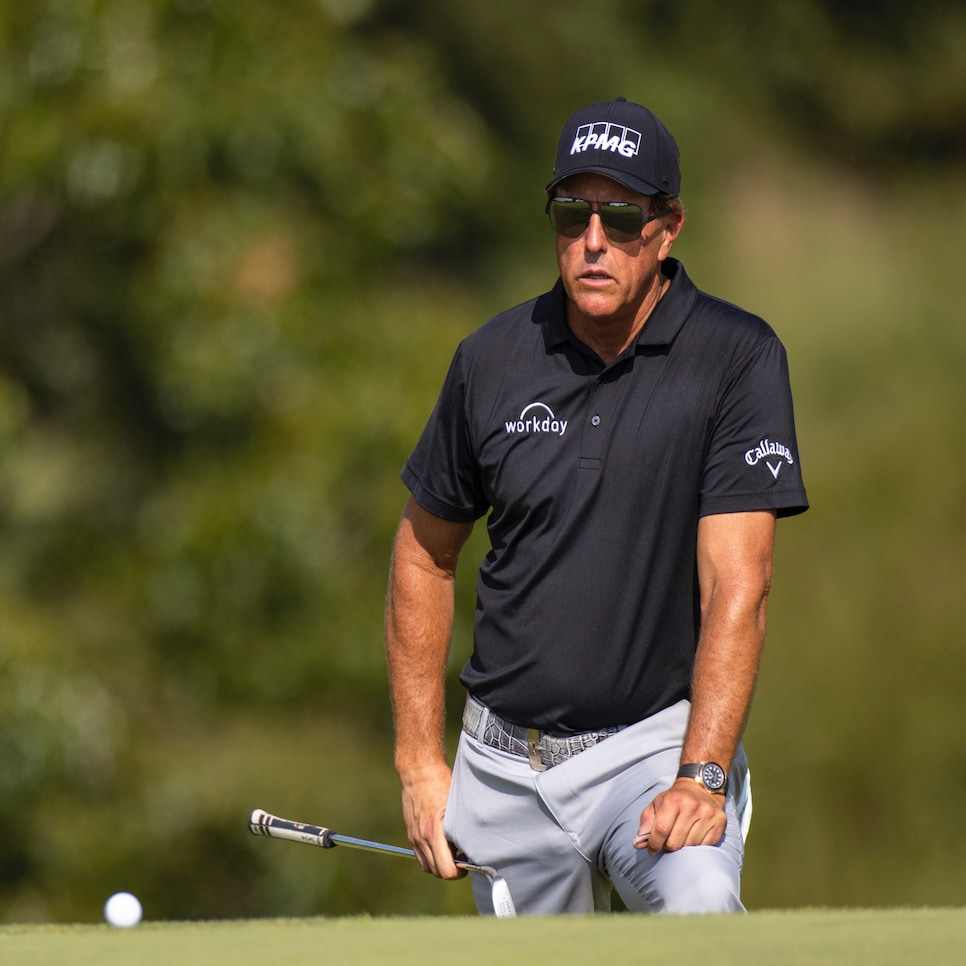 Phil Mickelson lines up a putt attempt on the ninth green during his PGA Tour Champions debut on Monday.
Brett Carlsen
The stories are legend of Phil Mickelson tossing up a 60 on one of his well-manicured home tracks in San Diego just before heading out on the PGA Tour, only for all that mojo to be gone when he steps on a meaty competitive course with rough and length and tricky greens.
On Monday, it was as if he was on one of those layouts so cozy to him, just playing for sizeable pocket change with his buddies. In some ways, he was.
Mickelson made his PGA Tour Champions debut, and while grouped with a couple of gentlemen who have been strong competitors during his career, Steve Stricker and Retief Goosen, and on a forgiving layout with no rough or tucked pins, Lefty's game was reborn. Mickelson drained five straight birdies, including two bombs, in a back nine of 29 and shot 10-under-par 61 to be in the lead of the Charles Schwab Challenge at Ozarks National.
Even the unusual Monday start to the event—due to the emergency scheduling of back-to-back tournaments in Ridgedale, Mo., because of coronavirus pandemic cancellations—seemed to offer a good, casual vibe for Mickelson, who turned 50 in June. He started well after lunch, local time, and already had a number to shoot for­—New Zealander David McKenzie's morning-wave 62.
Mickelson, who missed the cut in last week's Northern Trust in Boston and was eliminated from the PGA Tour FedEx Cup Playoffs earlier than at any time in his career, went into his Champions bow as the heavy betting favorite to become the 20th player in the senior history to win in his first start.
"I was a little nervous," Mickelson said afterward. "I wanted to come out and play well. … I've been playing really well at home and I get out on tour and I'm playing tight, not letting myself go and swing free and aggressively. I get a little steery. To come out here and compete, it gives me a chance to work on that."
Ozarks National—the Bill Coore and Ben Crenshaw-designed layout that opened last year and was named Golf Digest's Best New Public Course for 2019—is generous off the tee, with no rough and massive greens. At just over 7,000 yards, it's playing about 300 yards shorter than TPC Boston did a week ago in The Northern Trust.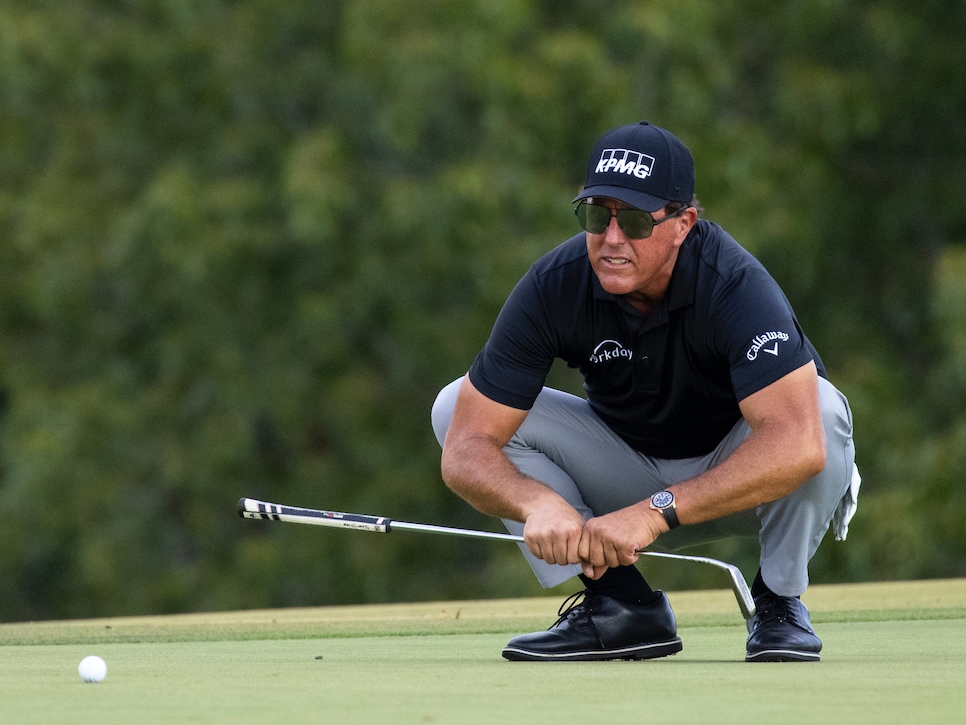 Phil Mickelson, lining up a putt on the 13th green, made five straight birdies on the back nine in shooting 61.
Brett Carlsen
The par 5s don't stretch beyond 550 yards, so Mickelson had a crack at all of them in two shots, making three birdies and a bogey (when he drove out of bounds at 9). There was as a 350-yard par 4 that he nearly came out of his shoes on and drove the green for a birdie. And the par-3 17th played all of 121 yards, with Mickelson smoothly carving a wedge to three feet.
When he wasn't hitting his short irons to close range, his putter was hot—he made a 40-foot birdie at the 15th and a 35-footer at 16. Mickelson acknowledged that some of the credit goes to the easier Champions hole placements. On the regular tour, he said, "you see 12 or 13 holes that are on the crest. It's hard to get it close. … It's not like the pins were easy [on Monday], but they were what you would see on a challenging setup on your home course."
Felt like the home course. Looked like a home-cooked score.