News
His PGA Tour season on the line, Tiger Woods embraces the tall task facing him at the BMW Championship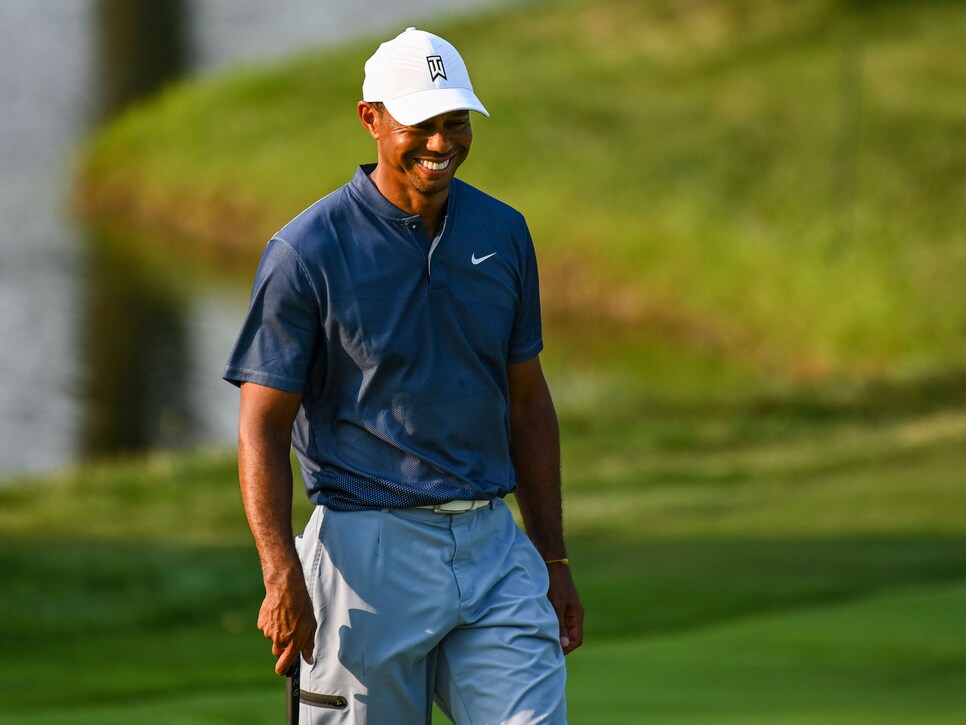 OLYMPIA FIELDS, Ill. — For Tiger Woods, the situation is simple: play his best golf in seven months, or go home.
Woods enters this week's BMW Championship at No. 57 in the playoff standings and will likely need a top-four finish to get into the top 30, qualify for the Tour Championship and have any chance to win a third career FedEx Cup title. Otherwise, his 2019-'20 PGA Tour season will come to an end one tournament earlier than he'd like.
If he's at all stressed about it, he's not showing it. As he has reminded us, there was a time not-so-long ago that Woods would have gladly signed up for such a do-or-die scenario. When you're sitting on your back, unable to move, wondering whether you'll ever play golf again—or even live pain-free— "stressful" situations like this one don't sound too bad.
That doesn't mean he doesn't want to get to East Lake.
"To be part of the Tour Championship is being a part of the top 30 guys," Woods said. "They've been the most consistent players throughout the entire year. That has certainly evolved with the FedEx Cup, and you can get hot late and get yourself to the Tour Championship. They've tried to adjust the system over a number of years, and I think they've got it right. But if you look at the players from 1 to 30, they're the most consistent players throughout the entire year."
Woods has just one top-10 finish in this calendar year, a T-9 in January at the Farmers Insurance Open. Of course, this year has been the furthest thing from normal, and Thursday will be just the sixth time in 2020 that Woods has teed it up in an official tournament. His last four starts since the Farmers have produced a series of meh results—a 68th-place finish at the Genesis Invitational before the COVID-19 hiatus, and a T-40 at the Memorial, a T-37 at the PGA Championship and a T-58 at The Northern Trust since the restart. It's because of this that Woods finds himself with serious work to do to qualify for the Tour Championship.
It was at the BMW last year where Woods' season ended with a T-37 finish at Medinah, a very traffic-dependent 55-minute drive up I-294 from this week's old-school host venue, Olympia Fields. Prior to Tuesday afternoon's nine-hole stroll around the back nine, Woods had not been back here since finishing T-20 at the 2003 U.S. Open.
"This golf course is set up more like a U.S. Open than it is a regular tour event," Woods said.
Olympia Fields has a strong pedigree of holding significant events, having hosted two U.S. Opens, two PGA Championships, a U.S. Senior Open, the Women's PGA Championship and the U.S. Amateur in 2015, won by Bryson DeChambeau.
"Last week I think might have been a little outlier because of the weather. The greens were soft and receptive, and the majority of the field went low and then DJ went absurdly low," Woods said, referring to Johnson's absurd winning total of 30 under. "That won't be the case this week. Pars will be at a premium, putting the ball in the fairway and trying to keep the ball in the correct spots."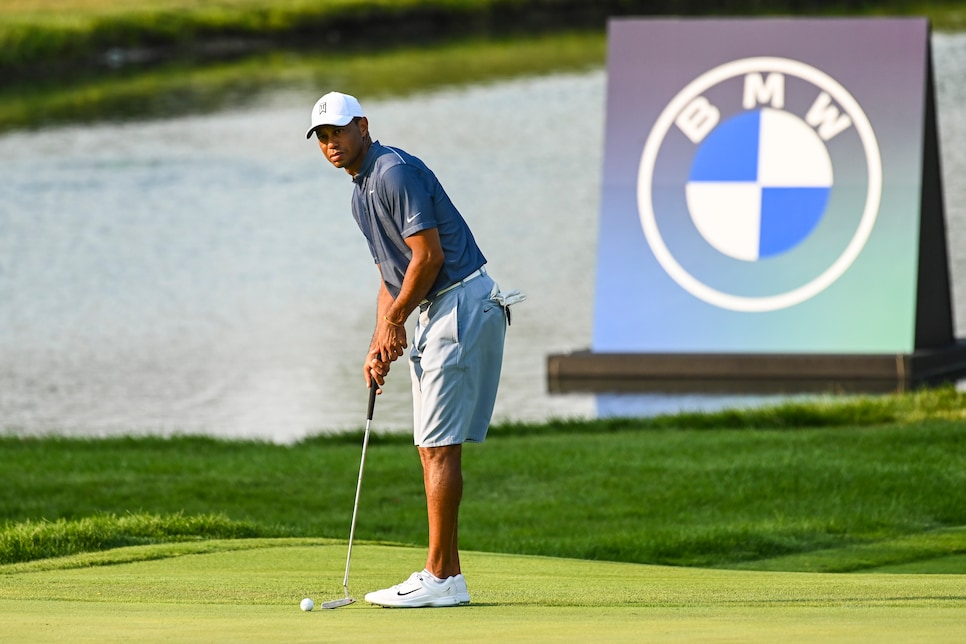 If Woods is to come through with a top finish, he's going to need to improve his putting compared to his most recent starts.
Keyur Khamar
The encouraging news for Woods is that he did indeed put the ball in the fairway last week in Boston. Woods finished 10th in strokes gained/off the tee at TPC Boston, by far his best statistical driving week of the five ShotLink-tracked events he's played in 2020. Woods hit 31 of 42 fairways over his last three rounds at The Northern Trust and had some speed as well, frequently surpassing 170 miles per hour in ball speed and averaging more than 300 yards.
The primary issue since the restart has been his putting. Woods put a new, slightly heavier Scotty Cameron in play for the PGA but has since returned to "Old Faithful," the older Scotty that he's used to win 14 of his 15 majors. Woods has maintained that his body and his swing feel good enough to win right now, so long as the flatstick will cooperate.
"Haven't snapped it yet," Woods joked of perhaps the most valuable golf club in the world. "Just need a hot putting week this week to get to East Lake."