News
Phil Mickelson at 50: A wonderful and wacky ride with one of golf's great entertainers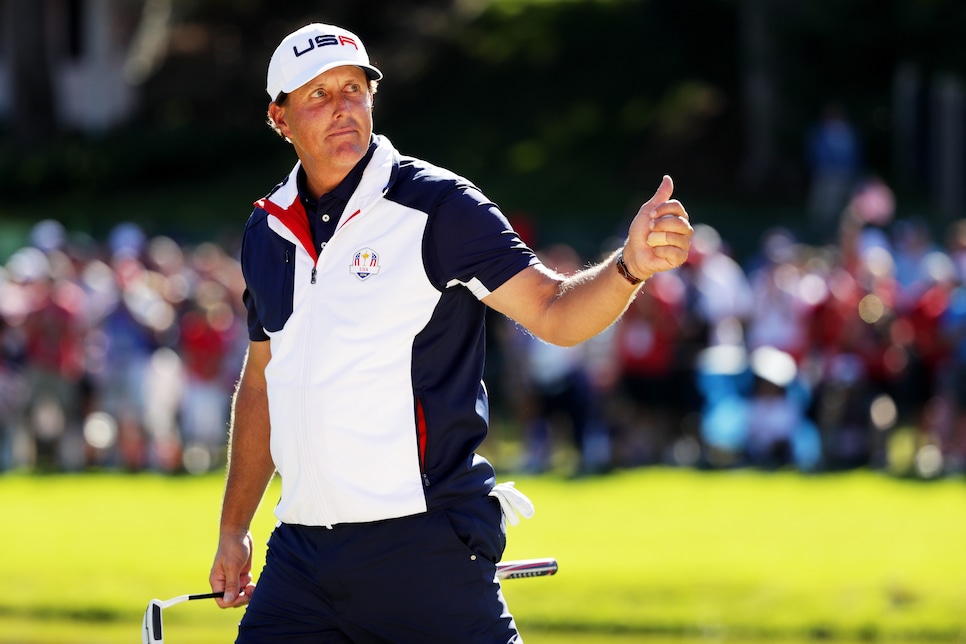 Phil Mickelson gives a thumbs up to the crownd during the 2016 Ryder Cup.
Streeter Lecka
In a life that never seems mundane or unexamined, this could have been another fascinating week for Phil Mickelson. In one way, it already is.
Mickelson turns 50 years old today and given the lavish ways his family celebrates holidays and milestones, this one figures to have off-the-chart prospects for fun. Don't forget, Amy Mickelson got her husband a real dinosaur skull for his ho-hum 39th birthday. Could this one be his own rocket ship, or at least a seat on the next Space-X launch?
Yet, when the party is over there's a sobering reality to this crossroads in Mickelson's tremendous career of 44 PGA Tour wins and five major championships. This week painfully illustrates that. If COVID-19 never happened, they'd be playing the U.S. Open at Winged Foot starting Thursday, but Phil could have been sitting at home in San Diego because he hadn't qualified, having dropped out of the top 50 in the World Ranking.
Maybe that's a good thing, given the questions he'd be asked about one of the darkest days of his career—the double-bogey collapse on the 72nd hole at Winged Foot in the 2006 that cost him a U.S. Open title that achingly remains unsecured. Still, we'd expect him to choose a little pre-tournament queasiness and another shot at polishing off the career Grand Slam.
Mickelson previously said he'd refuse a special exemption from the USGA to play this year, leaving sectional qualifying as his only option, and that also has been eliminated, with the U.S. Open now set for Winged Foot in September. He's not out of it yet, because the USGA has not revealed how it will establish the field. But Mickelson, at No. 61 in the world, needs to get something going regardless. In the calendar year, he's made seven starts, with wildly disparate results—two placings of third with five missed cuts, including last week in the Charles Schwab Challenge.
In his best physical shape in a couple of decades, Lefty has waved off playing anytime soon with the gray and paunchy on the PGA Tour Champions, and truth be told, he probably thinks that set is beneath his skills at this point. But as we've come to know, he can change his mind in the time it takes to swing a driver. "What is Phil thinking?" That's one of the best parlor games on tour, because everybody knows Mickelson is the lord and lone denizen of his own fiefdom.
Thank goodness he decided to drop into our neck of the woods, because he's entertained us, frustrated us, angered us and awed us more than any player of his time, including Tiger Woods.
As someone who's known and covered Mickelson for more than 25 years, this is easily the question I've been asked most: What is Phil really like? Working in San Diego and him being the hometown guy, I know the query is coming, and after all these years I fumble for a ready answer. I simply smile and say, "Got a couple hours and a few beers, and I'll try to tell you."
Look, we don't know who any of these guys really are, right? Sometimes, our best friends shock us with what they do behind closed doors. Yet some people seem a bit more of an open book than others. Pinning down Mickelson, and who he is at his core, is like playing Whac-A-Mole. Sometimes, you feel like you've nailed him: good-hearted, generous, intelligent, goofy, mischievous, ridiculously talented. Then Phil does or says something that is so far out of this world, any sense of insight disappears into a black hole.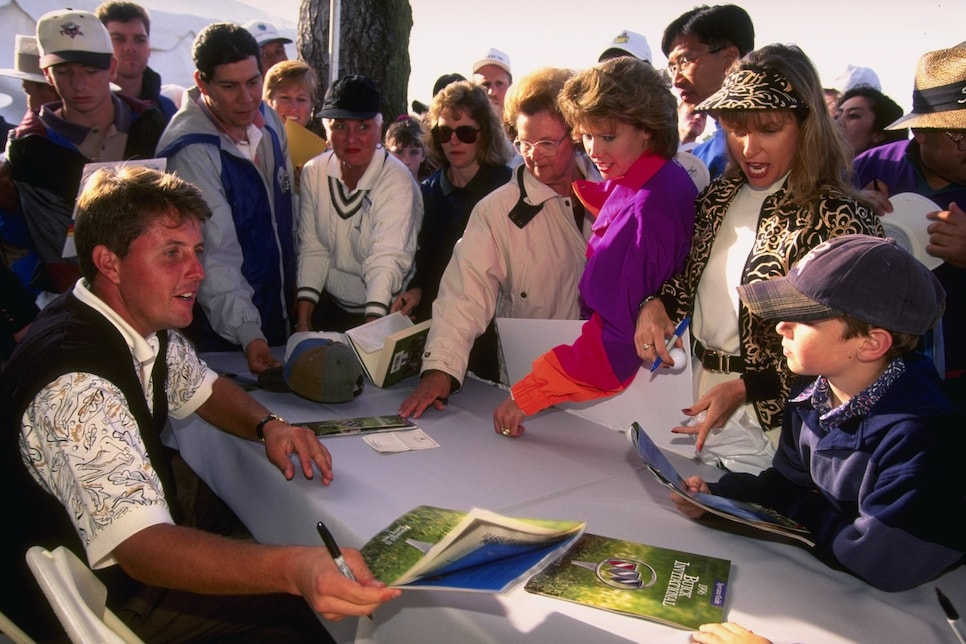 Phil Mickelson signs autographs at Torrey Pines in 1996.
J.D. Cuban
In Mickelson's book he wrote after his 2004 Masters win, One Magical Sunday, his mother, Mary, revealed her son's Eddie Haskell nature. At parent-teacher conferences for school, the Mickelsons were amused to learn that Phil had a half-dozen "favorite" teachers. How does that happen? He told each one of them they were the best.
Funny, and telling, because Lefty has always been keenly aware of his platform and audience. Those who watched him in junior golf say he was the boy, his collar upturned with conscientious flair, who was the first to thank the sponsors when he lifted the winning trophy. His peers may have wanted to gag on their post-round hot dog, but the adults loved it.
It's been the same in Mickelson's professional career. He's the savviest of pitchmen. Callaway must drool when he raves about the excellent rain gloves that got him through a wet round at Pebble Beach or how much better this new fill-in-the-blank driver is working (even when results would say otherwise). His peers might call BS, but the reaction is usually the same: "Phil being Phil."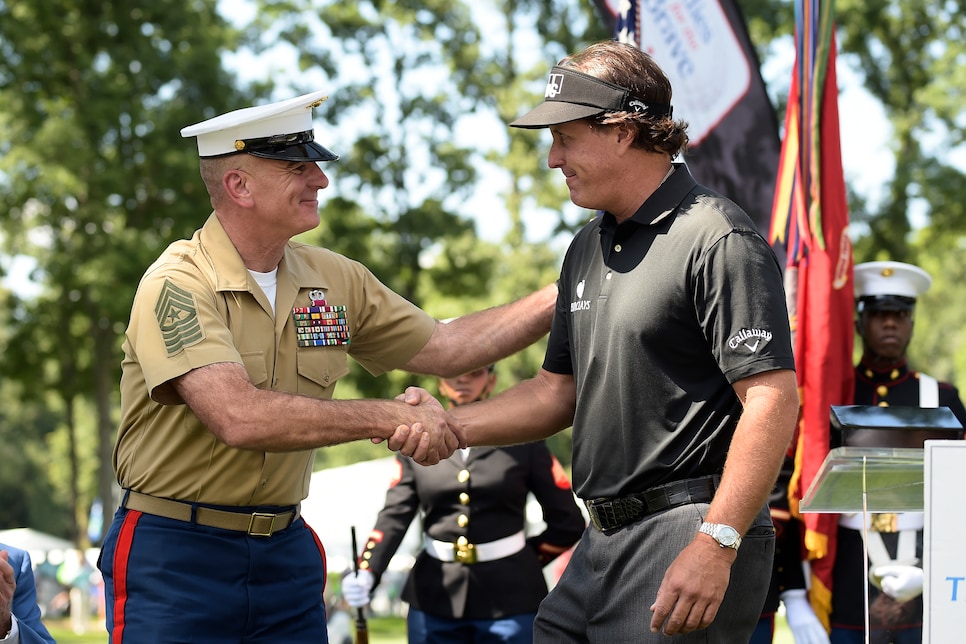 Major Bryan Battaglia present Mickelson with two sets of dog tags during the military appreciation ceremony at The Barclays in 2014.
Chris Condon
It can be harmless, maddening and surprisingly endearing. Of personal experience, Mickelson, caught up in a delirious high after routing Woods to win at Pebble in 2012, offered me a ride home on his plane. Buried in work, I declined, but kicked myself all the way back to my laptop.
It was a kind and generous gesture on his part, and I'm sure there are countless other acts like that which have connected Phil to so many. How many balls has he tossed to kids at the ropes through the years? More than most of us will own in a lifetime.
How many outrageous tips has he left? How many people has he supported financially without us ever knowing it? How many military service members' lives have been changed through his and Amy's foundation?
It's just that there is that strange other side of Mickelson. He can wield his power and voice in odd ways. There was the time he railed against taxes (tone deaf to those who don't make tens of millions in a year), and more recently he showed a cold dismissiveness when justifying playing in Saudi Arabia at a delicate time in world history.
In golf, a number of entities have felt Phil's bite. The USGA, certainly, for some of its U.S. Open setups, including Mickelson's 2018 tantrum at Shinnecock when he stroked a moving ball on the green. He lost some admirers that day, to be sure. But, as with virtually everything Phil does or says, it was no mind cramp, but a thought that was stewing and he couldn't help himself. He had to somehow show the USGA how he really felt.
Mickelson can be that way. Once after a wind-swept round at the Bob Hope, he asked reporters afterward if the tournament was scheduled back at the Classic Club the following year. He knew full well it was, but was making his point. After that, he boycotted the venerable tour stop—one that badly needed his presence—for four years. The Classic Club eventually got removed from the rotation, and now Phil's the tournament's official host. Interesting how that worked out.
The gambling is the biggest head-scratcher. Not the frequency or the big numbers that get thrown around. He's a big boy. He can do what he wants with his wealth. But you have to wonder about the company he's kept. Gambler Billy Walters was a frequent golf foil who received a five-year sentence for an insider-trading case that put Mickelson's gambling uncomfortably in the spotlight in court documents (though Mickelson personally faced no charges). If that was simply "Phil being Phil," Smart Phil took a nap on that one.
For Mickelson's most ardent fans—and there are millions of them—nothing seems to have diminished their enthusiasm for "Phil the Thrill." They love his goofiness as much as his guts. They hope for the best, with one eye closed in case of disaster. They know this for certain: He will never bore them.
Phil's getting older, but he's not anywhere close to being any less interesting.