News
After a huge rules break, Phil goes full Phil and hits driver off pine straw to make birdie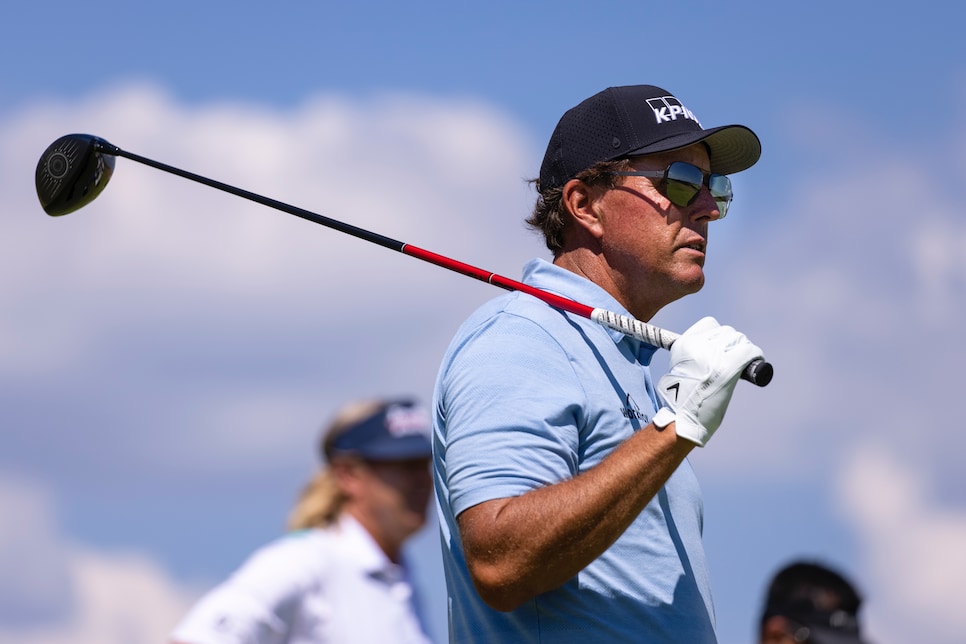 Phil Mickelson looks out from the first tee box during the second round of the Charles Schwab Series at Ozarks National.
Brett Carlsen
It wasn't nearly a stage that compares to the final round of the Masters in the theater that is Augusta National. Not when it's a Tuesday round on PGA Tour Champions. But like his famous shot on the 13th on Sunday en route to his 2010 Masters victory, Phil Mickelson pulled off another magical forest escape in the second round of the Charles Schwab Series at Ozarks National.
It was made all the better because Lefty—coming off his opening round of 61—got a bizarre rules break and used his driver—yes, driver!—off pine needles to eventually make birdie as he looked to extend the lead in his first career Champions start.
Mickelson hit his drive at the par-5 ninth under a large tree and his ball settled up against some roots. As a left-hander, he had almost no ability to take a swing, but he discovered that a wire was hanging out of the tree. (Yep, he used the 'ol loose lightning grounding wire defense!) The wire, which should have been fully attached to the tree, happened to interfere with any swing that Mickelson's could try—"I'm going to get hurt, potentially," Mickelson said in pleading his case—and the rules official agreed that he could take relief without a penalty.
He did, and after analyzing the shot, he said to caddie and brother Tim, "Give me the driver." With a half-swing, he punched the ball out and it came up just short of the bunker fronting the green. From there, he got up and down for a birdie that was his fifth on the front nine.
Of course, Phil's never too far from drama. On the very next hole, Mickelson made a remarkable bogey. He hit another wild tee shot with his driver into high fescue and after a search the ball couldn't be found. He went back to the tee, striped a 3-wood into the fairway, got on the green and saved a bogey.
It's stuff like this that will have the Champions tour begging Phil to be out there every week.