News
Phil Mickelson scores dominating win in his PGA Tour Champions debut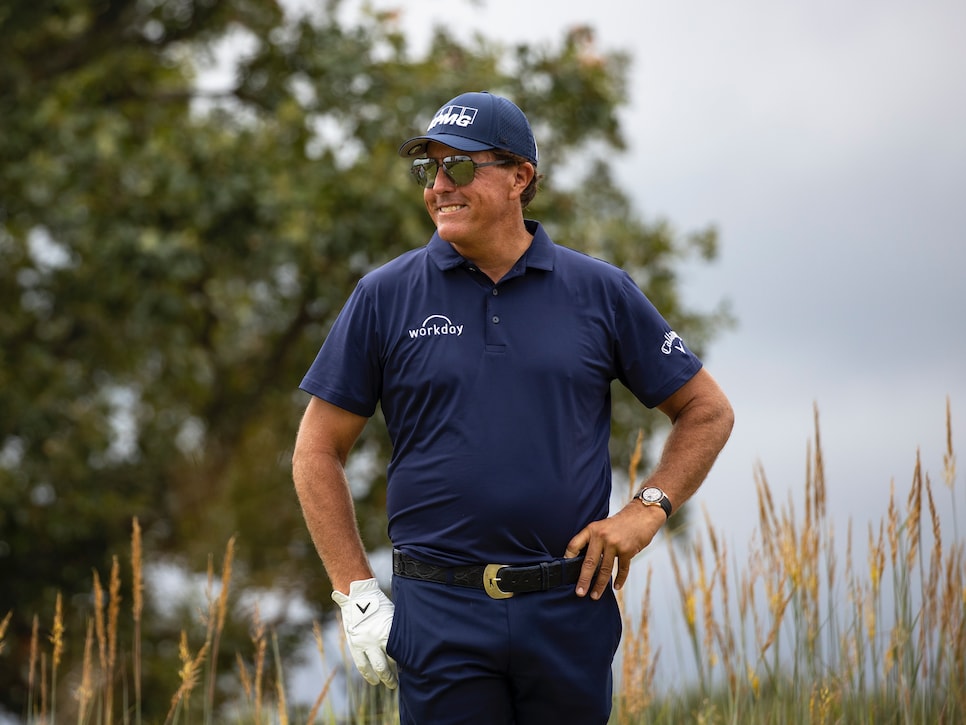 Phil Mickelson became the 20th player in PGA Tour Champions history to win in his debut.
Brett Carlsen
As a television and business entity, the PGA Tour Champions was thrilled to welcome Phil Mickelson to the fold this week. The five-time major winner brings with him a cachet and excitement that hasn't been seen for a newcomer in the 50-and-older set since Fred Couples showed up a decade ago.
As for the graybeards competing against Lefty? They'll bump his fist and give him kudos for his runaway victory in his Champions debut, and then bid him farewell and wish him happy, fruitful trails on the PGA Tour. They don't need him getting too comfortable or happy in their midst just yet.
As Tiger Woods opined on Wednesday, Mickelson has the potential to win every time he tees it up on the Champions. It was a notion he emphatically proved this week, with Mickelson shooting five-under-par 66 in Wednesday's final round of the Charles Schwab Series to cruise to a four-stroke win over Tim Petrovic at Ozarks National in Missouri.
After opening with a 61 on Monday that set the mark for the best debut round in Champions history, followed by a 64, Mickelson finished the 54-hole event at 22-under 191, tying him with Bruce Fleisher (2002 RJR Championship) for the lowest 54-hole score on the tour.
Mickelson, who calmly celebrated with fist bumps for his caddie and brother Tim, and a few chuckles with those in his final pairing, said, "I had a lot of fun here, I really did. I'm hopeful to play in some more, too, but I also want to use this as a way to get sharp for the regular tour and for the majors. We have two big majors coming up, U.S. Open, love to win that one obviously, and then the Masters."
With a front-nine 31, which included an eagle at the par-4 sixth after he drove the green, Mickelson had a six-shot lead and was gunning for more history. At 23 under, it seemed highly possible that he'd either match or beat the Champions' all-time best score in relation to par of 25 under. But the round stalled from there, the result of balky putting, with Mickelson shooting only even par on the back while suffering his third bogey of the tournament by missing a short putt at the 14th.
Mickelson became the 20th player on the Champions tour to win in his debut, and a week ago he didn't know he'd be playing in the tournament. He had hoped to be in Chicago competing in the BMW Championship in the second leg of the PGA Tour's FedEx Cup Playoffs. But the 54th-ranked player in the world missed the cut last week in Boston and was eliminated from the postseason. He quickly committed to the Charles Schwab Series, feeling it was a great spot for his debut after he turned 50 in June.
Of the week, Mickelson said, "There was a lot of good and there was some things I identified that I have to work on. It was a good course for me. The fairways were generous so I didn't have to hit driver a lot of the time. There were some holes I could use my length to reach."
The victory was Mickelson's first since the 2019 AT&T Pebble Beach National Pro-Am and sets him up in preparation for the U.S. Open in three weeks at Winged Foot. Mickelson said he plans to play in the Safeway Open in Napa, Calif., in two weeks if the fires in Northern California don't force a cancellation of the event.