News
PGA Championship 2020: Phil Mickelson gave us a sneak peek of his potential as an analyst. Let's break it down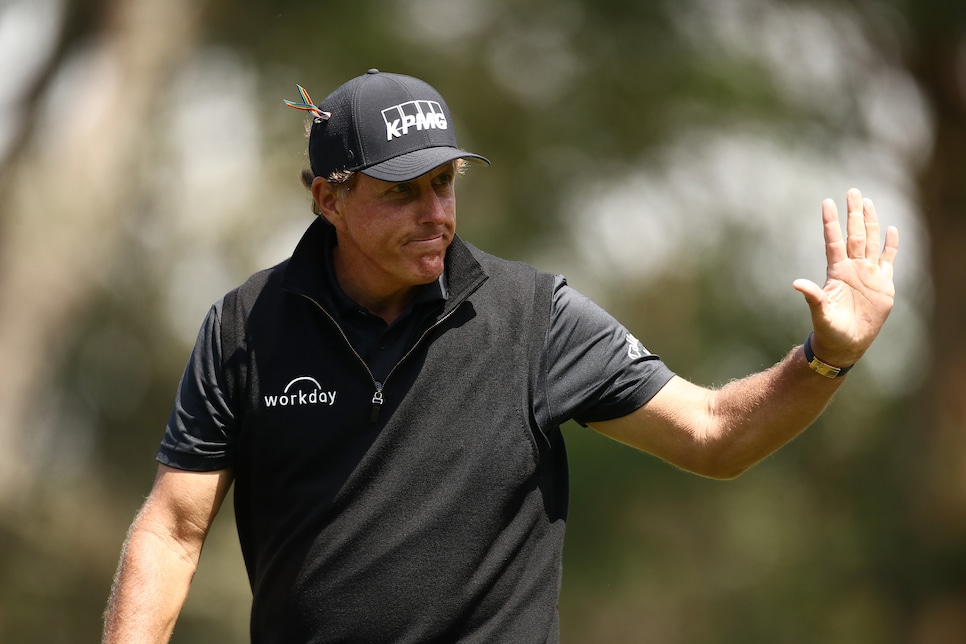 "Phil Mickelson would make a great analyst some day," is hardly an original take, but one that just about everybody who follows the sport can embrace. Considering how disagreeable everyone who follows the sport can be, it's one of Mickelson's more impressive off-course feats.
But it's the truth - he will make a great color guy. We know how loquacious he can be, which, depending on the topic, can rub some people the wrong way. But when he's talking golf, everyone stops and listens. Whether it be about his game, another player's game or a shot he's about to hit, his insight is always on-point.
On Saturday afternoon, we got a sneak peek at Mickelson's potential as a broadcaster (this is assuming he'll even go that route in retirement), and we really liked what we saw. Lefty joined Jim Nantz and Nick Faldo in the booth right around 6 p.m. ET, just after posting a third-round 70 that kept him at one over for the tournament. We broke down everything we heard from the five-time major champion.
It got off to an, ummm, inauspicious start
OK, so it wasn't all high flop shots and bombed drives for Phil during his CBS appearance. It actually looked like it might be a trainwreck at first, but it was through no fault of his own. For that you can blame the actual analyst, Nick Faldo, who completely missed a joke Mickelson opened with like it was open mic night.
"Let's have a little Phireside Chat with Phil," said Nantz.
"Thanks, it's nice to be here," Mickelson replied. "There's three things I do well: play golf, and talk golf..."
"What's the third thing? You said three things," Faldo asked.
"You setting him up?" asked Nantz, who understood the original joke. "Leave it to your imagination, dear boy."
"Oh, that went right over my head," said Faldo.
Gee, ya think? My word. Things could not have gotten off to a more awkward start.
Don't worry, he bounced back
In typical Phil fashion, he won everybody back over rather quickly. We can thank Nantz for that. The CBS host asked him to break down TPC Harding Park, and Mickelson didn't disappoint.
"I think it's one of the best setups, because it is a difficult test, you've got enough elements with the wind and the heavy air. It challenges the ballstriking and the ability to maneuver the shots into the wind. The greens are soft though, there's not a lot of contours, especially for sites that we play majors on. So you can make a lot of putts… not me, but the players. When you get hot with the putter you can really make a lot of putts. There's not a lot of curvature in them, and not the fear of the ball racing away."
That's the good stuff. Full breakdown of the course, plus a nice little dig at himself. A bounce-back birdie if we ever saw one.
He gave his "no fans" take
Every player and their mother has been asked about how it's different without the fans. Mickelson has probably already answered the question at some point, but he was asked again by Faldo, and it was very interesting to hear what he thought considering nobody leans on the energy from the people quite like Lefty.
"It can be difficult given that we need the fans, we need the people to support us to be able to play golf for a living, it's a big part of our success and our opportunity. But there's a lot less energy expended during the week when it's like this. So you're seeing a lot more practice sessions, a lot more work being done and guys moving about with a lot more ease. Not that it's good for us or good for the game or that we love it, but we're making the most of it."
Now, for some actual analysis
Oh, right, there was a golf tournament going on. This is what Phil does, he sucks you in to the point you forget about everything else that's occurring around you. It's a gift. I hear he'd make a great analyst some day …
OK, anyway. CBS went back to live golf shots and Mickelson went to work. Following a poor Justin Rose approach shot on the first hole, which came from the right side of the fairway, cameras cut to Brooks Koepka, who was more toward the left side of the fairway, setting up a much better look at the pin.
"Little bit better angle here Jim," said Mickelson. "He has much more room in front to let it skip back there."
On command, Koepka hit a wedge that landed about 10 feet in front of the pin and skipped to the back of the green, leaving about 12 feet for birdie. Phil Mickelson? More like Tony Romo, am I right?
At the short par-4 seventh, Tony Finau hit a bunker shot to a few feet. "That was a nice shot, to get it so close with such little green to work with." Game recognize game. "Left-edge putt maybe, it just barely goes right," Mickelson said. Bang. He's 2-for-2. Easy game!
CBS then rolled out the highlight of Mickelson's eagle chip-in on that same hole from earlier in the day. "I needed something, so I got a little aggressive, that ball is going a little bit fast and it hit the pin [and went in]. Like Dave Pelz often says, the pin can help you, and it did there. That was a 60 degree, little runner."
The haters will say they've had enough Bryson, but in reality it just means they want more. As CBS showed a DeChambeau shot, Phil rolled out the take machine.
"When you look at Bryson, you're like 'Wow, that man hits bombs.' You know he hits bombs, and he does, but then, I thought the same when I first saw you Nick. You're big, strong, and that was like the furthest thing that happened."
Dagger! But Faldo fought back. "When you've won seven majors, you can rip me as much as you like." Oh, hell yes. For a second, the CBS set almost turned into "Inside the NBA on TNT" with Shaq and Charles Barkley going at it. So good.
Speaking of takes, we got a Collin Morikawa one too. "Solid player, isn't he?" said Mickelson. Morikawa then checked up a wedge to a few feet. "I like that check there, that's very attractive."
Moments later, Mickelson also got in another mini-shot at himself and his driving accuracy (or lack thereof). After watching Brooks Koepka, Justin Rose, Daniel Berger and Jason Day all find the first fairway, Mickelson said "Those four balls in the first fairway, they made that look way easier than it is. That is a hard crosswind and they are working the ball back into it, into an 18-yard wide fairway."
The knee-jerk take on social media was that this was an audition for Phil, who no doubt has plenty of good golf left in him and will feast on the PGA Tour Champions at some point. But that doesn't mean he won't be able to work two jobs at once. Let's just say Nick Faldo is probably feeling a little nervous right now.
It didn't help Faldo that Phil refused to leave the booth. He was almost too comfortable, continuing to analyze shots and fire off takes. "When he's out there laughing and having fun, he's going to play some good golf," said Mickelson of Haotong Li, who he's become close with. "What I don't want to see is him quiet, I want to see him talking to his caddie to kind of relax him a bit." Not quite Johnny Miller's "nerves," but a cool thing to hear from Mickelson nonetheless.
At one point, when CBS returned from commercial, it felt like a one-man show. After breaking down a Tommy Fleetwood approach shot, he seamlessly transitioned to a Scottie Scheffler putt, as if he'd been doing this job his entire life. At numerous points, you couldn't help but wonder if he was taking time to breathe during all the talking, which could be a side effect of all the damn coffee. When and if he does become an analyst, may we suggest cutting back on the caffeine, Phil? Otherwise, he's going to be just fine.