News
PGA Championship 2020: Dustin Johnson takes lead at 9 under; Brooks Koepka lurks at 7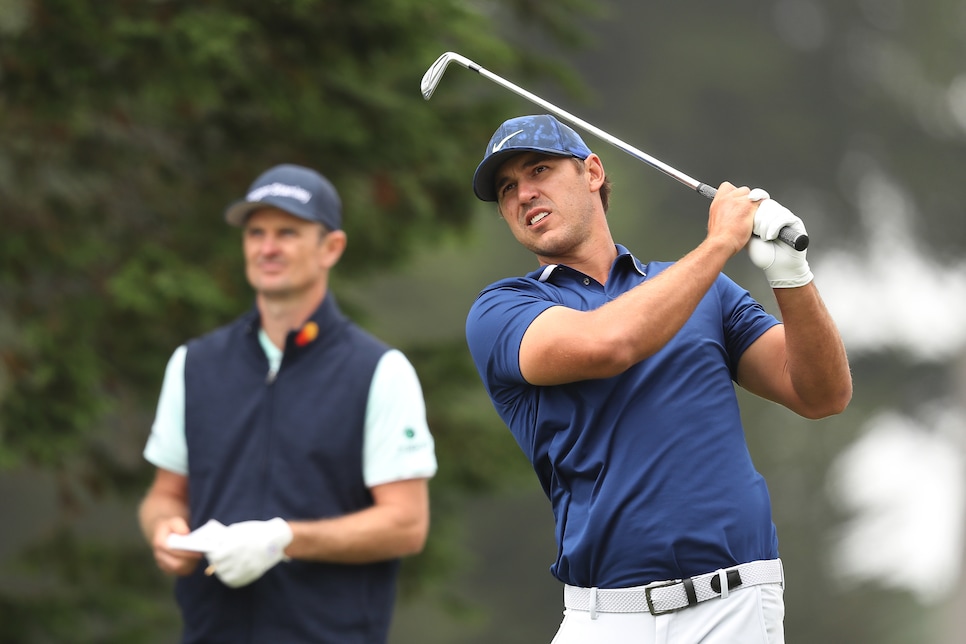 Thursday and Friday of a major championship week is a marathon for all involved. Just ask Haotong Li, who bookended said marathon with sprints, gassers and extra laps in the form of a long late-night, post second-round practice session on Friday at TPC Harding Park.
It's impossible to forecast how the 25-year-old Li, who hails from China, will play on Saturday evening, when he will begin the third round of the 2020 PGA Championship with the solo lead. What we do know is that he's taken the preparation for it very seriously, understandable given who is chasing him on the leader board.
Among the names breathing down Li's neck include his playing partner Tommy Fleetwood (looking for his first major), Jason Day (looking for his second PGA Championship), Brooks Koepka (looking to three-peat), Daniel Berger (one of the hottest players in the world) and Justin Rose (looking for his second major title). That's before even getting to the long-hitting Cameron Champ, who is sneakily sitting at five under, Paul Casey, who, at 43, only has so many major opportunities left, the scorching hot Brendon Todd, Xander Schauffele, Dustin Johnson and potential party-spoiler Mike Lorenzo-Vera. No wonder Li was grinding away well into the San Francisco evening. Saturday will be war.
While the leaders don't go off until 5 p.m. ET, we'll have all the coverage right here in our Day 3 live blog. There are still plenty of storylines to follow in the early groups, like whether or not Tiger Woods can make a move (Woods is off at 1 p.m. ET alongside Keith Mitchell). Other intriguing pairings to watch include Justin Thomas and Jordan Spieth (11:40 a.m. ET), Phil Mickelson and Ian Poulter (12:30 p.m. ET), Rory McIlroy and Victor Perez (2:30 p.m. ET) and Patrick Reed and Bryson DeChambeau (3:40 p.m. ET). Golf Digest editors will be here with you throughout Saturday's coverage of the 2020 PGA Championship to keep you informed with what's going on in San Fran.
10:00 p.m.: That's a wrap on Day 3. DJ leads at 9 under with Scheffler and Champ at 8 and Morikawa, Casey and some guy named Koepka (Kopeka?) at seven. Is that any good?
9:50 p.m.: Jason Day finishes at six under, three back of DJ. There's some joke about an Ohio guy being down 3 with 1 to go in the Bay Area, but I'm running on fumes.
9:40 p.m.: Koepka makes birdie on 18 to finish at 7 under. That sound you heard is the rest of the field sigh.
9:17: p.m.: Paul Casey is able to recover from a chunked approach by putting his third to seven feet on 18. Will have that to finish at 7 under. Back on 16, Koepka bounces back with a birdie to get to six under, and follows with an approach to 15 feet at the par-3 17th. It's almost like we shouldn't doubt the guy.
9:02 p.m.: Dustin makes a par on the 18th. With Li doubling and Champ making a mess on 15, he is in the solo lead.
8:46 p.m.: About that Li guy...he just lost a ball in the cypress. He can't find his tee shot at the 13th and has to go back and re-tee. Meanwhile DJ birdies the 17th to move to nine under.
8:38 p.m.: Haotong Li's drive bounced off a cypress into the first cut. From 240 yards out he managed to sneak it onto the green...and he just sunk the putt to move to nine under. This is unbelievable.
8:30 p.m.: Dustin Johnson has a 10-footer for birdie at the 16th to move to nine under at the same time as Scheffler bogeys the 18th to finish at eight. It seems like there are 30 guys who can win this rodeo. Brooks does make his first real mistake, a poor chip at the 13th leading to bogey and dropping him to seven.
8:17 p.m.: Scottie Scheffler makes his third straight birdie to take the outright lead at 9 under at 17, but puts his drive at the 18th in the bunker. Brooks Koepka throws in a jab with a birdie at the 12th to get to eight under. Things are moving people.
7:59 p.m.: Apparently, all that bulking up helped Bryson DeChambeau with his long putting in addition to his long hitting. DeChambeau makes a 95-foot (yes, NINETY-FIVE) on the 18th hole. More importantly, the birdie takes him to six under, and just two strokes off the lead. Despite all his early success to start his career, Bryson's best major finish was a T-15 at the 2016 U.S. Open. We've got a lot of golf to go, but he's certainly in great shape to better that—and potentially hoist the biggest trophy in golf.
7:48 p.m.: Many thought arguably the PGA Tour's longest hitter would contend this week at TPC Harding Park. Not as many thought the actual longest hitter would, though. But mighty Cameron Champ has moved into a share of the lead at eight under. Not surprisingly, he birdied the par-5 10th, but he actually had to lay up and hit a great wedge from 100 yards to do it, showing he's more than a bomber. Champ has been very hot-and-cold in his short pro career, but the native Californian who recently turned 25 already has two PGA Tour wins under his belt.
7:39 p.m.: Haotong Li retakes the solo lead with a birdie on the short par-4 seventh. Guess he's not too tired from than epic range session yesterday. What a bunched board, though, with Li leading five players by one and another six guys by two. The PGA Championship! Prime-time golf! Catch the fever!
7:24 p.m.: Add Collin Morikawa to the logjam at the top of the leader board after rolling in a third consecutive birdie on No. 17 to move to seven under. Or should we call him Collin LURKikawa because he always seems to be on the leader board these days. Sorry, maybe I should have workshopped that one a bit more. . .
7:13 p.m.: With a bogey on No. 5, 36-hole leader Haotong Li has now fallen into a share of the lead with Brooks Koepka, Cameron Champ and Paul Casey (Remember him?). Of course, none of that matters because Brooks is going to win this thing for a third straight year.
6:49 p.m.: Incredibly, the CBS broadcast has upstaged the actual competition on Saturday thus far due to one word: PHIL. The five-time major champ hopped in the 18th tower with Jim Nantz and Nick Faldo for an extended stay and he has been an absolute delight—even if he did produce this awkward moment:
Mickelson's analysis of TPC Harding Park ("These bunkers have the least amount of sand of any bunkers in the history of bunkers") and his fellow tour pros has been fantastic, but so have things like his explanation for wearing aviators and his Grateful Dead reference. Then again, Phil being great in the booth is about the least-surprising thing about this week. When he ever decides to quit his day job, the networks will be lining up to hire him.
6:36 p.m.: And Dustin Johnson joins the fray at seven under with a birdie on No. 7. DJ has had the most perplexing performance since the PGA Tour restart, winning the Travelers before failing to break 80 in two rounds at the Memorial and a 76-WD in his next two starts. But after a solid T-12 in Memphis last week, the 21-time PGA Tour winner is in the mix for a long-awaited second major.
6:27 p.m.: Scottie Scheffler makes five birdies on the front nine to move to seven under and in a tie for second place. With Cameron Champ. And Jason Day. And Joel Dahmen. And. . . Brooks Koepka. Sorry, guys. Brooks is here.
6:00 p.m.: The final pairing of the day, Haotong Li and Tommy Fleetwood, tee off. Li goes right down the middle; Fleetwood hooks it left a bit. As they get started, Jason Day birdies the first hole and Dustin Johnson birdies the fifth hole and they share the T-2 spot at 7-under.
5:50 p.m.: Koepka misses an early chance for birdie—ends up with a par—after a near-perfect wedge on the in which the ball landed about 12 feet from the first hole. He'll have one or two or ten more chances for birdie, so don't feel too bad for him just yet.
Tony Finau and Cameron Champ are both now at 6-under after birdies to get to T-2. That grouping of players in that second spot is getting bigger and bigger as the day continues. It's really anyone's tournament right now. And as I'm writing this, Collin Morikawa takes advantage of the par-5 tenth hole to join the 6-under club. Morikawa is 4-under for the day with eight holes to go. Gearing up for a wild Sunday.
5:30 p.m.: We're about to hit a fun half-hour stretch with the top players thus far getting their days started. We'll see Brooks Koepka and Justin Rose tee off at 5:40 p.m., Jason Day and Daniel Berger start at 5:50 p.m. and Haotong Li and Tommy Fleetwood get going at 6:00 p.m.
Bryson DeChambeau birdies his second hole in a row to get to five-under, just three shots back of the lead. He's 3-under for the day and hasn't broken a single driver yet.
5:21 p.m.: Jon Rahm with a chance for eagle from 40 feet on 3 and leaves it veeerryy short. He ends up three-putting for par and is 1-over after the first three holes. Telecast immediately finds a Bryson DeChambeau birdie and a Denny McCarthy eagle, his second of the event. Tough contrast for the former World No. 1.
5:09 p.m.: We're a little less than an hour away from Haotong Li teeing off and he's getting some more shots in before getting his third round starts. Allen Iverson would be furious at Li's dedication to practice. If Li can win himself a PGA Championship this weekend, is this the start of players camping out on the driving range during future majors? Perhaps we're getting ahead of ourselves. It's only Saturday.
4:48 p.m.: By the way, that Tiger Woods birdie at 16 marked the 94th straight round he's made a birdie in a major championship. The last time he didn't? The opening round of the 2010 U.S. Open. Atta boy, T dubs!
After a birdie at 17, Woods hit a beauty into the final green, leaving himself just five feet for a potential second birdie of the round. He made to finish with a second straight two-over 72. Putter got hot too late in his round.
As for the real contenders, Jon Rahm continues to make a charge. He's three under through eight holes, four under for the tournament. But he's not the closest man to the leader out on the course, that designation belongs to ... Brendan Steele? Yep, the two-time Safeway Open winner has birdied two of his first five holes to reach five under, three back. Others lurking include Collin Morikawa (-4), Joel Dahmen (-4), plus Rory McIlroy, Webb Simpson, Adam Scott and Bryson DeChambeau, who are all at three under.
4:32 p.m.: AT LONG LAST! TIGER WOODS MAKES A BIRDIE! And what a birdie it was at the shiort par-4 16th, where he hit his drive behind a tree and somehow managed to knock a wedge to 14 feet and make the putt. He's back at three over for the tournament.
4:12 p.m.: Other than Thomas' round, the early-round coverage certainly lacked in the energy department. That should change as the coverage moves to CBS, as Jon Rahm, Bryson DeChambeau, Rory McIlroy and Patrick Reed all have their rounds well underway. Through five holes Rahm is two under on his round, three under for the week. McIlroy just birded the most difficult hole on the course, the par-3 eighth, to reach two under for the championship. DeChambeau rolled in a lengthy birdie putt immediately after to jump up to three under. Now we're cooking.
3:53 p.m.: Our Daniel Rapaport, who is on site this week at TPC Harding Park, is reporting that it's getting quite breezy and a bit warmer in San Francisco right now. That's firming up the already bouncy greens and could make for a brutal afternoon for the leaders. A few guys who could love the way they look at day's end include Thomas at one under, as well as Patrick Cantlay, who finished birdie-par-birdie to shoot 66 on Saturday. That could absolutely prove to be the round of the day, and it has him at three under for the week after opening with a 73 on Thursday. Big time move.
3:40 p.m.: We've reached a funeral level of energy in Tiger's round. A bogey at the 12th drops drops him to three over for the championship. He's probably not winning this week. Sorry for the hot take.
Ahead at the 18th, Justin Thomas finishes with a two-under 68 to put him at one under for the week. Good round, but probably not what he had in mind at five under through seven holes.
"There wasn't a number in my head, I was just trying to -- I mean, this isn't really a course where you can kind of keep your foot on the gas and shoot nine or 10 under, but I also had the opportunity to," said Thomas to ESPN's Tom Rinaldi afterward. "There's a lot of hard holes out here, but I still had some birdie holes in front of me. I just didn't take advantage of them."
3:08 p.m.: Man, it really looked like we were going to witness something very special out of Justin Thomas early on in his round on Saturday. Through seven holes Thomas was five under, climbing all the way to four under for the week, just four off Haotong Li's lead. But he's played his last nine holes in two over, including a bogey at the short par-4 16th, which right now seems like one of just two real birdie opportunities on the back nine. If he can par 17 and 18 and finish with 68, that still might be a decent move given how tough the conditions could get. But four or five under would have put him in serious contention.
2:54 p.m.: Another fairway, another green and ... another two-putt par for Tiger Woods. He cannot buy one right now. Woods turns in one-over 36 and the energy is at an all-time low. He should be able to pick one off at the 10th to get back to even, but after that there is maybe one good birdie opportunity left. Don't think we'll be seeing a back-nine Saturday charge like say, the one we saw at the 2010 U.S. Open at Pebble Beach, but we can dream.
2:35 p.m.: We've reached perhaps the darkest portion of Jordan Spieth's round. Following his sixth bogey of the day at the 13th hole, Spieth ripped a drive down the middle at 14, immediately turned to his his caddie Michael Greller and said "here you go Mikey," tossing Greller his driver in the same motion. It was not an angry toss, nor one meant to disparage Greller. It was simply a "I have had enough of today" toss. Cripes. Here's hoping he can bounce back tomorrow, because this has been hard to watch.
2:25 p.m.: Tiger is even on his day, but really needs something if he wants to get into the Sunday mix. His drive at the reachable par-4 seventh finds the greenside bunker. If he doesn't make bird, it will be getting early late for Woods.
1:55 p.m.: JT makes birdie at the par-5 10th to right the ship, although misses a 10-footer for birdie at 11. A hole ahead, Louis Oosthuizen is three under on his round, with a handful of others two under on their day.
1:31 p.m.: Tiger makes par at the second, and makes a sensible lag putt for a par at the tough third. Ahead at the ninth, Justin Thomas gets his second bogey after his chip shot got away from him.
1:18 p.m.: Tiger two-putts for his par on the first and his approach at the 2nd leaves 15 feet for birdie. Ahead at the eighth, JT has his first mistake of the day, a poor chip leading to a missed 12-footer for par. Drops back to three under for the event.
1:10 p.m.: Make the four straight birdies for Justin Thomas, now five under for his round and four under for the tournament. Things are MOVING, folks.
1:06 p.m.: Tiger Woods is off. He finds the green despite a poor tee shot into the rough, but he'll have 40 feet or so ahead.
1:00 p.m.: Check that: Justin Thomas is now four under through six. Jordan Spieth, four over though six. Kind of a microcosm of the past few years, yes?
12:45 p.m.: Justin Thomas is -3 thru 5. Harding Park is as gettable as it's been this week, but with winds expected this afternoon, chance for JT and a few guys in the morning wave to catapult into the mix.
12:38 p.m.: Conditions are relatively calm this morning at Harding Park. There are dozens of guys bunched at the top of the leader board, but a couple guys in the morning mix could work themselves into the mix with a 64, 63 in the first wave.
12:25 p.m.: Spieth's bunker shot at the par-5 fourth flies past the pin and into the heavy stuff. Birdie opportunity just turned into a touchy up-and-down for par.
Meanwhile Thomas, who reaches the green in two, makes a sensible lag from 50 feet for his birdie to go to two under through four. Through four holes Thomas is up four on Spieth.
12:01 p.m.: David Duval dropping some bombs on Jordan Spieth: "I believe he needs to let go of Cameron McCormick's hand and start digging it out of the dirt himself."
Spieth follows up a nice drive by sailing his approach into the cypress pines.
11:50 a.m.: Tiger Woods has arrived to the property. The cameras catch Woods changing shoes in the parking lot, a scene that will never not be cool.
Justin Thomas and Jordan Spieth have teed off, with Thomas taking par on the first and Spieth taking bogey.