The Loop
Golf's biggest turkeys of 2018
As you curl up for a Thanksgiving feast with your loved ones, enjoy a few extra turkeys on us. Last year, we mixed things up by mixing in other sports to our yearly holiday tradition, but there were plenty of golf gaffes in 2018 to warrant second — or even third — helpings. So in no particular order, here are the turkeys of the year in golf.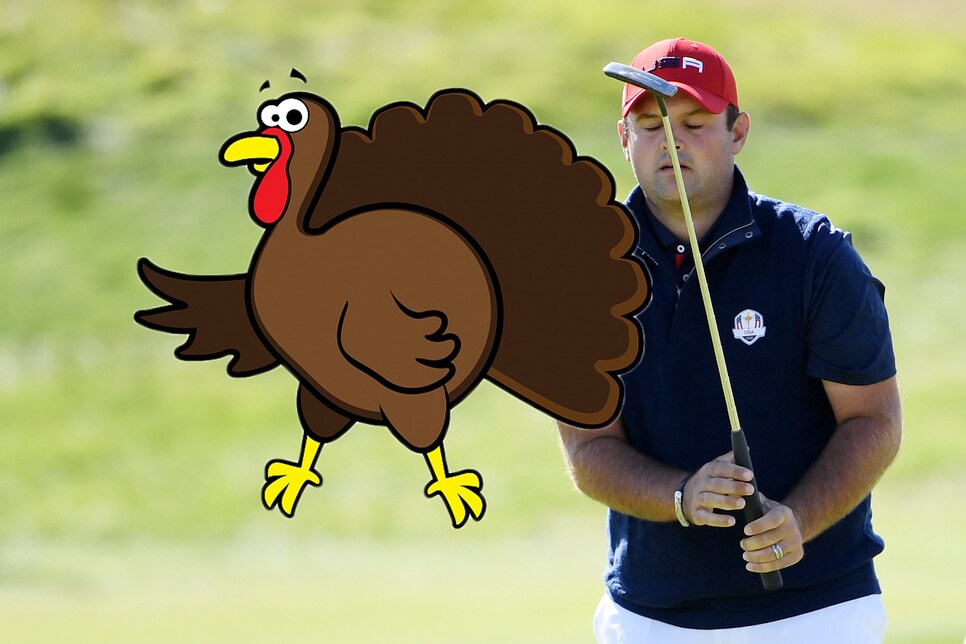 We said there was no particular order, but. . . Seriously, where do we begin this guy? Although, Reed broke through for his first major championship at the Masters, he also managed to eject a European Tour camera crew, throw most of his entire Ryder Cup team — including his idol, Tiger Woods — under the bus, and publicly complain about his complimentary tickets at a Red Sox game.
As part of that last gaffe, he also got (rightfully) mocked for saying his seats were in "the line drive" section of Fenway Park. Hey, Patrick, shhhhh. There's no such thing.
Other than Tiger Woods, no golfer generated more headlines, but they weren't all good. In particular, Mickelson sent the golf world into a tizzy with his hitting-a-moving-golf-ball stunt at the U.S. Open.
Making matters worse was his (mis)calculated explanation that the move was done to give him some sort of advantage. A few days later, he apologized and admitted —as everyone suspected — he was just frustrated with how things were going for him that day. Speaking of. . .
If I had a dime for every time someone said the USGA wouldn't cross the line with its setup of Shinnecock Hills for the U.S. Open this time, I could fund my own match between Phil and Tiger. And yet, somehow, the USGA did it again!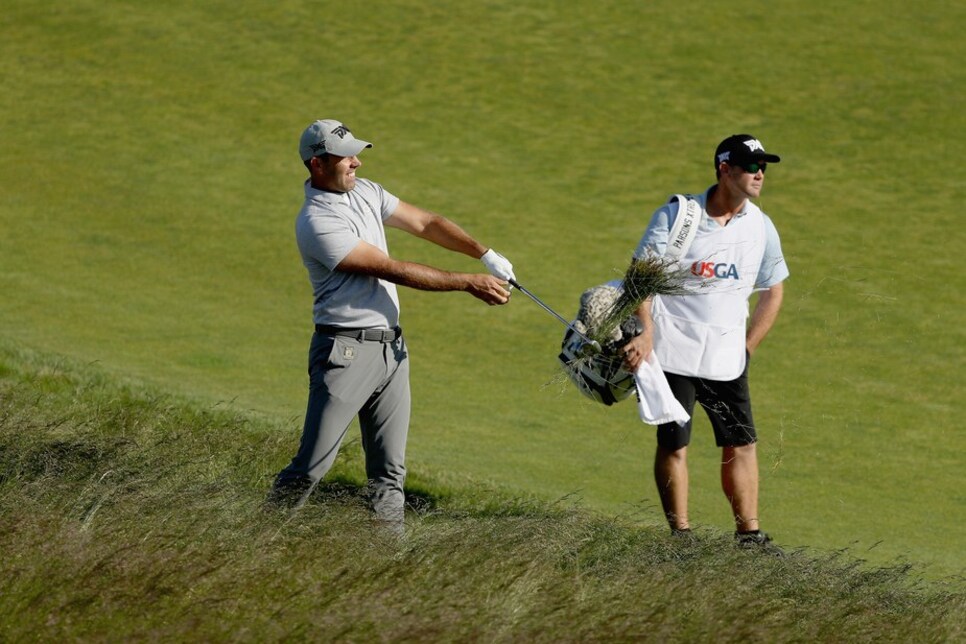 Mid-round syringing wasn't needed like in 2003, but scoring conditions were nearly as difficult on Saturday when those teeing off in the afternoon had a better chance of landing shots on the moon than holding certain greens. How bad was it? The USGA admitted it was wrong. THAT day. And one anonymous tour pro compared Mike Davis to Dean Wormer from Animal House. Yeah, that bad.
While we applaud innovative golf broadcasts, Fox Sports' experiment with a sea of enhanced microphones produced an unintended result when one picked up an NSFW conversation between two fans discussing, um, let's just say, bedroom activities. Fox Sports issued a statement apologizing for "inadvertently" catching some "offensive crowd chatter." And then smartly went back to letting Joe Buck and Paul Azinger doing most of the talking.
Stephen Curry drew attention — and some criticism — for playing a Web.com Tour event as a sponsor's exemption for a second consecutive year, but it was this Colombian businessman's inclusion in the tour's Club Colombia Championship that was actually a joke. The former boxer nicknamed "The Machine" practically needed a calculator to add up his scores as he shot scores of 93 and 105(!) to finish 56 over for 36 holes. We're guessing Julio won't be taking up a spot in next year's event.
We get that country clubs can and do enforce stuffy rules, including dress codes, but this English course took things to a comical level by focusing on a golfer's. . .wait for it. . . socks. That's right, socks! A man name David Cole reported he was turned away for showing up to the course wearing black socks. To be fair, he was offered the chance to buy socks in the pro shop, but he left instead. We don't blame him.
Fan screams during Tiger putt
In the final round of the Farmers Insurance Open, Tiger's first official PGA Tour event of his latest comeback, a fan screamed "GET IN THE HOLE!" (obviously) right as Tiger attempted a short birdie putt. He missed, and we called for him to get a lifetime ban from attending golf tournaments.
Fortunately, fans got the hang of watching Tiger properly as the season went on. Well, other than not always staying where they're supposed to. . .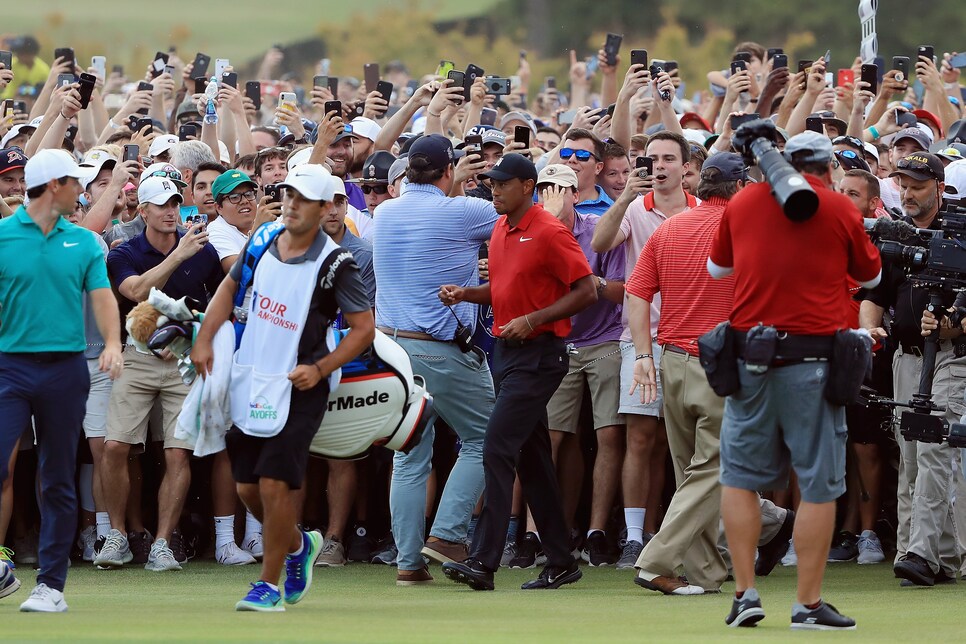 Slow play on the PGA Tour is nothing new, but Holmes managed to draw the most ire on the topic during the final hole of regulation of the Farmers Insurance Open. Needing an eagle to tie for the lead on the closing par five, this human rain delay took four MINUTES and 10 seconds to play his second shot from 239 yards out in the fairway.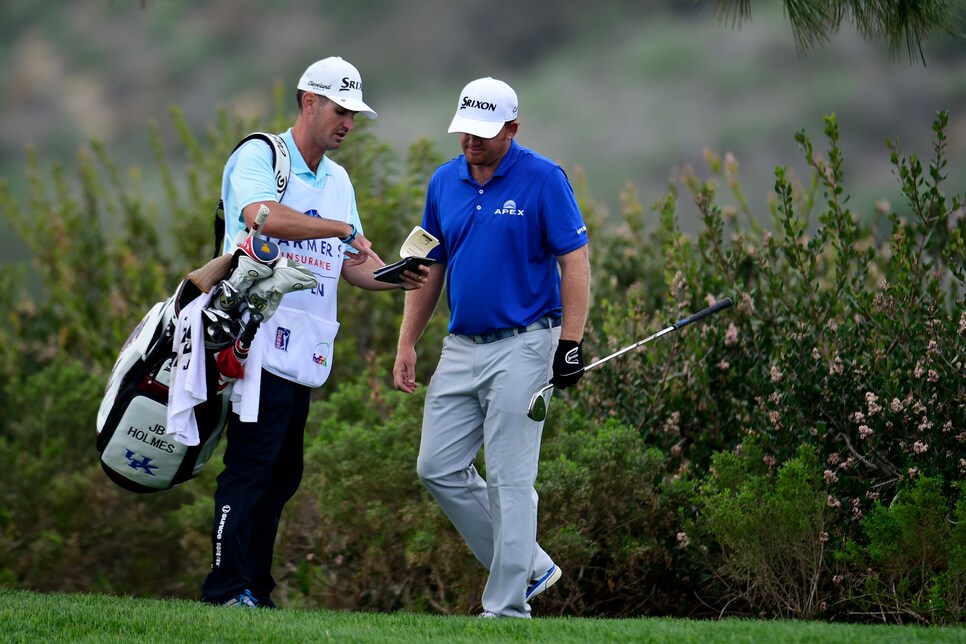 And after all that, he LAID UP! We know these guys have a lot of money on the line, but c'mon. Playing partner Alex Noren, who actually had a legit chance of winning, patiently waited through all that, but hit a poor second, only made par, and wound up losing to Jason Day in a playoff. A playoff that finished the following day, no thanks to J.B.
The veteran tour pro flung a headcover at his caddie, Brandon Davis, after Davis caused him to incur a one-stroke penalty for picking up Gibson's golf ball from a hazard during the final hole of regulation at a Web.com Tour event. The penalty wound up costing Gibson about $12,000 and led to one of the tweets of the year:
But that wasn't the end of the story. Davis did a shirtless video from his hotel room that night in which he plead his case he did nothing wrong (something that was refuted by the rules official on hand) and used a lamp and a box of tissues to aid in his demonstration:
OK, make that a double turkey for this one.
Fox wasn't the only network to come under fire during a golf broadcast, but while its criticism came from trying to provide more coverage, TNT got ripped for its lack of content. During a random hour that we decided to monitor on Day 2 of the PGA Championship, the cable network showed more commercials 33 than full golf shots (30). And don't get us started on that Jeep "Can I get a connection" commercial that played on loop. No, seriously, don't get us started because we finally got it out of our heads.
You're probably thinking, "Tony Finau?! Huh?! He had an awesome year! And he's a great guy!" And you're completely right on both accounts. But injuring yourself celebrating a hole-in-one in a Par 3 contest (even the Masters Par 3 Contest) is Bill Gramatica-esque and it deserves to be ridiculed. Sorry,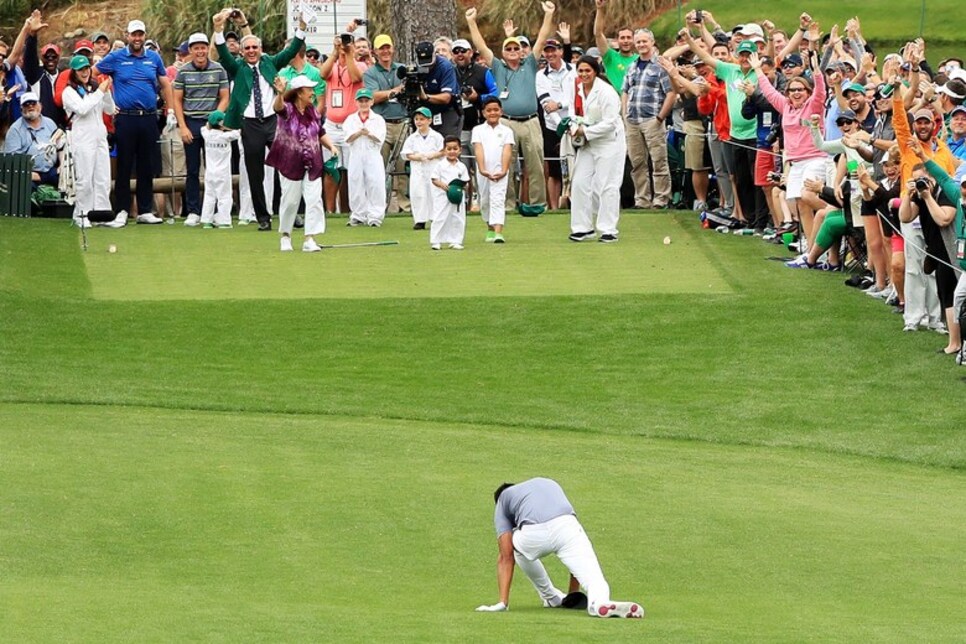 However, Finau redeemed himself by staying in the actual tournament and finishing T-10 on a dislocated ankle so we'll give him a turkey and one of those John Madden turkey leg awards for his toughness as well.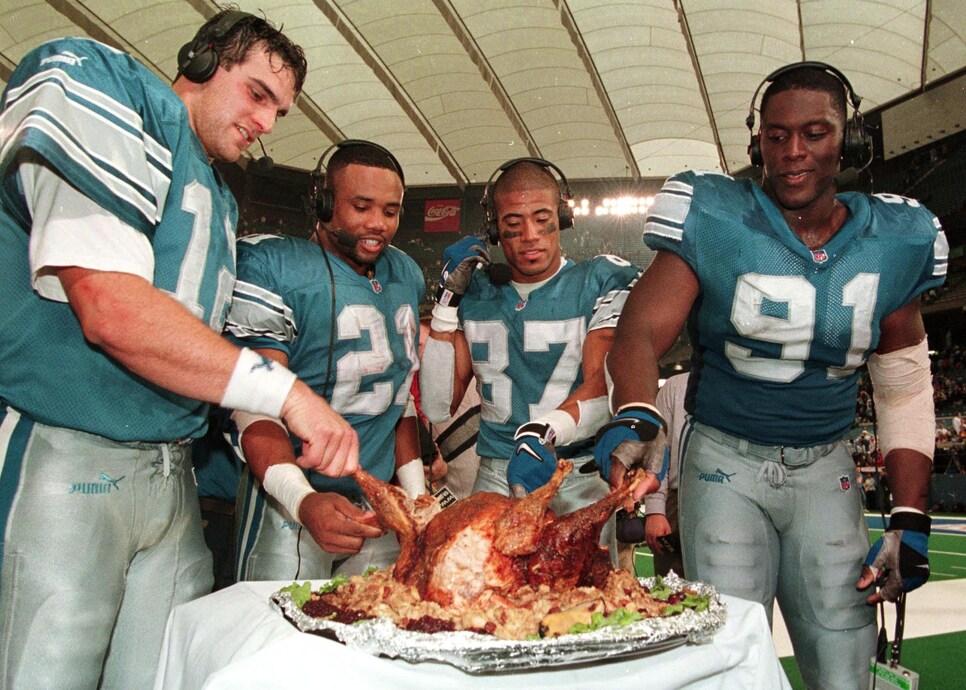 Watching celebrities play Pebble Beach is kinda fun, but playing with celebrities at Pebble Beach sounds a lot better. Provided it doesn't wind up killing you. Romano nearly took out one of the game's superstars, Jordan Spieth, with a skulled bunker shot during the February pro-am.
This isn't the first time Romano has drawn criticism at this event. In 2001, Sports Illustrated's Alan Shipnuck wrote Tiger Woods got frustrated repeatedly having to wait on him. In other words, you don't want to be in a group behind OR in front of this comedian.
Oregon high school golf DQs
A group of 12 golfers was disqualified for playing from the wrong set of tees during the Oregon high school state golf tournament, but they are not the turkeys. No, the blame goes to the person responsible for marking the scorecard incorrectly and to the tournament official who told these first 12 golfers to play from the wrong spot. And couldn't a solution have been found that didn't end these kids' seasons — and in some cases, careers? What a mess.
Montana high school golf rule
As unfortunate as that Oregon situation was, at least spectators were allowed to watch. That was not the case in Montana, where an absurd longtime rule that didn't allow non-participants on the course during events. No, seriously, parents are NOT allowed to watch their own kids play in high school golf tournaments. Thankfully, a protest filed to Change.org — and ridicule from other states — seems to have gotten this weird situation rectified. Needless to say, parents who are new to attending matches should know to avoid getting caught up in rules controversies. Which leads us to. . .
The most bizarre golf rules situation of the year involved Doris Chen, the 2014 NCAA champ, and her mom, Yuh-Guey Lin, who allegedly moved her daughter's golf ball back in bounds during LPGA Q School. Despite Doris's claims to the contrary, she was disqualified from the event and her caddie didn't seem too broken up about it. Maybe Montana was onto something with that rule, after all. . .