News
Former NCAA champ DQ'd from LPGA Q-Series over rules breach reportedly involving her mother (UPDATE: Caddie disputes story)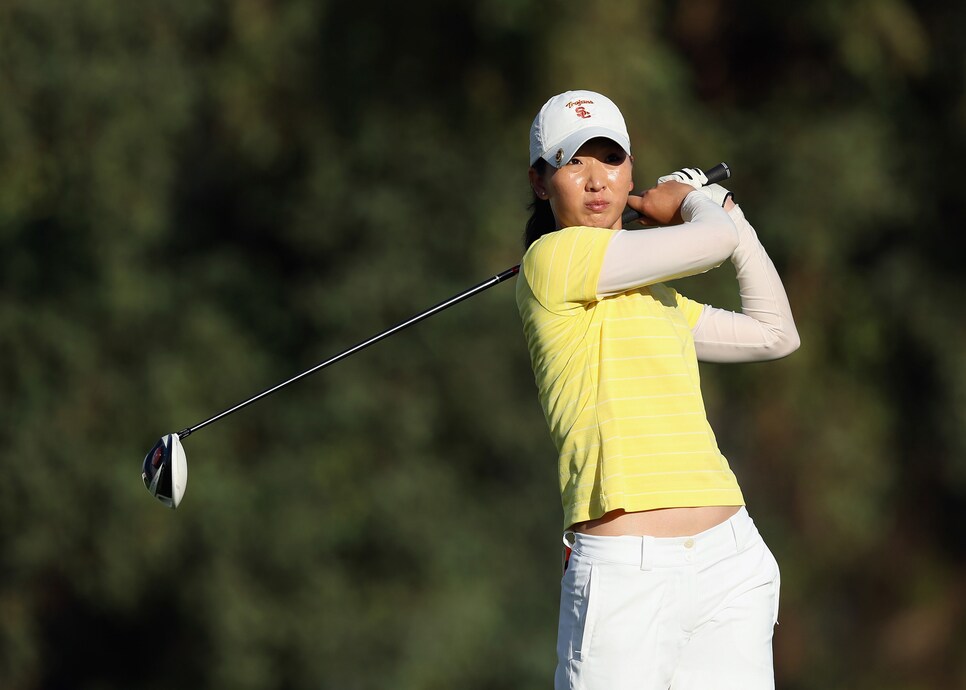 Beyond who claimed medalist honors (South Korea's Jeongeun Lee) and how many amateurs successfully earned their tour cards (eight), a different sort of drama played out on Saturday during LPGA Q-Series at Pinehurst Resort in North Carolina. Doris Chen, the 2014 NCAA individual champion at USC and the 2010 U.S. Girls' Junior champion, was disqualified after rules officials determined she had breached Rule 15-3b when she played a ball that had been out of bounds and then moved back in bounds on the 17th hole during Friday's seventh round at the No. 7 course.
LPGA officials determined that "an outside agency" moved the ball back into play. In a statement, the tour said: "Ms. Chen and her caddie were made aware that the ball had been moved. Doris elected to play the ball, which was a wrong ball by definition, from its altered lie. Ms. Chen did not correct her error before teeing off on the next hole, thus resulting in the DQ penalty."
According to reports from Golfweek and Golf Channel, Chen's mother, Yuh-Guey Lin, is believed to have moved the ball.
Reached for comment on Sunday morning, Chen told GolfDigest.com she was searching for her ball farther up the hole when somebody in the gallery spotted it. Chen said that someone told her that a person had kicked the ball. Chen says that at the time the person did not say the ball had been moved from being out of bounds to in bounds, only that the ball had gone from a good lie to a bad lie. Chen says she thought she could play the ball as it lies, and so she continued on and finished the hole, along with the 18th. It was then, she said, that rules officials talked with her about the situation, informing her at that time that the ball was out of bounds.
"My caddie and I didn't see anything happen. We were looking for the ball. I didn't see the ball move," Chen said. "It was just what the homeowner said. … In my mind, I thought I was just supposed to play the ball as it lied. … I realize now I should have called for a rules official to investigate."
When asked if she spoke with her mother about whether she had moved the ball, Chen said: "She told me that she didn't and she doesn't know. And if she did, it may be by accident and she wasn't aware."
Chen added: "What I would like to say is that it was a misunderstanding. It was a stressful week and not my intention for any of it to happen. I was not directly involved in any way, but I take the responsibility and accept the ruling.
"I was not trying to cheat and I am not a cheater."
Chen, 25, had been tied for 74th in the 102-player field after the sixth round at 14 over par, six strokes out of 45th place. The top 45 finishers and ties at the conclusion of the inaugural eight-round event earned LPGA Tour cards for 2019.
Since turning pro in 2015, Chen has played three seasons on the Symetra Tour, having earned $12,050. In 2018, she made only one cut in 12 events, earning $643. She reached Q-Series after finishing T-24 at Stage II of qualifying in Venice, Fla.
UPDATE: Chen's caddie for the event, Alex Valer, has disputed his player's story. Valer told GolfChannel.com that it was Chen's mom who found the ball, not a spectator. He also said the homeowner immediately identified Chen's mom as the person who had moved the ball.
Valer, a caddie on the LPGA and Symetra Tours, added that he told Chen to consult with a rules official and warned her that if she didn't, she might be disqualified. Instead, he says Chen didn't listen and even told him to "keep quiet about the details of what happened," but he didn't when questioned by LPGA officials.
"It's a mess," Valer said. "Doris did the wrong thing. I'm just trying to do the right thing, to be fair to all those players at Q-Series who have worked so hard for a whole year."