News
PGA Tour players' vexation with USGA lingers; 'Mike Davis is Dean Wormer except ending not as good as Animal House'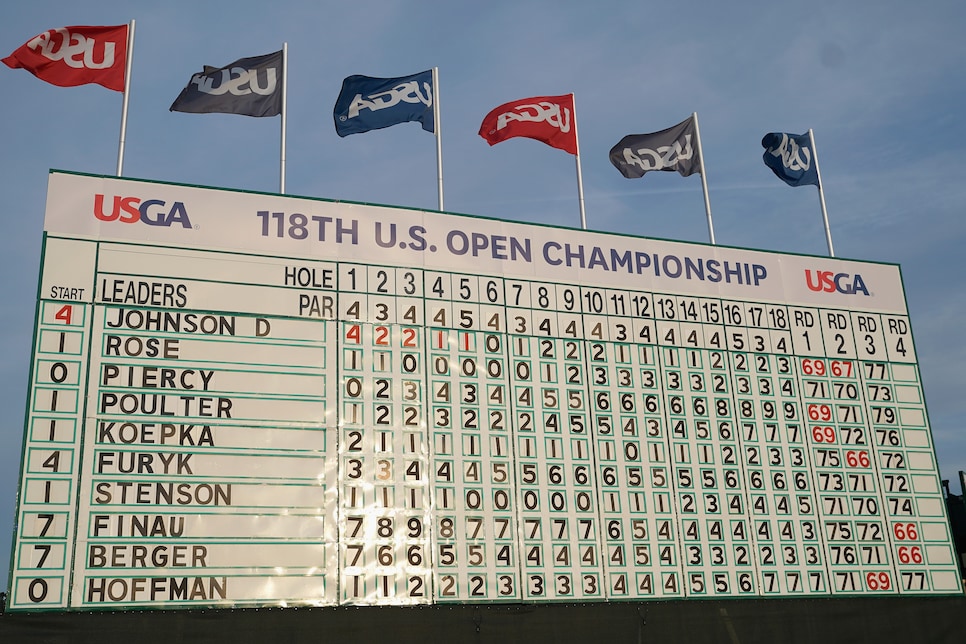 CROMWELL, Conn. — James Hahn wasn't in the field last week at Shinnecock Hills and has only played in one U.S. Open in his career, in 2016 at Oakmont. That doesn't leave him any less disenchanted with the USGA, the organization in charge of running the event.
The 36-year-old cited an example from his lone appearance in the tournament when, before teeing off in the second round after inclement weather had pushed its completion to Saturday, he said he asked an official what the Stimpmeter reading was for the greens.
"His response was the greens are really fast but we slowed them down for you guys," Hahn recalled this week. "He didn't know the Stimp. None of them knew."
In between the second and third rounds, Hahn said he continued to seek out an answer and was told the greens were double cut or double rolled. Asking which one it was, he said, no one knew.
"To me, that's amateur hour," continued Hahn, now a member of the PGA Tour's Player Advisory Council, who went on to three-putt his first hole of the round that day, the 462-yard par-4 10th, and later had a four-putt on the 479-yard seventh. "They don't know how to run a professional event because they don't run professional events.
"Not only have we lost trust in the USGA as players, but I've lost trust in our national open to be in the hands of an organization like that. For how well other tournaments are run, the U.S. Open has fallen to the worst major that we have."
Speaking with several players in the wake of what happened Saturday at Shinnecock, where good shots still rolled off greens and the USGA admitted the setup had gotten too hard because of unexpected afternoon winds, the sentiment was similar.
"It's a private fraternity and you abide by their rules," one multiple major winner cracked. "[USGA CEO] Mike Davis is Dean Wormer, except the ending is not as good as Animal House."
"It's too big of a tournament to keep having issues," added Justin Thomas. "It's too big of a tournament to be talking about the setup afterward when we should be talking about how Brooks [Koepka] won the tournament and beat some of the best in the world on an amazing golf course. Instead, all that's being talked about is the setup."
"A lot of players are disenchanted with the organization, the tournament and the setup," said a past champion of the event. "No, I don't trust them."
"They don't take opinions or comments from anybody," said Pat Perez. "They don't bring the PGA Tour in, Augusta, the R&A or the European Tour. Unfortunately this is the only tournament every year this seems to be a question."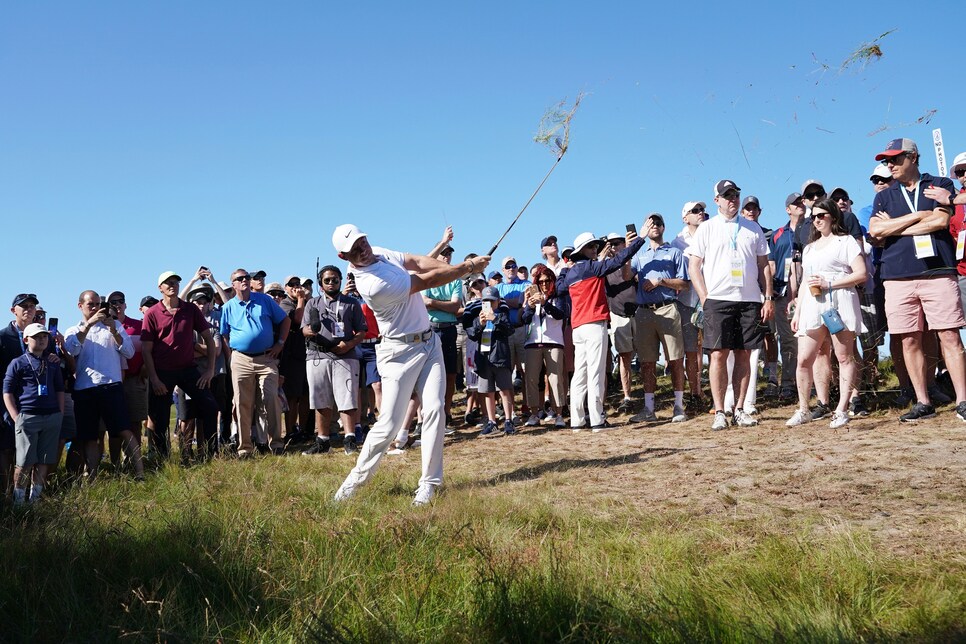 Officials from all of those organizations were in fact on hand last week at Shinnecock. Some, like PGA Tour VP of Rules Mark Russell and European Tour chief referee John Paramor, served in a rules capacity. But, as one source within the tour said, it's their championship and when it comes to setting up the golf course or seeking input, the USGA ultimately makes the decisions and does so with little-to-no input from the outside.
"Did anyone ever trust them?" reasoned 2006 U.S. Open winner Geoff Ogilvy. "I think for the most part their intentions are sound, there's some pretty good golf minds there, but they just can't get out of their own way. You never have a U.S. Open where they're not the story. Augusta is never the story of the Masters—this year Patrick Reed was the story of the Masters. It has nothing to do with Augusta. It's never the R&A, never the PGA Tour, never the PGA of America."
And in the eyes of many, there is almost never NOT some sort of problem at one point during a U.S. Open. Players cited this year at Shinnecock, last year's football field-wide fairways at Erin Hills, the bungling of the Dustin Johnson ruling at Oakmont in 2016 as well as hole locations on Nos. 10 and 14, the condition of the greens at Chambers Bay in 2015, the re-working of Merion in 2013 and, of course, the last time they went to Shinnecock, in 2004, a course many consider one of the best in the country.
"To some degree I am surprised it keeps happening," said Zach Johnson, whose first U.S. Open was at Shinnecock in 2004. "If [our input] was important, it wouldn't have happened, so it must not be. I'm all for having Nick Price on the board, he's one of the model pros. But if controversy is something they want or feed off, they're doing a great job. Shinnecock is probably my favorite course in the United States. I can't find any negatives about it. I think the people who make up the USGA are good people, but good people have to be held accountable. There has to be a level of integrity, just like with us, and I don't feel like there is."
Why do these issues keep arising?
Theories abound on that, too.
"There's a middle ground to be had somewhere," said Rory McIlroy, who missed the cut last week. "They could set it up tough and have 67 be a good score, but not so tough guys can't keep balls on greens. They have all this technology they didn't have in the past, and they're trying to apply an exact science to an inexact game. Lot of guys [in the USGA] haven't played [professionally] before and haven't got a feel that, OK, this is good at 9 a.m. but what's going to be like at 5 p.m."
Added Jason Day: "They don't say [publicly] that even par is their thing, but I think amongst themselves they want even par to win, which is why they have to change the course to make it so even par will win. It's disappointing."
"I think it was chasing score to par," said Jordan Spieth, who won at Chambers Bay three years ago. "We had beautiful conditions with wide fairways so how they are going to get the score to par, it's going to become unfair with greens or pin positions or a combination of the two. They put pins where greens weren't designed that way. As a golf course design nerd, it was frustrating to look at. I was like What are you doing? I played poorly. Even with the setup, I thought it was fantastic for me, but the course nerd in me was like I want to play this course at a different time."
Spieth also said that he thinks the organization is trying to do its best.
What that is, though, seems be unclear when it comes to the tournament's identity. For years the U.S. Open was about narrow fairways, hack-it-rough and tough greens. Now, some seem to think it has been left searching in part because of its "obsession" with par and because modern players have become so good that the only place the USGA thinks it can toughen the course is on and around the greens. In the eyes of many players, that's where many of the problems stem from.
"Courses aren't meant for greens at that speed," Perez said of Shinnecock. "We can't have all these old courses then try to take down the modern player by making the course impossible. They need new venues. The Brooks Koepkas and Dustin Johnsons and Justin Thomases are phenomenal and to neutralize them they make the course unplayable. What's the point of that?"
Koepka of course won the last two U.S. Opens, so it has worked out for him just fine.
And the USGA, for its part, continues to say it never talks about score. It's main goal is to set up a stern test that's fair.
Still, many players think the root of the problems at the U.S. Open are embedded in the fabric of the organization running it.
"They're stubborn," Hahn said. "I've heard Mike Davis talk and there's an arrogance about him. He thinks he's better off the way it is than how we see it."
So much so Hahn said that after the Johnson ruling three years ago, a small contingent of players considered staging a protest and considered skipping the following year's event. They didn't.
"We have to play because it's our National Open," he said. "There's nothing we can do."
And that is as frustrating as anything.