News
PGA Championship 2018: How bad was TNT's coverage on Friday? A look at the number of shots vs. commercials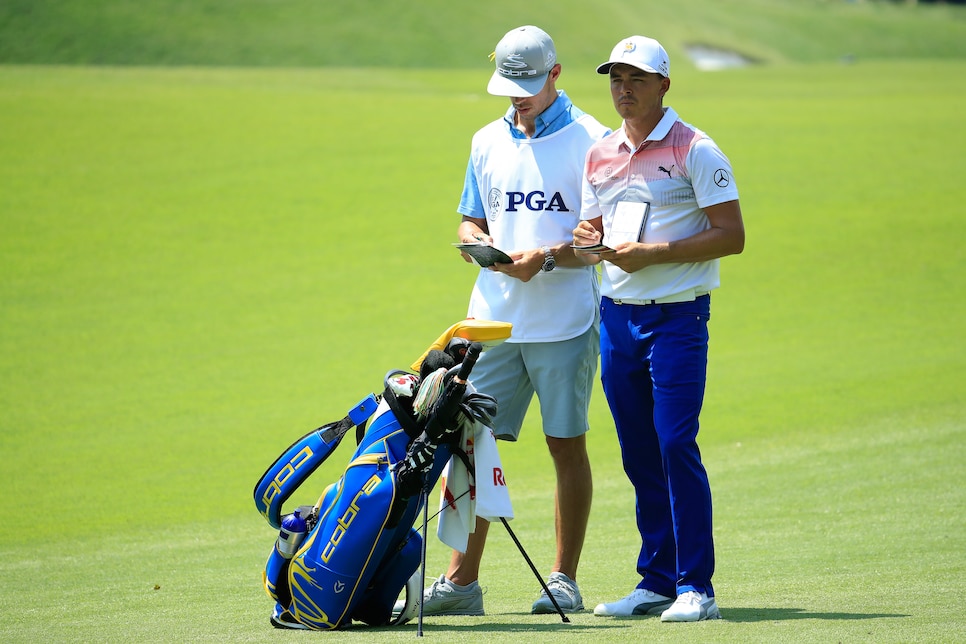 Golf fans spent much of Thursday upset about the lack of PGA Championship TV coverage. They spent much of Friday complaining about what they saw once TV coverage finally started. So how bad was the TNT telecast? We decided to analyze an hour's worth of the broadcast to see.
There's a general consensus when assessing the quality of a golf telecast: The more live golf shown and the fewer commercial breaks there are, the better. But as TNT finally came on the air at 2 p.m. ET (for a second consecutive day, fans could only livestream two pre-determined featured groups online before the broadcast coverage began), the critics quickly came out in full force—and for good reason. Already upset about missing the entire second rounds of leaders Gary Woodland and Kevin Kisner as well as a PGA Championship record-tying 63 from two-time reigning U.S. Open champ Brooks Koepka, fans following the action at least expected an immediate update on Charl Schwartzel, who was also flirting with a 62. Instead, he wasn't shown for about 10 minutes after the usual opening filler and a few live shots.
When TNT finally showed Schwartzel's attempt at history, it came up woefully short—as did the network's efforts to cover the second round of the year's final major. And the proof is in the 60 minutes of coverage beginning with the super group of Tiger Woods, Rory McIlroy and Justin Thomas teeing off at 2:48 p.m. (We didn't start right at the beginning of the coverage because sometimes there are a lot of front-loaded ads and recaps). Here's how the next hour looked by the numbers. First, the good:
Total shots shown (both live and taped): 68
Around the green shots: 2
Putts (including tap-ins): 33
The commercial with that awful "Connection" song: 4
The amount of commercials had me thinking about ranking the top 10 ads of the PGA Championship, because it seemed that was all that was being shown (33 full shots shown vs. 30 commercials!). At one point, TNT came back from a break, showed Tiger and Rory McIlroy's tee shots on the par-3 third hole (and playing partner Justin Thomas' shot on tape) and then went right back to commercials. Not ideal, especially for those looking forward to watching this all day.
However, the 68 shots shown comes out to 1.13 shots per minute, which actually wasn't as low as it felt. The website Classic TV Sports has tracked shots per minute during final rounds at majors since the beginning of 2014. And of the 20 majors in that span, 1.13 would rank 16th. So it's certainly not the worst during that time period. However, taking out tap-ins and that number drops to 1.00. It's also worth noting that there are more players on the course on a Friday than a final round, so in theory, there should be more action to show. And there were other factors that made this a bad telecast.
First off, the percentage of shots shown that are putts. This is a problem across all of golf coverage, but it's particularly glaring here. Meanwhile, only two short-game shots were shown in an hour? That's half the number of times we were forced to hear that darned "Connection" song. Brutal.
There were also technical difficulties announcer Verne Lundquist mentioned during the broadcast. To be clear, we still love Verne—and our biggest problems have nothing to do with TNT's on-air talent—but those technical issues were very apparent with the connection cutting out a couple times. At one point, there was also a small popping sound that had me genuinely concerned the TV I bought last week was a lemon.
We can also only assume (hope?) those problems affected who TNT chose to show. Those 68 shots were hit by a total of only 13 golfers. So not a lot of variety in terms of types of shots shown or players. Of course, any time Tiger is playing, he is going to dominate coverage (as he should), but this felt like we were just watching the two afternoon featured groups (Woods, McIlroy and Thomas, and Phil Mickelson, Jason Day and Keegan Bradley) on PGA.com. Network coverage should be more comprehensive than this.
And we took issue for a couple other reasons on this day, and neither had anything to do with bad weather postponing play (although, obviously, that didn't make things any better). Despite teeing off before Tiger and not having one shot shown live either on TV or online on Thursday, Rickie Fowler made his first appearance in this window at 3:31 p.m. An interesting choice considering Fowler's popularity and the fact that he had the best score of anyone teeing off on Friday afternoon. Fowler's Rocket Mortgage ad got more air time than Fowler himself. Although, neither touched the amount of time David Puddy was shown on that National Rental Car commercial.
And then there was the curious case of Tony Finau, who shot one of the craziest front nines in golf history and yet wasn't shown or mentioned once (Finau was finally mentioned after this hour-long window). Finau birdied his first five holes before a triple bogey and wound up with seven birdies and no pars during a wild 32. Again, it's possible that technical difficulties kept TNT from showing either player, but hearing that Fowler bogeyed his opening hole instead of actually seeing it was jarring.
But perhaps, it shouldn't have been. The PGA Championship is the only official event on the PGA Tour schedule that's broadcast by TNT so it's hard to expect for this yearly cameo to run smoothly. And as Golf Digest's John Strege noted on Thursday after complaints about Fowler's first round not being televised, the network has stuck to a six-hour coverage window for nearly 30 years. Strege also noted the PGA Championship's contract with TNT runs out after 2019. If it isn't renewed, don't expect too many golf fans to be upset.