News
J.B. Holmes took four minutes, 10 seconds to hit a shot? Yes, and the backlash was predictable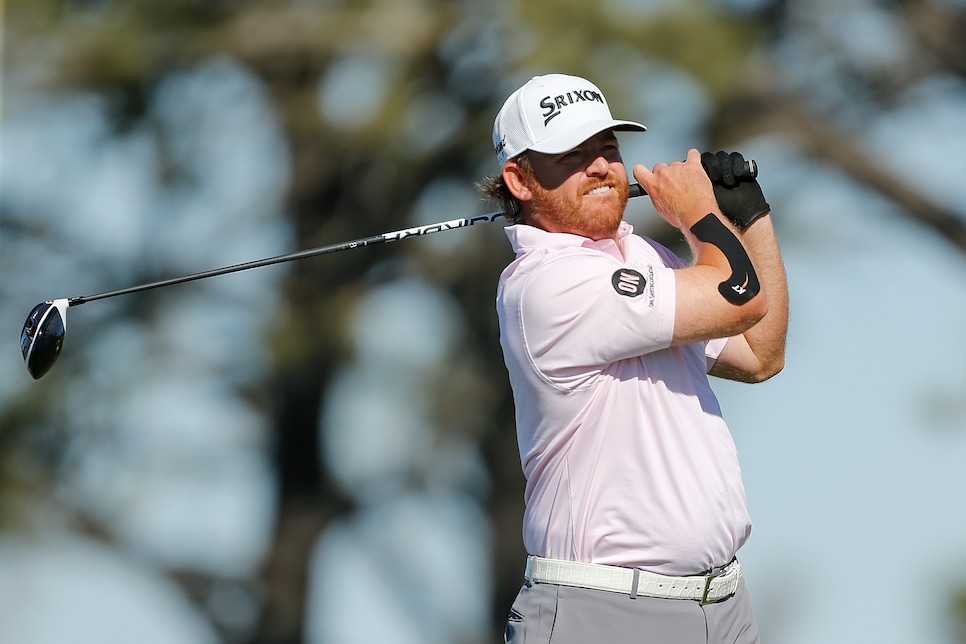 LA JOLLA, Calif. — A jury of his peers did not deliberate long, unlike J.B. Holmes, who deliberated long enough to bring the wrath of its verdict down on him.
The verdict was guilty. Holmes was guilty of slow play at a critical moment—on the 72nd hole of the Farmers Insurance Open on Sunday. Guilty, intentionally or not, of icing a man in the lead, Alex Noren. And guilty, to those watching, of reinforcing the game's reputation for taking too long.
The situation was this: Jason Day had finished at 10 under par and was tied with Noren, who was in the fairway, 230 yards to the hole, on the par-5 18th on the South Course at Torrey Pines. Holmes, who needed an eagle 3 possibly to tie, was in the fairway, 239 yards to the hole.
Holmes was away and took four minutes, 10 seconds to decide on a club and to hit his shot. Four minutes, 10 seconds is a good time for a high school miler, but an egregious breach of the rules and etiquette in golf.
The PGA Tour Player Handbook and Tournament Regulations states that "a player is permitted 40 seconds to play a stroke." It allows an additional 10 seconds for a variety of situations, none of them applicable here. It would have had to allow for an additional 3½ minutes to accommodate Holmes.
Here is a sampling of Twitter reaction from his golf brethren, none of it in defense of Holmes:
The CBS broadcast crew expressed bewilderment over what Holmes was doing. The crowd ringing the 18th green began to vocally exhort him to hit the shot. Afterward, Golf Channel's Ryan Lavner asked Holmes whether he regretted his actions. "No, I was still trying to win. So that's part of it," Holmes said.
Holmes did not win. He laid up into the rough, made a birdie and finished fourth. Noren, meanwhile, waited patiently, then flew the green with his 3-wood second shot, leading to a par and a playoff with Jason Day and Ryan Palmer.
Noren was diplomatic about Holmes' action. Asked whether it affected him, he said, "Well, not necessarily, not necessarily. It's just, you know, probably made me switch clubs."
Noren considered hitting a hybrid, "but I was in a downhill lie and the grain of the fairway was into me. I thought I was going to thin it a bit and I didn't really fancy being in the water short. I hit the 3-wood. I don't know where it bounced, but it went past the green." In hindsight, he said he probably should have laid up, then hit a wedge into the green in an attempt make birdie and win.
In the playoff, Palmer exited on the first hole, and Day and Noren played four more holes without a winner emerging before dark, sending the continuation of the playoff to Monday morning.
Somehow that seemed appropriate, the sun outracing the golfers. The final grouping took nearly six hours to play 18 holes.
We'll crown a winner on Monday, but the loser on Sunday was the game itself.