DP World Tour
With Rahm, Fitzpatrick, McIlroy in contention, DP World Tour Championship sets up for a dramatic Sunday finish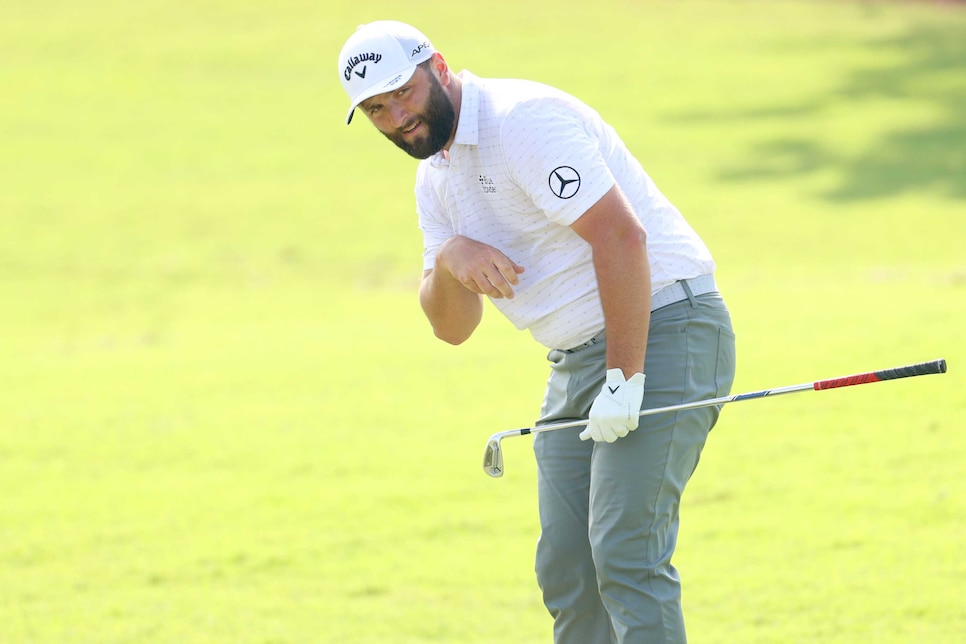 With a Saturday 65, Jon Rahm holds a one-stroke lead in a tournament that he's won twice in three previous starts.
Andrew Redington
DUBAI, U.A.E. — This is a script that requires no editing, but definitely some clarification.
With one round to play in the DP World Tour Championship, the class in the field has risen inexorably to the top of the leader board. World No. 5 Jon Rahm leads at 15 under par after three circuits of the Greg Norman-designed Earth Course at the Jumeirah Golf Estates in Dubai. One shot back is U.S. Open champ Matt Fitzpatrick. European Ryder Cup player Alex Noren is third on 13 under, one ahead of World No. 1 Rory McIlroy, who is tied with Tyrrell Hatton. Last week's winner, Tommy Fleetwood, is next, T-6 alongside the impressive Pole, Adrian Meronk.
Given all of the above, that the man who emerges as the champion at the DP World's season-ending climax will earn around 15 World Ranking points less than the winner of the PGA Tour's relatively star-less RSM Classic does seem a little odd. But we digress.
While getting to an eventual result of this tournament will be relatively straightforward, the same cannot be said of the race to be crowned European No. 1 for 2022. As things stand after 54 holes, that title will go to McIlroy, the leader heading into the week. With Fitzpatrick in second place, the Northern Irishman's current slot at T-4 is good enough to edge out the Englishman. Indeed, should Fitzpatrick not win the tournament, any finish seventh or better will be sufficient to give McIlroy his third win on what was once the "Order of Merit," then became the "Race to Dubai" and is now the "DP World Tour Rankings."
There are a couple of other, but much more unlikely, scenarios in play. Should Meronk or Fleetwood come from behind to win the tournament, both would put themselves in with a chance of a rankings victory. Meronk also would need McIlroy to slump to a spot outside the top 16 and Fitzpatrick to drop out of the top two. Technically at least, the possibility of a Fleetwood double is more likely. He would require a win for himself and a Fitzpatrick finish outside the top-three on Sunday.
Save for Hatton, who played the back nine in a disappointing 39 en route to an eventually pedestrian level-par 72, what just about every contender had in common was a feeling of pleasure at a third round well played, as well as excitement at the possibilities ahead.
Rahm first. In three previous appearances in this event, the burly Spaniard has two wins and a tie for fourth. So, one day on from his second round 66, his 65 on a course where he averages 67.5 was hardly a surprise.
"I don't think I could have shot any lower today," said Rahm after his bogey-free outing. "I maximized the round. Wasn't at my best off the tee, but I was able to get some birdies out of some not-so-good situations. I didn't hit any of the fairways on the par 5s and still played them three under par. I'm hoping tomorrow I can be a little better off the tee, and still keep the good iron play and good putting going. As for why I play so well here, I hope I never find out so that I just keep coming here with a good vibe. The second you know, it's gone."
McIlroy was making equally positive noises after his own 65. Seven birdies and an eagle dotted his card, offset only by two bogeys in the opening three holes. Only one under par through 33 holes, the four-time major champion has gone 11 under for the next 21 in his quest to become only the second man (after Henrik Stenson in 2013) to win the PGA Tour's FedEx Cup and the DP World Tour rankings in the same season.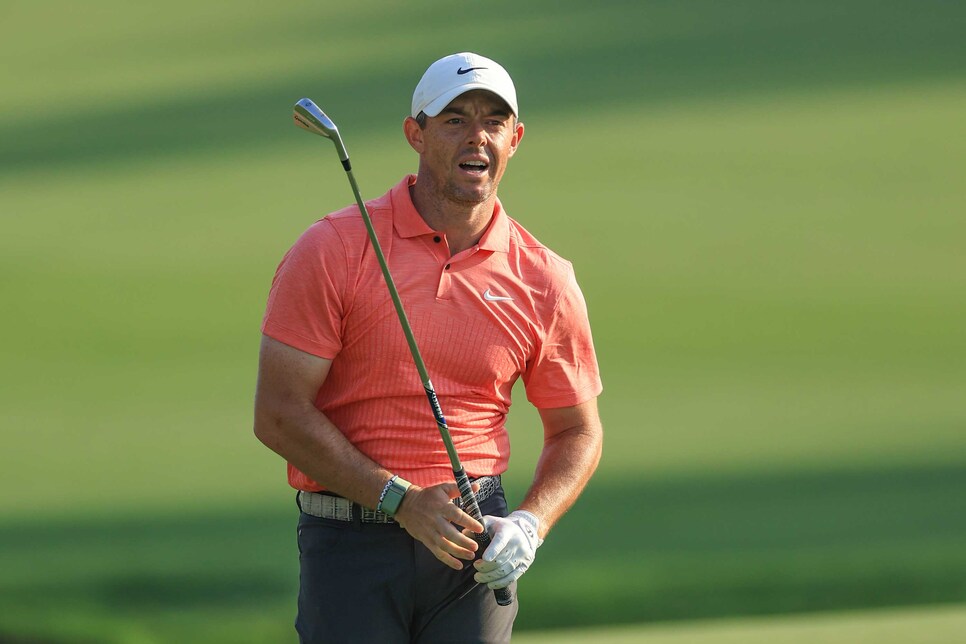 Rory McIlroy played the first 33 holes of the DP World Tour Championship one under par and the next 21 at 11 under.
David Cannon
"I hit it in the fairway a bit more today, which made a big difference," McIlroy said. "I was able to get control of my approach shots and hit them close and make some easy birdies. I thought that last three holes yesterday [birdie-birdie-eagle] could really kickstart a little bit of momentum for me, and I brought that into today. I've played so well on this course over the years. I know how to shoot low scores and I know how to make birdies. It was just a matter of getting it out of myself.
"I am excited to put myself in the mix," he continued. "Tomorrow is a big day. I just have to go out there and try to shoot another good score. There is some of it outside my control, but if I can play a good round of golf, that makes it a bit easier."
Easier, but hardly easy. Not considering this leader board.