DP World Tour
Poland's greatest player, giant Adrian Meronk, has big dreams to play on the PGA Tour in 2023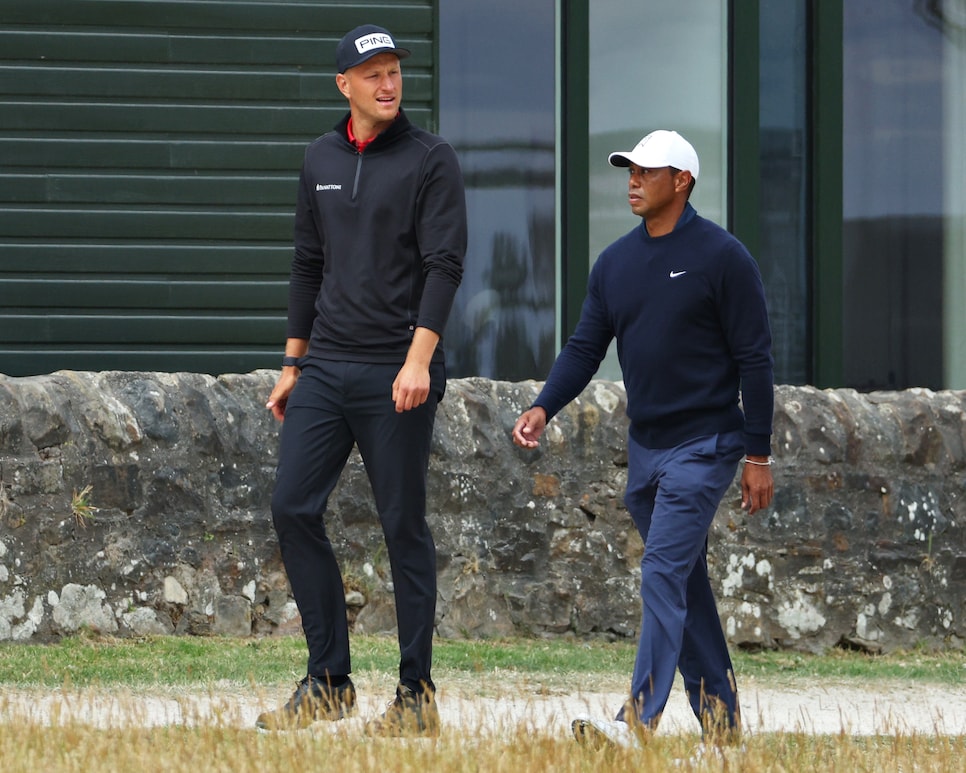 Adrian Meronk and Tiger Woods make their way past the Old Course Hotel during a practice round prior to the 150th Open.
Andrew Redington
ST. ANDREWS, Scotland — The setting was low-key. But the ambitions are high. Sitting in a quiet corner of the Links Clubhouse at St. Andrews on the eve of the Alfred Dunhill Links Championship, Adrian Meronk is talking about what he wants to do and where he wants to be.
Two things are dominating the 29-year-old Pole's thinking, albeit he is quick to downplay both from such a distance of time and space. A place aboard the 2023 European Ryder Cup team in Italy is first on the agenda, to be followed quickly by claiming one of the 10 PGA Tour cards that will be available at the end of the 2023 DP World Tour schedule.
"The Ryder Cup is definitely a goal," Meronk says. "But I don't want to force it. I know it is possible if I stick to my plan and play consistently good golf. If I do that, it will happen. It is a long way off, but I will do whatever I can to make it. My ultimate goal, though, is to play on the PGA Tour. And it's not far away, given my World Ranking. I'll be looking for some invites towards the end of this year and early in 2023. My only pro start over there was the 2021 U.S. Open at Torrey Pines [where he missed the cut]. I like American courses. So I'm looking forward to competing over there."
Both aims, it must be said, are well within the scope of this 6-foot 6-inch giant. Despite his already considerable size, Meronk is a man on the rise, as seven top-10s in Europe this year testify. Currently eighth on the DP World Tour rankings, the former East Tennessee State student won the Irish Open in early July and, statistically, is the 57th best golfer on the planet, his best ranking to date.
All of which is part of a plan that has been in place since early May 2010, which is when swing coach Matthew Tipper first set eyes on the then 16-year-old Meronk.
"It was on the right hand side of the range," says the Welshman, who spent six years in Asia in the employ of David Leadbetter. "Adrian was the last kid I looked at that day. There was a tree at the end of the range, and I watched him smash balls over it with a mid-iron. I knew right away. His shots, which were flighted a little too high for my tastes, had the sort of sound about them that tell you the player is doing something right. It was pure."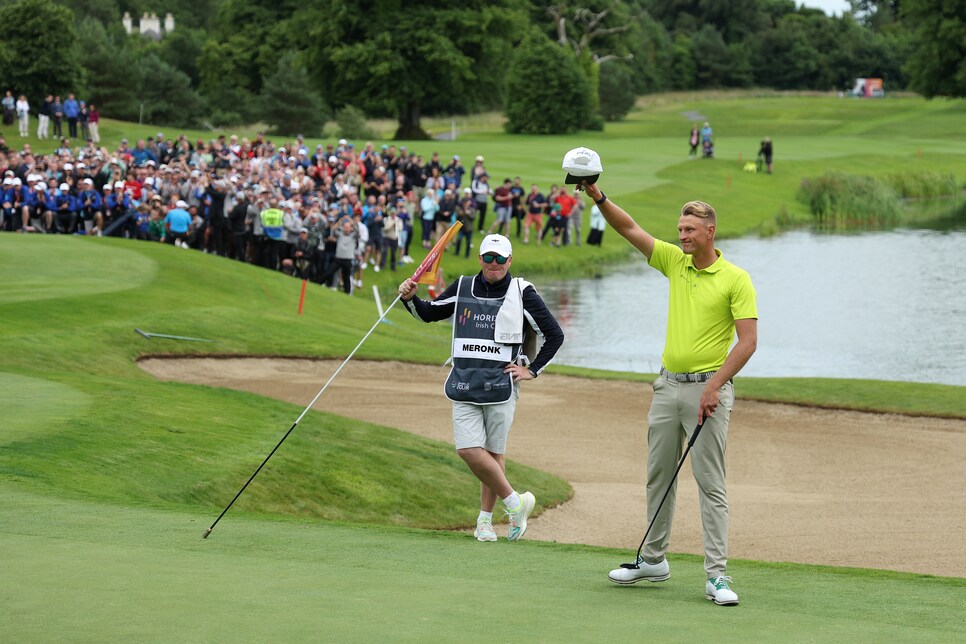 Adrian Meronk celebrates victory on the 18th green during the final round of the 2022 irish Open at Mount Juliet.
Richard Heathcote
It still is. One of the better ball-strikers on the Old World circuit, Meronk is fast improving in what he calls the "scoring" parts of the game. This season he ranks sixth in stroke average, three places higher than last year. But the most important number in his repertoire is the "two" that now appears in the "wins on tour" category. After a series of podium places this season, Meronk claimed the biggest victory of his career in Ireland.
"It is very tough to win on tour," he says. "So I was like most people in that I had to experience coming close without winning before I actually did win. So when that happened I knew what to expect. i knew how I was going to feel. I knew I just had to be patient, stick to my routines and keep believing in myself. As a result, I felt quite comfortable all through the final round. Which came from my past experiences.
"Before I had been nervous in contention," he continues. "I tried too hard to 'force' stuff, instead of just letting it happen. Now I know it just about putting yourself in that position as many times as possible. And if you play well, it's enough. If not, try again next time."
Tipper contends there's a lot of luck involved in winning, "but you have to learn from it all. Every great player goes through that stage. Sometimes, too, you can look too hard for problems. Sometimes you have to think you did OK and just got beat. It's too easy to panic.
"We work on the basics, which are key because Adrian is so tall. We have to get those right so that his body can move properly. The next stage is to up-grade the shots around the greens, the wedges and the scoring clubs. We want to get his proximity to the hole down a bit. He doesn't have to be world class in everything. Every day, the goal is always to get one percent better in everything."
Still, for the moment at least, Meronk is deriving pleasure from being the first Polish player to do, well, just about anything and everything in golf. He is the best-ever golfer from his home nation, one where golf is slowly gaining in popularity. Today there are 30 courses and, by Meronk's estimation, maybe 20,000 golfers.
"Many juniors are starting," he says. "Recently I noticed that a junior event I competed in as a kid, one that used to have maybe 40 kids, now has more than 200. There is more interest, but progress is slow. I'm sure my good play on tour helps though. It's all heading in the right direction. My win in Ireland made the newspapers. I like to hear that I am the first Pole to do all kinds of things. It's nice. Someone has to be first. I'm glad it's me. I'm proud of it. And I want to make it as hard as possible for the next guy to say he is the best-ever Polish golfer. I want to make that really difficult."