News
Poland's Adrian Meronk is 6-foot-6, the best golfer in his country's history and trying to find his way on the European Tour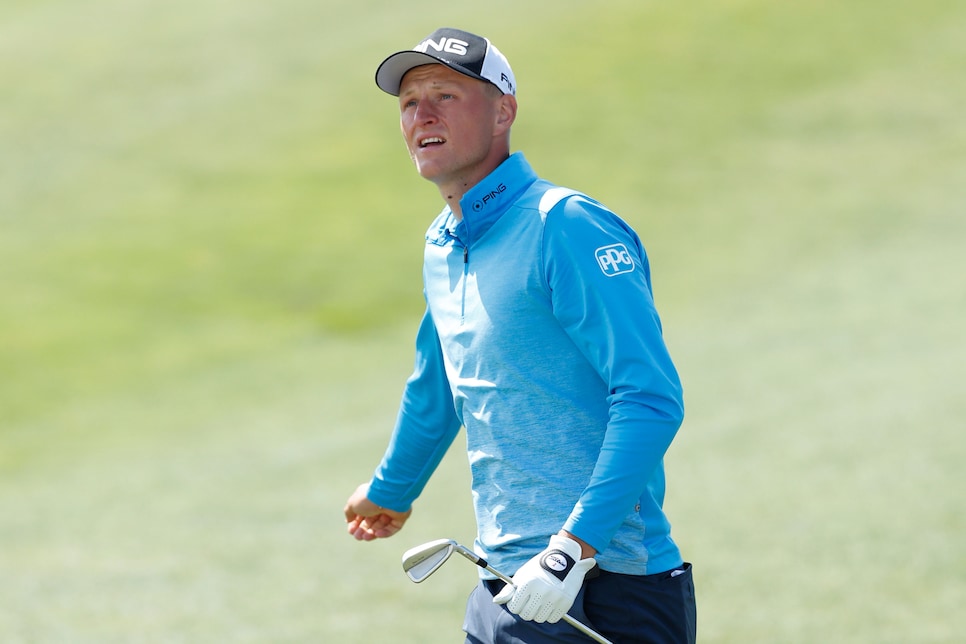 News flash: Golf isn't a big deal in Poland. It never really has been, even if the game has had a presence there since the late 19th century. A political landscape dominated for decades by Soviet Russia didn't exactly help efforts to grow the game, of course. Moscow's sour-faced influence was largely responsible for golf's almost total anonymity until the peaceful fall of communism in 1989.
Things are changing though. Golf in Poland is growing, the number of golfers more than doubling in the last decade to nearly 5,700 in 2018 (out of a total population of 37.8 million). And Adrian Meronk is helping lead the way. Completing a series of precedent-setting achievements on his way around professional golf's increasingly sharp learning curve, the 27-year-old former East Tennessee State student is the first card-holding Polish native on the European Tour. Also first to play in a European Tour event and win on the Challenge Tour, Meronk graduated fifth from the Old World's second circuit at the end of 2019. He is, by a distance and to the surprise of no one, Poland's greatest-ever golfer.
As you'd expect, that last accolade makes him laugh. But the distance between Meronk and his compatriots continues to grow. Victory in the 2019 Portugal Open—one of his 10 top-10s on the Challenge Tour last year—is a career highlight so far, but there have been others on the upward trajectory this 6-foot-6 big man has followed.
Five times a tournament winner on the college circuit during his four years at ETSU, Meronk twice represented Europe in the Palmer Cup against the United States. In 2016, he led the Polish side to eighth place in the World Amateur Team Championship in Mexico, where he finished third in the individual competition. That same year he lost to eventual winner Scott Gregory in the semifinal of the British Amateur Championship at Royal Porthcawl. All of which combined to send him into the top 10 of the World Amateur Golf Ranking.
It all started in Germany though. Even before Meronk was born in Hamburg, his father found golf an addiction he would pass to his son after the family moved back to Poland when Adrian was 2. Every weekend the pair would make a seven-hour round trip to the Toya Golf & Country Club near Wroclaw.
"My friends did think I was a little bit odd," Meronk says with a smile. "I played almost every sport, but I was the only one who played golf. So that was a shock for them. I think it still is. When people at home ask me what I do for a living, and I tell them, it is always a surprise for them. I'm still a bit of an oddity, something I'm trying to change."
The long drives lasted two years, until the Meronks moved. Today, Adrian's parents still live on the course where he learned to play. And learned quickly. By the age of 12, he was good enough to be invited to the national junior camp.
"As soon as I saw him, I said, 'European Tour, no problem,'" says Matthew Tipper, a Welshman who has coached Meronk from his early teenage years. "It was that obvious from how he hit the golf ball. There was absolutely no doubt in my mind that he could make it on to the European Tour or PGA Tour."
It was a mutual thing. A right-time, right-place deal when Tipper arrived in Poland from the David Leadbetter Academy at Mission Hills in China.
"I really started to do well when I met Matthew," Meronk says. "He was the person who made me realize I was good enough to go to college in the United States. We worked hard for maybe three years to get my game to the point where I could get a scholarship."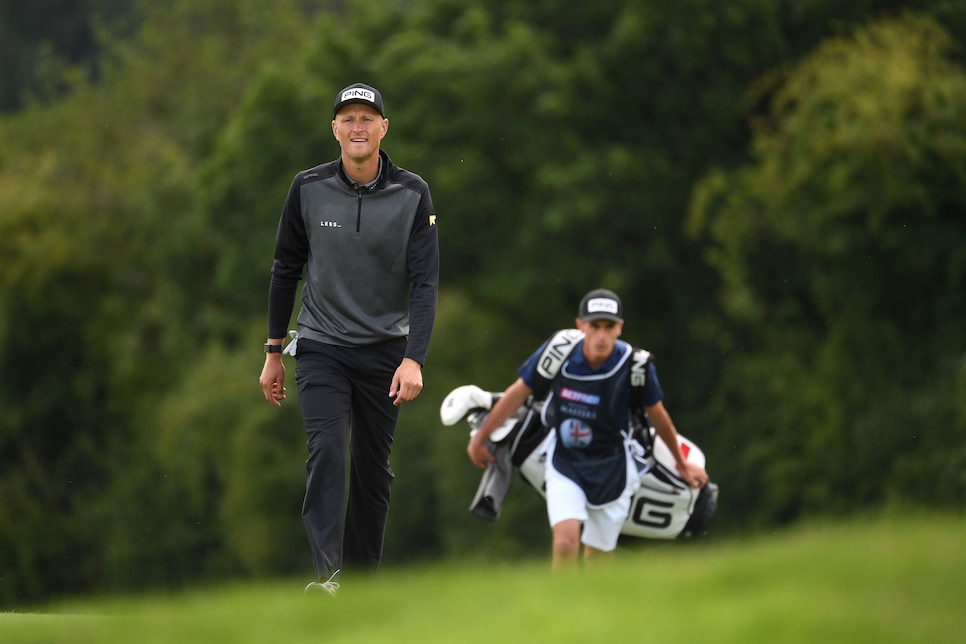 At 6-foot-6, Meronk stands out on the course (and off), but he remains anonymous in Poland given golf's low profile.
Ross Kinnaird
Meronk describes his time at East Tennessee (2012-'16) as the most important in his career so far.
"I really evolved as a player and a person," says Meronk, who had a 70.65 and 70.64 scoring average his junior and senior seasons. "Being on my own was good for me. I was away from my coach and had to learn more about how my body works and my swing works. I got to know what happens when I am tired, or when I play too many events in a row. I just learned about myself. The competition inside the team was great for me, too. We had a strong team and I had to work hard just to qualify for tournaments. It was an amazing experience, one I really recommend to any aspiring golfer. It changed my game, my attitude and my life. It was the best preparation I can think of for professional golf."
In that realm, Meronk's progress has been steady rather than spectacular. His jumps have been small but consistent rather than big and flashy. In his three years on the Challenge Tour, he played 51 events and accumulated 15 top-10s. This season he has two more on the European Tour, most recently at last week's Irish Open. He was an alternate for this week's Scottish Open and is currently 102nd on the tour's Race to Dubai standings. And people are starting to take notice.
"I haven't had a chance to play with Adrian yet," says former Ryder Cup captain Thomas Bjorn. "But I am hearing so many good thing about him. It seemed like he was on the leader board every week last year on the Challenge Tour. I took note of that, especially given where he comes from. That is so nice to see. I hope he spurs on people in Poland to play a bit of golf. You want players, as they take care of their own careers, to have a bit of importance in their home country. It would be such a big thing for Poland if Adrian was to break through at the highest level. He has an obvious potential to create a lot of excitement and to broaden the scope of the European Tour."
Still, there is a ways to go on that front. Right now, Meronk can comfortably walk down any street in his homeland, confident in the notion that he will be recognized by precisely no one. That level of inconspicuousness may not last too much longer though. For two years now, the PGA Tour and the European Tour have been available to the Polish public on television. More and more, Meronk is getting positive feedback from people when he returns to Wroclaw.
"I know I have been shown a lot when I have been playing well recently," he says. "I've had a lot of feedback from people at home who have been watching. There has been a lot of growth in playing numbers this year in Poland. Because of the virus, people have been looking for things to do outdoors. And golf has benefitted. New courses are being built. I try my best to make a difference. If I was to win on the European Tour, it would be huge for golf in Poland. So would making it to the Olympics. I'm in right now through my World Ranking [currently he sits 231st, down slightly from his best-ever ranking of 213th]. If I was to do well in that, golf would get a lot of publicity."
Ambitious but realistic would be a fair assessment of where Meronk is at this stage of his career. Aspects of his game are going to have to improve if he is to make the transition from rookie to champion on the European Tour. The numbers do not lie. While he is above average in distance from the tee (314.54 yards), he is, relative to his peers, no better than average on and around the greens. Then there is the mental side of the game.
"Tommy Fleetwood played in Portugal recently," Meronk says. "He almost missed the cut. But two days later he almost won. That was so impressive. You have to grind it out. Last week in Ireland was similar for me. I played steadily for three days. Then I shot 66 in the final round. Suddenly I was in the top 10. That was a good lesson for me. The margin between success and failure is really small sometimes."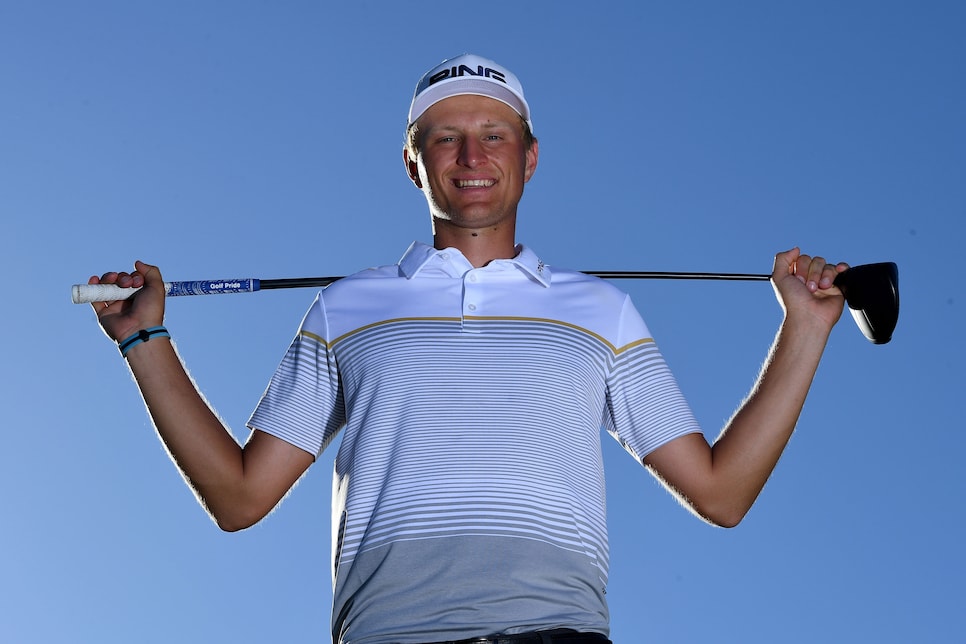 Quite apart from his efforts on the course, Meronk hasn't forgotten where he came from. Once one of maybe 40-50 competitors in junior tournaments, he sees that number has typically more than doubled when he makes his regular visits home.
"I'm proud to be the example of what can be achieved," he says. "And I'm ready to do whatever it takes to help as much as I can. When I am home I go to events and talk to the players. When I was younger I had idols I wanted to meet. I know I am in a responsible position."
A Pole apart you might say.