DP World Tour
Rory McIlroy was rooting for the Internationals, is excited about the Ryder Cup, continues to bang on LIV and is looking for revenge at St. Andrews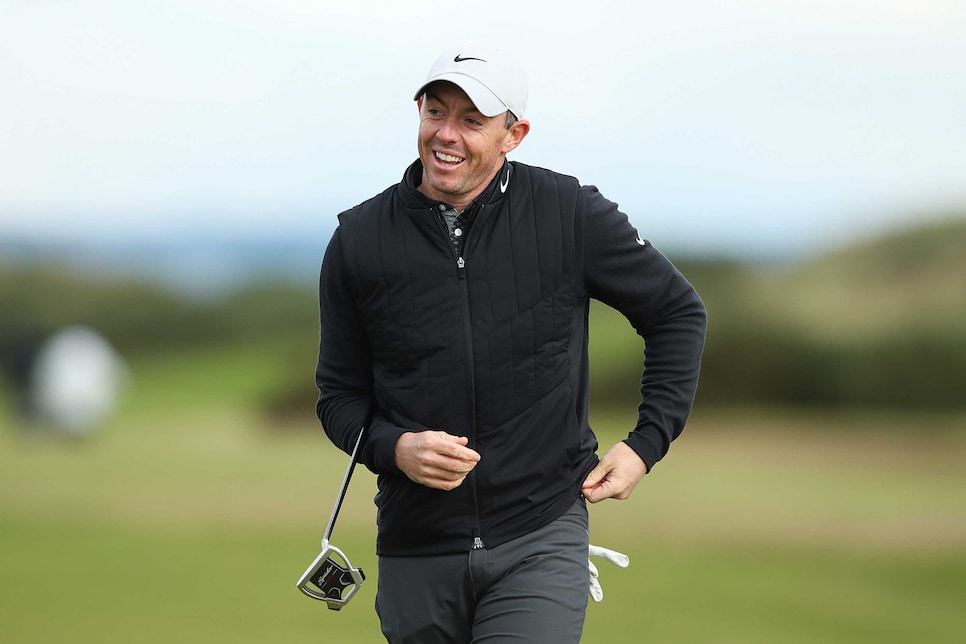 Rory McIlroy smiles on the Old Course during a practice round prior to Dunhill Links Championship.
Jan Kruger
ST. ANDREWS, Scotland — Just in case you haven't noticed, not much gets past Rory McIlroy. Not when it comes to golf anyway. So it came as no surprise to hear that the Northern Irishman interrupted his preparations for this week's Dunhill Links Championship, where he will partner his father, Gerry, in the team event, to take in what was going on at the Presidents Cup. Unlike his fellow Irishman, Shane Lowry ("I didn't watch any of it.") and U.S. Open champion, Matt Fitzpatrick ("I saw zero of it and couldn't have had less interest in it"), McIlroy tuned in to watch.
It was also far from a shock to hear that the ineligible Northern Irishman was cheering for one team over the other at Quail Hollow. Referencing the so-called "Miracle at Medinah" of 2012 that remains Europe's most recent away win in the Ryder Cup, McIlroy made clear his allegiance lay with the International squad.
"There was like a 30-minute window on Sunday at the Presidents Cup where it looked like a Medinah was about to happen, which I was very much rooting for," he said with a smile.
Which is not to say the four-time major champion wasn't impressed by the American side that eventually beat their opponents by five points, 17½-12½. But he also made it clear that the prospect of a new-looking European team a year from now in Italy is not something he sees as a problem.
"There's going to be quite a few rookies on our team I would imagine," he said. "With the younger guys coming through, it is time for a rejuvenation of the European Ryder Cup team. We need to blood some new guys and a home Ryder Cup is the best way to do that. You've got your 13th man [the crowd] with you, so you can introduce some new guys. Europe has had an unbelievable run in the Ryder Cup for the past couple decades. But the American team is very, very strong and doesn't have a lot of scar tissue compared to the last few teams. They have their pairings, and they get a chance to do it every year, which I think benefits them. We'll be the underdogs next year. And with how young this American team is, it looks like they will be very strong for a very long time."
Inevitably, McIlroy was quizzed on his reaction to the letter the LIV golfers sent to Peter Dawson, chairman of the board at the Official World Golf Ranking. While diplomatic, McIlroy was emphatic in his opposition to the 54-hole, no-cut LIV Golf events gaining the official recognition that would see competitors on the Saudi-backed tour eligible for ranking points.
"I certainly would want the best players in the world ranked accordingly," said McIlroy, the World No. 2. "If Dustin Johnson is somewhere around 100th in the world, it's not an accurate reflection of where he is in the game. But at the same time, you can't make up your own rules. There's criteria there and everyone knows what they are. If they want to pivot to meet the criteria, they can. So I certainly have no problem with them getting World Ranking points. But you have to meet the criteria. If you don't do that, it's hard to justify why you should have them."
Talking of LIV, McIlroy was asked for his thoughts on the plea from Dunhill Links promoter, Johann Rupert, for all sides to get together around a table and thrash out a solution to the current impasse.
"I don't want a fractured game," McIlroy said. "I never have. Golf is ripping itself apart right now, and that's no good for anyone. It's no good for the guys on the side of the traditional system, and it's no good for the guys on the other side. So yes, there is a time and a place for it [negotiation]. I just think right now, with where everything is, it's probably not the right time. But saying that, I don't think we can let it go too much longer. So I'm all for everyone trying to figure something out."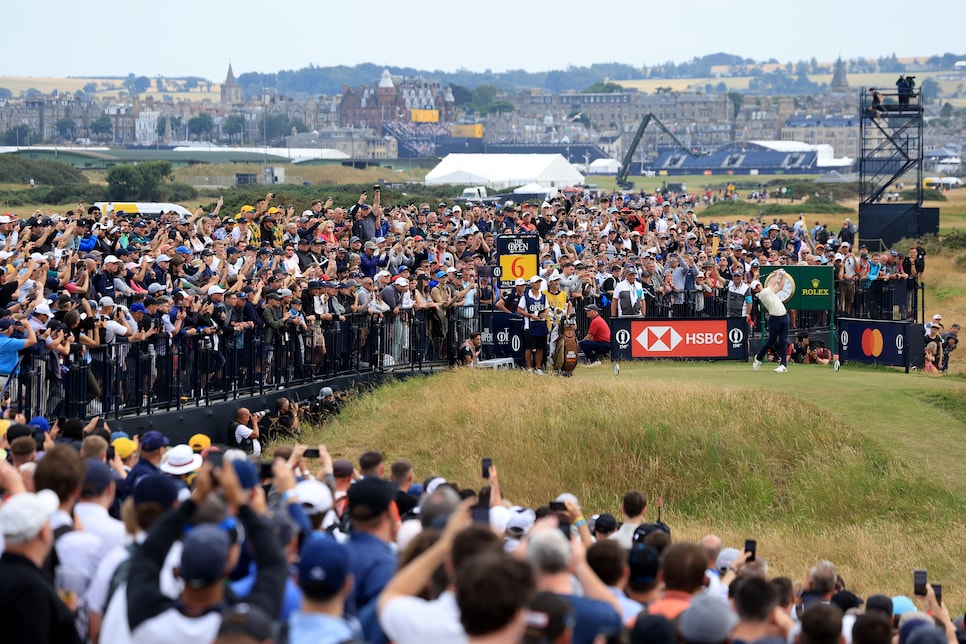 McIlroy, a heavy crowd favorite, struggled to make birdies during Sunday's final round at the Open, settling for at third-place finish after sharing at the start of the day.
David Cannon
Back on safer ground, McIlroy was given the opportunity to go all philosophical upon his return to St. Andrews and the Old Course where he came up short over the course of a frustrating final round in the 150th Open Championship nearly two months ago. Two-putting every green, the 2104 "champion golfer of the year" shot 70 and came up two shots shy despite being the overwhelming crowd favorite.
That failure to add a fifth major title to his collection clearly and understandably lingers in the active McIlroy mind. Just about the first thing he revealed to the assembled media was that he had, minutes earlier, driven the 18th green and made a 20-foot putt for an eagle. Had that scenario played out in July, McIlroy would have been in a playoff with Cameron Smith.
Still, the Home of Golf also doubles as the venue for many happier McIlroy memories. It was here in 2007 that a fourth-place finish in the Dunhill Links clinched his European Tour card.
"I feel like this is where my professional career really began and really took off," he said. "And it's been a pretty great journey since. There's more to golf than just the professional game. It is such a small part of the game of golf. Golf is so much bigger than all of us, and I think people miss that.
"The 150th Open was really a feel-good moment for the year, bigger than all this [LIV] crap we've talked about all year," he continued. "St. Andrews is where the game was created and where it was built. That's golf at the end of the day. We're all playing the same game. Sometimes our vision of what that game should be is a little bit different, but at the end of the day it is golf. It's a wonderful game and it's a game that can be played for life."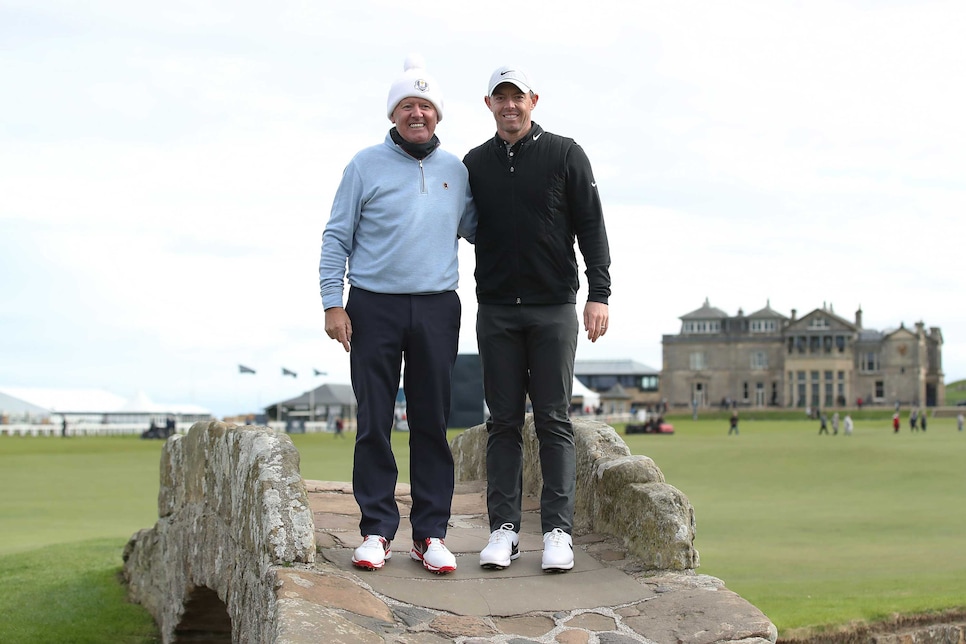 Rory McIlroy poses with his father, Gerry McIlroy on the Swilcan Bridge during a practice round prior to the Dunhill Links Championship.
Jan Kruger
So it is that a team victory this week with his father is McIlroy's biggest priority, never mind that an individual win would all but clinch the No. 1 spot on the European money list.
"I don't think it would quite make up for missing out on a claret jug, but it would certainly soften the blow," he said with a laugh. "But again, I've got memories around St. Andrews that will last me a lifetime even if that's not winning an Open Championship. I'd love to in the future and hopefully I get that opportunity again. But this is a feel-good week, now where we get to do something you don't get to do all the time. It's a pure form of the game, playing with your father. Sort of reminding myself where I started and playing at the golf club with him and all that sort of stuff. If I were to make up a perfect foursome to play golf with the rest of my life, he would obviously be in it. That's the real nice thing about this week."