DP World Tour Championship
A late Friday rally helps, but Rory McIlroy faces 'a good challenge' if he wants win the DP World Tour's season-long title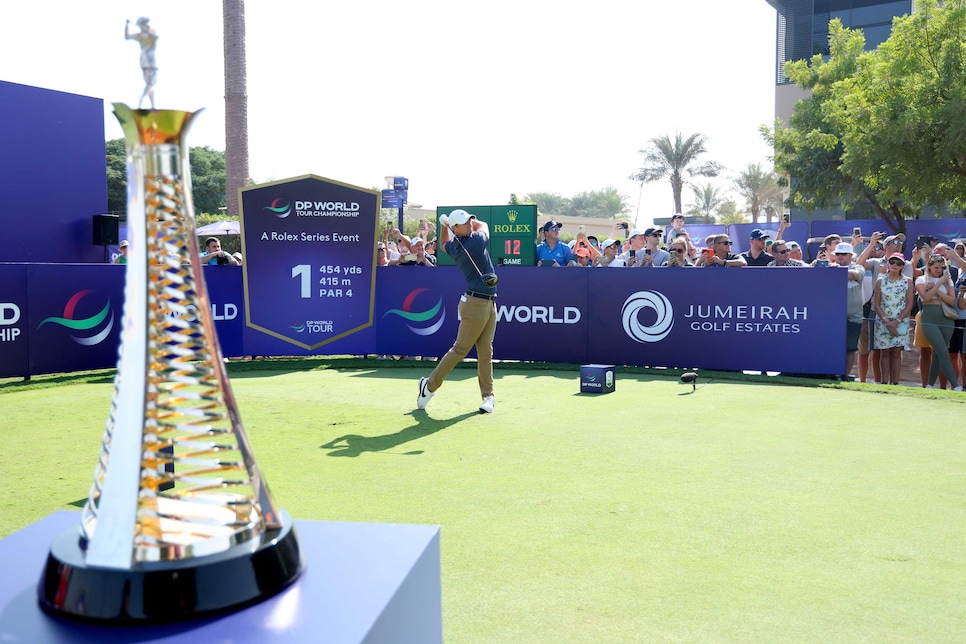 Rory McIlroy was leading the season-long DP World Tour points list heading into the week, but now must chase down Matt Fitzpatrick over the weekend to pull out the title.
Andrew Redington
DUBAI, U.A.E. — It is a long-established truism: one of the hardest things to do in golf is making a birdie when you really need a birdie. Or three. Standing on the 16th tee in the second round of the DP World Tour Championship, Rory McIlroy figured he needed nothing less than a trio of those elusive figures if he was to be anywhere near the half-way lead.
As things turned out, he was right about that, even the World No. 1 beat his target. A birdie-birdie-eagle finish over the Greg Norman-designed Earth Course at the Jumeirah Golf Estates took the Northern Irishman to five under par for the 36 holes played and into an eventual tie for 11th place, seven shots off the pace set by U.S. Open champion Matt Fitzpatrick and fellow Englishman Tyrrell Hatton. The leaders both shot 67 to move three shots ahead of Alex Noren and Adri Arnaus.
So, while McIlroy's finish was clearly commendable, the World No. 1 was but the speediest in a clutch of fast-finishers. Fitzpatrick played the last six holes in three under par, one shot better than Hatton. A closing eagle completed Arnaus' 68. And everyone in the top 10 shot lower than the par of 36 on the back-nine.
One of the pursuing pack stands out though. Former U.S. Open champion Jon Rahm isn't one of the seven men who arrived in Dubai with a chance of claiming the top spot on the DP World Tour season-long rankings (McIlroy, Fitzpatrick, Ryan Fox, Tommy Fleetwood, Viktor Hovland, Shane Lowry and Adrian Meronk) but the burly Spaniard is looking increasingly threatening in this DP World Tour Championship. Twice a winner here in the past, Rahm is tied for fifth alongside countryman Jorge Campillo on eight-under-par 136, after a 66 that "could have been anything."
We're talking, too, about the new, softer, kinder, cuddlier Rahm, the man who loves nothing more than playing with his infant son every morning.
"It's a blessing because he doesn't care at all what goes on," said the doting father. "It doesn't matter. When he sees me, I'm Dad, and he just wants to play and it's very, very refreshing. At home I've come to enjoy those routines. I'm an early riser and so is he. So when I'm home, Mom gets to sleep a little bit more."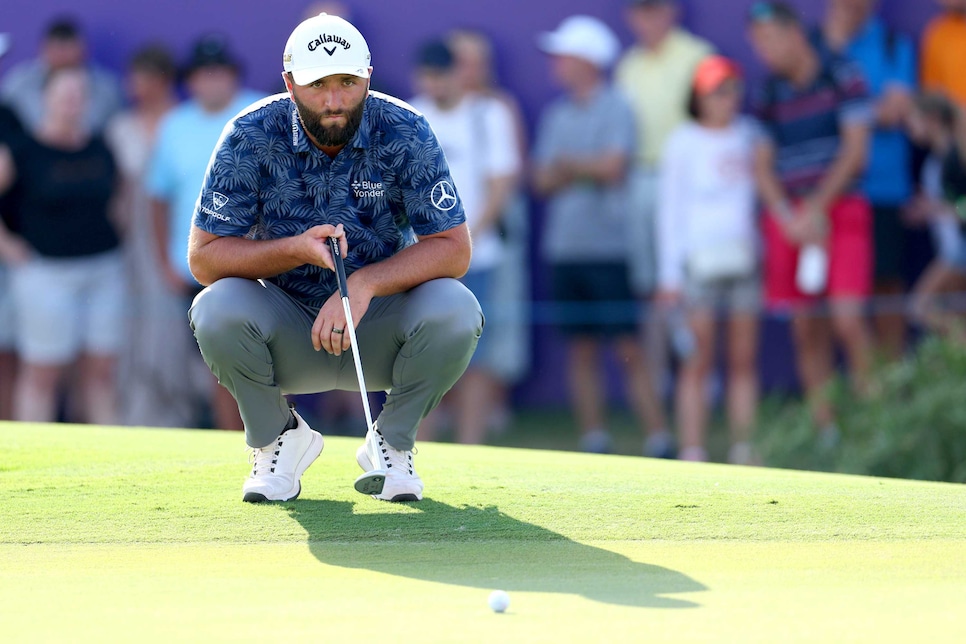 Jon Rahm can't win the season-long points title but is in the hunt to win the DP World Tour's season finale.
Andrew Redington
Which is not to say that, when he feels a little slighted, Rahm is one for holding back. Even after making seven birdies, and at the end of a season in which he has claimed victory on both sides of the Atlantic at the Mexico and Spanish Opens, he justifiably claimed to be "pretty tired of hearing, 'you're having an off-year.'"
"It hasn't been a bad year, two wins and a lot of top-10s," he pointed out. "The one thing that would have made it better would be having a chance at majors. In the U.S. Open, I was there, but for the other three I was non-existent. I'm not making an excuses, but you've got to think, new parents, moved to a new house, got pregnant with our second. There have been a lot of changes going on in the household. We went from zero kids to two kids in 15 months."
The last word, however, goes to McIlroy, who arrived here in Dubai atop the DP World Tour rankings. Typically, he wasn't conceding anything, but his chances of maintaining that position are looking a little dodgy in the wake of Fitzpatrick's fine play. If the Englishman wins this tournament, McIlroy needs to be second to hold off his rival for the season-long title. And if "Fitz" takes second place, the World No. 1 must be no lower than seventh. In other words, anything can still happen, especially given McIlroy's recent propensity for shooting at least one really low score in any given week.
"Matt is obviously making it more difficult for me," he said. "I don't know what the permutations are but as long as he keeps playing well, I'm going to have to play better. It's a good challenge for the last 36 holes. At least I feel like I've still got something to play for here, so I'm excited."
A birdie-birdie-eagle finish will do that for you.